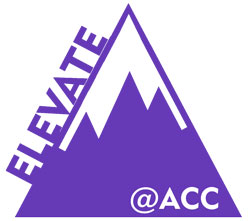 Elevate at ACC is an inclusive post-secondary transition option for students which includes:
Student-centered planning

Internship opportunities

Peer mentoring

Career planning

Self-determination and goal-setting assistance

Individualized academic planning

Campus life involvement

Independent living skill development

Community partnership opportunities
All Elevate at ACC students partner with the Elevate at ACC Coordinator to draft and implement an individual program of study. Specific courses are determined based on skills and competencies needed for students to achieve identified academic and employment goals. Develop and enhance your academic skills, plan for your career, gain job skills, make lasting friendships, open up possibilities, and much, much more!
Outcomes
Earning a degree or certificate can start your path as a lifelong learner, bridge to other degree-bearing programs, or provide you with skills for employment.
Comprehensive Higher Education Certificate
Elevate at ACC Student Learning Outcomes:
Through campus, classroom and workplace experiences, students will have increased independence, self-determination and competence in:
Setting and communicating long and short-term goals;

Identifying and developing transferable and marketable occupational and job attainment skills;

Critical thinking skills including self-reflection of learning and information gathering and analysis.
Elevate at ACC courses build on common themes of self-advocacy, college and workplace readiness and community engagement to develop student's personal and professional skills. Employment services are integrated into the Elevate at ACC curriculum and individualized internships are offered. Career services begin early in the program. Career services begin right away!
Eligibility
Participants must:
Desire to attain a career

Desire to attend and participate in a community college experience

Have a documented intellectual or developmental disability

Be able to attend to personal care needs or provide a personal care attendant

Remain an active participant throughout the length of Elevate at ACC

Be able, after an initial orientation and training, to safely and independently navigate campus
Elevate at ACC Community Collaboration
Elevate at ACC partners with local community, state agencies and public schools.
Application and Deadlines
Applying to Elevate at ACC: Please make an appointment with the Disability Access Services Department for an informational session.
Tuition and Fees
Standard tuition & fees apply to Elevate at ACC. Visit our Tuition and Fees page for more information. The Elevate at ACC participants may be eligible for Financial Aid if students are pursuing a degree or certificate which is eligible for Financial Aid. Please note that some certificates are not Financial Aid eligible. If students audit coursework, Financial Aid is not available. Please contact Disability Access Services if you have any questions about Financial Aid eligibility or need assistance with completing the application process.
Employment
Specific courses, activities and internships are determined based on skills and competencies needed for students to achieve identified employment goals. A Career Counselor works with the student, Elevate at ACC Coordinator, the student's family, and community partners to facilitate reaching the student's employment goals.
Contact Us
Elevate
Littleton Campus, M2840
Phone: 303.797.5860 (voice/TTY)
Fax: 303.797.5810
Jennifer Woegens
Director
303.797.5806
jennifer [dot] woegens [at] arapahoe [dot] edu
Charity Aymami
Academic Support Professional
303.797.5694
charity [dot] aymami [at] arapahoe [dot] edu
Anesha Correa
Campus and Community Engagement Coordinator
303.797.5244
anesha [dot] correa [at] arapahoe [dot] edu
Related Links