The ACC Alumni Network is your way to stay connected to ACC, your ACC peers, and for us to stay in contact with you! Entering this new chapter of your life is exciting and might be a little nerve wracking.  
The ACC Alumni Network along with ACC Career Services is here to support you!
If you have not already, create your LinkedIn profile and make sure to add Arapahoe Community College in your Education History. This will enable you to tap into the wide-spread ACC Alumni community!  
Additionally, ACC Career Services uses LinkedIn to connect students, and graduates, to ACC Alumni at potential employers and to get the word out about exciting job openings.  
ACC Career Services will continue to work with you as an ACC Alumni, one of the many great benefits of attending ACC!  So please contact them if you need, or want to provide career help. Career services can help you optimize your profile for a job search or help you build one. To make an appointment, please contact them careers [at] arapahoe [dot] edu (here). 
We want to hear about degrees you earn, new jobs and promotions you receive – share what's new in your life! Perhaps YOU are ACC's next Alumni of the Year! 
If you have any questions, would like more information, or just want to reach out please email us at: alumni [at] arapahoe [dot] edu (alumni[at]arapahoe[dot]edu).  
Stay Connected with ACC
Update your information and tell us more about yourself and what you are up to now. 
ACC Alumni Network Mission
The Arapahoe Community College Alumni Network promotes and supports the mission of the College by building relationships with alumni that creates a lifelong connection to the College. The ACC Alumni Network will provide opportunities for alumni to connect with one another while also being able to support and enhance ACC.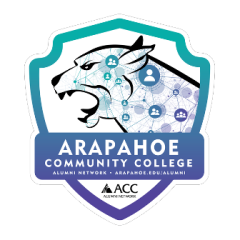 Contact
303.797.5881
alumni [at] arapahoe [dot] edu (alumni[at]arapahoe[dot]edu)
ACC Foundation
5900 South Santa Fe Drive
Campus Box 43
Littleton, CO 80160-9002
Related Links