Arapahoe Community College's 2019-2020 Commencement Ceremony
Wednesday, May 13, 2020 at 7:00pm
Magness Arena, Ritchie Center at University of Denver
2240 E. Buchtel Blvd.
Denver, CO 80210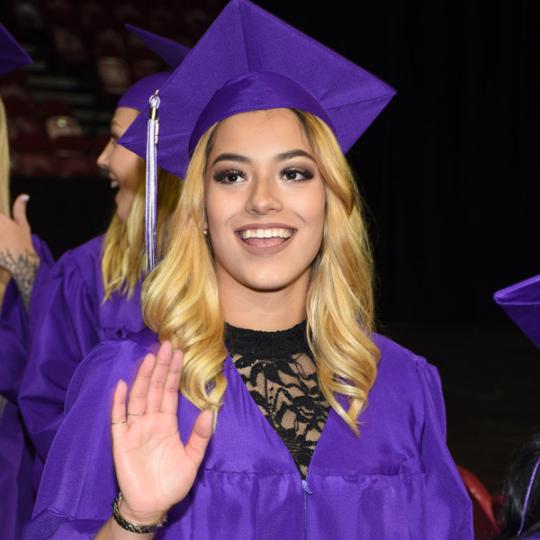 Congratulations to Our Candidates & Graduates!
You should be proud of your accomplishments. All of ACC—from your faculty to support staff to administrators—congratulate your effort and success with your academic goals! We invite you and your family to take part in ACC's annual commencement ceremony.
Ceremony Details
We're here to help. Please contact the acc [dot] dos [at] arapahoe [dot] edu (Dean of Students Office) with any questions you might have throughout this process.
Please arrive at Magness Arena by 6:00pm and meet in the Hamilton Gymnasium for check-in and instructions. We do not have a rehearsal so this is the time when graduates will be prepped for the ceremony.
Wear professional dress or business casual clothing under your gown and comfortable shoes as there will be a lot of standing and walking before, during, and after the ceremony.
Doors will open at 6:00pm for guests. Family members and guests of graduates do not need tickets or reservations for the ceremony.
Parking information: A parking map will be posted closer to the date of the ceremony.
GradImages will take photographs of graduates at Commencement as you walk to the stage, receive your diploma and as you exit the stage. Family and friends can take photographs from their seats but will not be allowed in the aisles or near the stage. GradImages will contact graduates approximately 3-4 weeks after the commencement ceremony with photo proofs and pricing. You can order photos directly from GradImages through their portal or by contacting them at 1.800.261.2576.
DU will be recording the ceremony. DVDs of the ceremony will be available approximately 4 weeks after the ceremony. To order a DVD directly through DU, please order online or print the Commencement DVD Order Form, complete and mail directly to DU to the address listed on the form. The cost is $30 per DVD. DU does not allow third parties to bring in tripods or other formal filming equipment. No personal tripods will be allowed inside the Arena.
Individuals with disabilities are encouraged to attend all ACC events. The venue is wheelchair accessible with designated seating areas for guests with mobility impairments on a first-come, first-served basis, and sign language interpreters will be provided for guests. Guests, please see an ACC volunteer for directions to these accessible sections within the arena. Accessible parking areas will be posted in the parking map closer to the date of the ceremony.
For graduating students, the ceremony location will include a ramp. Graduating students will indicate if they or their guests will additional accommodations when they confirm their attendance at the Commencement Ceremony.
We ask that all participants remain in their seats throughout the entire ceremony. Graduates will exit as a class to recessional music. Guests can exit after the recessional ends and meet up with your graduate in the hallway outside of the arena. Guests are not permitted on the floor of the arena near the graduates before, during or after the ceremony.
For guests with small children, please be courteous to others and keep your children with you at all times and quiet during the ceremony. There is a small space available on the upper level behind guest seating for parents to walk around with their children if needed. Parents please keep your children quiet and with you in this area as well.
Security will check all bags at the entrance.
No balloons allowed.
No outside food or drink is allowed.
No glass (including glass vases of flowers, personal water bottles, etc.)
No pocketknives
No alcohol (including unopened bottles intended as gifts)
No plastic water bottles / beverages of any kind (even if they are unopened)