Congratulations, you did it! ACC's Commencement (Graduation) Ceremony celebrates the hard work and dedication of our students. The annual commencement ceremony in May is for students who earned a certificate or degree any time during the academic year. If you graduated during the Summer or Fall semesters and have applied for Spring and will complete all program requirements by the end of the Spring semester, you are eligible to participate in the ceremony.
As you may be aware, given CDC guidance and the unknown timing of physical distancing guidelines past April 30, ACC has made the challenging decision to defer the in-person 53rd commencement ceremony that was originally scheduled for May 13, 2020. 
We will be holding a Virtual Commencement and we need your help to make this happen. This virtual ceremony will not be a live event, but it will include videos from ACC President, Diana M. Doyle, PhD and our Faculty of the Year, Nina Amey. Each graduate will have their own personalized card with their photo and personal message that will highlight their graduation and read their name.
Before you celebrate, there are a few more steps you need to take to receive your diploma or certificate and take part in ACC's Commencement Ceremony.
Step1: Apply to Graduate
To receive your diploma and/or certificate:
Complete a graduation application for each degree or certificate. Did you earn a certificate while completing your degree? Apply to receive both!

ACC will email you a degree audit

ACC reviews degrees and certificates throughout the semester

Application deadlines:

June 30

October 31

March 15 - We have extended the deadline, but hurry it closes at 5pm 4/23
Your diploma/certificate will be mailed to your home address, unless otherwise noted on the graduation application.
Step 2: Create Your Customized Card
Although, at this time, we are not able to celebrate your ceremony in person, we would like to give you the opportunity to celebrate all that you have accomplished during your time at ACC.
Our online celebration of 2020 Graduates will allow you to remotely share this moment with your family, friends, and the academic community. Each graduate will have the opportunity to be recognized with an official slide that can be customized with your photo and a personal message, and which can be downloaded and shared on social media. 
Please see your student email for a unique link to create your personalized graduation card. April 25 is the deadline to have your name read aloud by a professional announcer, that will accompany your online card. You will be able to record the pronunciation of your name so our recording is correct on your card.
May 5 is the final deadline to create a personalized card to be included in the virtual ceremony with photo and message but you will not have your name read aloud.
Step 3: Confirm Your Mailing Address
Graduation items will be shipped to you. In your student email is a form to provide your current address.
We are also inviting you to participate in the in-person 2021 ceremony. Please indicate your interest on address form.
Contacts
Graduation Requirements
Allison Lemmertz
Graduation Coordinator
303.797.5630
allison [dot] lemmertz [at] arapahoe [dot] edu
Commencement Ceremony
Dean of Students Office
303.797.5730
acc [dot] dos [at] arapahoe [dot] edu
Related Links
Arapahoe Community College's Fifty-Third Annual Commencement
A Virtual Ceremony
Monday, May 18, 2020 at 10:00am
Congratulations, Graduates! Celebrate your accomplishment by watching the ceremony with family and friends. While we are unable to celebrate with you in-person, we are celebrating with you virtually. Share your graduation celebration with us on Twitter and Instagram #ACCGrad2020. We also have a special filter on Facebook. This celebration will be available to watch all summer. Don't forget to join the ACC Alumni Association!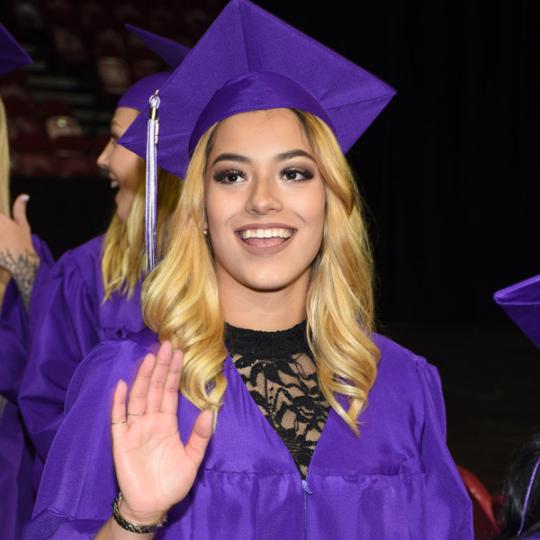 Congratulations to Our Candidates & Graduates!
You should be proud of your accomplishments. All of ACC—from your faculty to support staff to administrators—congratulate your effort and success with your academic goals! We invite you and your family to take part in ACC's annual commencement ceremony.