Innovation, Collaboration, Fabrication
The HIVE MakerSpace at ACC is a space designed to spark innovation, foster collaboration and support fabrication. Bring your creativity to life with our state-of-the-art facilities and tools. Come together with staff, students, and instructors from diverse fields to explore art, design, architecture, advanced manufacturing, electronics, engineering, mathematics, rapid prototyping, robotics, rocketry, woodworking, and much more. 
Located at our Littleton Campus's Art & Design Center, the HIVE is open to all ACC students, faculty, and staff to design, craft, and create. Our facilities are open during the hours listed below and there is no appointment necessary. Anyone who intends to work in the HIVE in either the digital or woodworking fabrication spaces will be required to attend an orientation on one of the dates listed below. If you have any questions please do not hesitate to email Sarah [dot] McCormick [at] arapahoe [dot] edu (Sarah McCormick) directly.
Tutoring is available for various Art & Design software and skills.
HIVE Hours and Appointments
HIVE MakerSpace – Open Hours - 3D Printers, Lab & Woodshop
No appointment necessary, open and free to all current students, and ACC employees. First time users will be required to attend a Friday orientation on one of the dates listed below.
Fall 2023 hours
Monday: 9am - 8pm
Tuesday: 9am - 1pm, 2:30 - 8:00pm
Wednesday: 9am - 8pm
Thursday: 9am - 1pm
Friday: 9am - 5pm 
Saturday / Sunday: Closed
Open Lab Rules
3D Printers: Printers are reserved on a first come first serve basis. Feel free to email in advance to determine availability. Priority is given to students in classes that have partnered with the HIVE to facilitate specific assignments.
Personal prints
If your print has not been directly assigned by an ACC instructor who is coordinating with the HIVE then it is considered a personal print. We will provide a limited amount of free material for personal prints (<50g of filament or <2.5ml of resin) but amounts beyond this limit will need to be supplied by you. Feel free to reach out for questions regarding what kind of material to purchase for your print.
Plan in advance
Digital fabrication is full of glitches and unforeseen troubleshooting. Plan for a lot of buffer time (at least 48 hours) between your visit to the HIVE and the due date for an assignment.
Ask for feedback
We are more than happy to provide feedback or tutoring on developing your file in advance of your planned print.
Woodshop users must have passed HIVE's safety training within the last 2 years.
HIVE MakerSpace – One-on-One – Laser cutter, CNC Mills & Guidance
sarah [dot] mccormick [at] arapahoe [dot] edu (MAKE AN APPOINTMENT)
First time HIVE users

Laser cutter

CNC mill(s)

Guidance on class project

Guidance on independent research project
HIVE MakerSpace – Woodshop Safety Training
Required woodshop safety training will be offered on the following dates. No RSVP necessary.
Friday, September 29, 10:00 - 11:30am

Friday, October 27, 10:00 - 11:30am

Friday, December 1, 10:00 - 11:30am
Email sarah [dot] mccormick [at] arapahoe [dot] edu (sarah[dot]mccormick[at]arapahoe[dot]edu) for more information. 
We have a wide selection of tools to bring your ideas to life, like:
3D Printing
FormLabs "Form 3" SLA resin printer - 5.7" x 5.7" x 7.3" print envelope

FormLabs "Form2" SLA resin printer - 5.7" x 5.7" x 6.9" print envelope

5x LulzBot "Taz 6" FDM printers - 11" x 11" x 9.8" print envelope

3D Potter "PotterBot Micro 9" Clay printer - 10" x 10" x 12" print envelope

Bambu Labs X1 Carbon

Prusa i3 MK3S+

Ultimaker 2 Extended
CNC Milling
Bantam Tools/OtherMill Pro PCB mill - 5.5" x 4.5" x 1.35" work envelope

Probotix Nebula CNC Router - 5" x 37" x 50" work envelope
Laser Cutting
Full Spectrum 150W CO2 Laser - 34" x 46" work envelope
Sewing
Brother ST371HD Sewing Machine

Brother Lock 1030D Serger
Soldering Stations
Multi-meters

DC Regulated Power Supplies

Soldering Irons and Accessories

And more
Woodworking Tools
Powermatic 14" Band Saw

SawStop 10" Cabinet Saw

Rikon Midi Lathe

Powermatic 6" Jointer

DeWalt 12" Miter Saw

Jet Combo Sander

Powermatic 6" Jointer

Laguna 16" Planer

Milwaukee Panel Saw

And a variety of handheld power tools and hand tools
ACC Art & Design Center
2400 W. Alamo Ave
Littleton, CO 80120
United States
ACC HIVE is located in AD 2120 & AD2140 - MAP
Instructors – Please contact HIVE directly to schedule class visits or projects.
HIVE Rapid Prototyping and 3D Printing
Grow your 21st century skills as you create designs with our rapid prototyping equipment, including the clay 3D printer used to fabricate this hanging planter.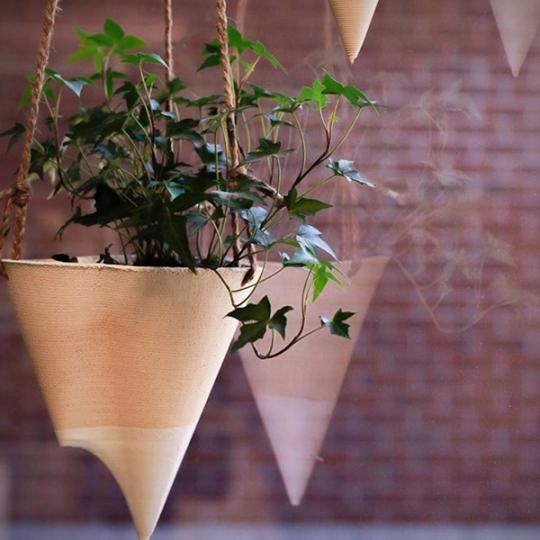 HIVE Electronics
At HIVE, you'll find many ways to prototype your idea, other electronics enthusiasts, coding expertise, soldering tools, and fresh ideas.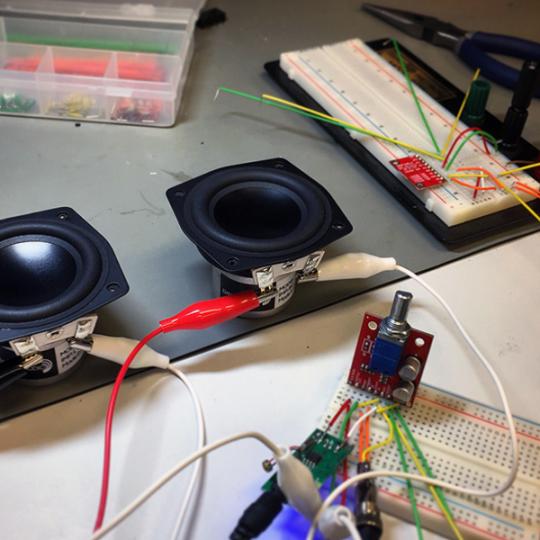 HIVE Wood Shop
Our wood shop boasts an impressive array of tools and a knowledgeable staff so you can learn how to work wood beautifully and safely.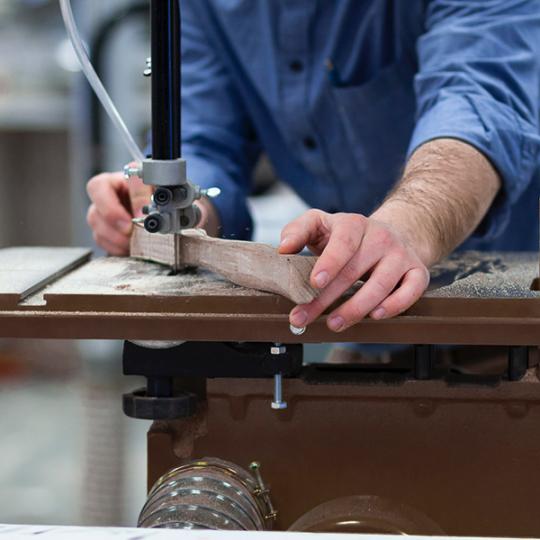 *See what our students are creating and images of the HIVE. Click on the image to learn more about it.