ACC Equity Statement
We welcome and value the identities and experiences of our students, staff, faculty, and surrounding communities. We seek to engage and support historically marginalized groups whom higher education has traditionally failed to serve. We work to foster an equitable and inclusive learning and work environment that supports our students and employees through professional development, programming, reflection, and transformational change of ACC practices, procedures, services, and teaching. We collectively commit to holding ourselves accountable to our equity goals through assessing these efforts with multiple strategies that include voices of those impacted by this work.
Inclusive Excellence Council
Mission
The Inclusive Excellence Council leads and supports the diversity, equity, and inclusion practices at Arapahoe Community College as outlined in the Inclusive Excellence Strategic Plan. The council will provide resources, assessment, training, and guidance to close equity gaps amongst student and employee populations from historically marginalized identities. The council serves as a brave space for engaging in critical and courageous conversations as it relates to DEI, justice, power, and privilege. We foster a shared sense of belonging and community for council members.
Purpose
ACC's Inclusive Excellence Council seeks to connect our campus culture and behavior to our values of Inclusivity and Diversity. We do this through:
Promoting practices that support diversity, equity and inclusion of all employees and students

Partnering with Human Resources in the creation and sustainability of an inclusive campus culture

Supporting professional development that works to establish an inclusive campus culture

Coordinating responsive programming to address social issues that concern our diverse student body

Creating equity-oriented reflection and action that uses institutional data to identify barriers to our community's success
College Equity Plan
Arapahoe Community College remains dedicated to diversity equity and inclusion and is continuing to put action towards this commitment. The Inclusive Excellence Council Executive Leadership Team has recently developed a College Equity Plan for the college. This plan is in direct alignment with the current 2020-2025 college strategic plan. The goals outlined within the plan are informed by the Inclusive Excellence Framework that was developed by the Association of American Colleges & Universities (Toward a Model of Inclusive Excellence). These goals address closing student equity gaps and creating a college environment where students and employees feel a sense of belonging, are supported, and are valued. The goals and actions within the plan are informed by current student success data, employee demographic data, and recent campus climate survey and focus group results. The actions within this plan will provide guidance for the institution to embed diversity, equity, and inclusion in the classroom, in support of students, and in ACC practices and procedures.
Upcoming Inclusive Excellence Council Meetings
Friday, Jun 16, 2023 - 10am - noon
If you are interested in joining IEC or attending an IEC meeting, contact becky [dot] quade [at] arapahoe [dot] edu (Becky Quade) for a Zoom link.
Subcommittees
Committee Participation Expectations:
Members can expect to have 5-7 hours/month of time committed to serving

Some committees may experience more work than others depending on the needs of the college at various points of the semester or year.
Committee Chair Duties and Responsibilities:
Understand the charge of the committee and implement a structure that leads to the creation and implementation of committee goals.

Lead / chair committee meetings at minimum one time per month

Keep committee members and Inclusive Excellence Council leadership informed of meeting times and agenda items

Deliver updates and reports during Inclusive Excellence Council monthly meetings

Serve on the Inclusive Excellence Council Leadership Team

Demonstrate high level knowledge, understanding, and skill in equity, diversity and inclusion

Dedicate at minimum 5-10 hours per month to Council work
Access and Equity Committee
Chairs: John Vasquez and Michele Brown
Utilize demographic data to examine, track, and report experiences and outcomes for students from historically marginalized populations
Chairs: Vicki Aycock and Monica Fuglei
Assess and respond to gaps in regards to equity and inclusion in practice, procedures, processes, and culture at ACC
Equity-Mindedness in the Classroom Committee
Chairs: Courtney Dale and Megan Rector
Develop culturally responsive pedagogy resources and support faculty with diversifying the curriculum.
Human Resources Committee
Chairs: Jennifer Matthews and Mary Cima
Focus on the systematic practices that lead to growth, development and accountability as it relates to equity and Inclusive Excellence.
Student Learning and Development Committee
Chairs: Jennifer Jones and LaMario Fortson
Provide opportunities for students to acquire the content knowledge about groups from historically marginalized populations and support the development of learning about systemic oppression and how to interrupt it to create welcoming and equitable work and learning environments
ACC Affinity Groups
ACC has created opportunities for employees with historically marginalized identities to gather and support each other through shared experiences, professional development and educational programming. As a part of the institution's commitment to diversity, equity, and inclusion, it is important for ACC to foster a sense of belonging for individuals who have historically been discriminated against in the workforce and in education. We pride ourselves on creating a sense of belonging for students and employees. Please check out the current available groups to join for folks who self-identify within one or more of these groups. If you would like to start an affinity group please contact acc [dot] iec [at] arapahoe [dot] edu.
Asian Pacific Islander Desi American Affinity Group (APIDA) 
Mission 
To encourage conversation about what it means to be Asian Pacific Islander Desi American (APIDA) at ACC. To advocate for an open space for ACC community on campus where critical dialogue and action take place to dismantle racial, social and cultural systemic oppressions. To foster critical consciousness by developing intentional programs aimed at liberating the voices of marginalized groups and the campus community by empowers transformative learning by using approach that promotes and validates intersectional identities and experiences. 
Vision 
To empower and support those with an Asian Pacific Islander Desi American (APIDA) connection throughout Arapahoe Community College with the goal of creating a socially just learning environment, and supporting institutional racial and social justice initiatives that ensure APIDA representation on campus ;that is inclusive and affirming.
Goals 
Supporting Asian Pacific Islander Desi American (APIDA) staff

Building sense of community and belonging for APIDA staff 

Providing an outlet to hear APIDA staff voices 

Providing community discussion and gathering with cultural focus activities and opportunities 

Possibility of including students later on 
Contact Information:  
If you are interested in joining this group, please apidaemployeeaffinity [at] arapahoe [dot] edu (contact the )apidaemployeeaffinity [at] arapahoe [dot] edu (Asian Pacific Islander Desi American (APIDA) Group).
Black / African American Affinity Group
Mission
To serve as a support system and resource group among ACC African American/Black employees that encourages networking, professional development, and promotes positive cultural affirmations.
 Goals
Serve as a support system for all Black/African American ACC employees. 

Encourage career and personal development through informal, peer to peer mentoring. 

Support the Multicultural student group at ACC. 

Promote cultural awareness through the occasional cultural programming and events. 
Contacts
LaMario, Fortson, Coordinator of Student Involvement, 303.797.5609
For more info and accommodations: please email blackafricanemployeeaffinity [at] arapahoe [dot] edu.
Employee Disability Affinity Group
Mission
To support ACC employees on issues related to physical and mental disabilities, through open discussion in a judgment-free environment, and through outreach with the ACC Community.
Vision
Create an inclusive environment for ACC employees with physical and mental disabilities where they feel championed, recognized, and represented.
Contact
If you would like to join, contact the employeedisabilityaffinitygroup [at] arapahoe [dot] edu (Employee Disability Affinity Group (EDAG)).
Latinx Faculty and Staff Association
La Asociación de Profesores y Empleados Latinos de Arapahoe Community College (ACC Latinx Faculty and Staff Association) los invita cordialmente a nuestras juntas y eventos.
Esta es nuestra misión y nuestros valores:
Misión
Empoderamos a los profesores y empleados latinos de ACC a través de oportunidades culturales, personales, profesionales y de desarrollo. Nos esforzamos para crear un ambiente de apoya que fomente la inclusión y la equidad en ACC.
Valores
Alimentar y hacer crecer las relaciones compartiendo experiencias sociales, de servicio, y profesionales.

Fortalecer nuestra voz colectiva al tiempo que ACC abraza la diversidad, la inclusión, y la equidad.

Promover el conocimiento sobre la cultura latina.

Colaborar con los diversos departamentos de ACC para promover la diversidad.
Tenemos juntas mensuales, y con agendas muy variadas.
Para mas información y/o ser parte de la asociación, contacte a Annette Hernandez y/o Cynthia Villegas. annette [dot] hernandez [at] arapahoe [dot] edu, cyntha [dot] villegas [at] arapahoe [dot] edu.
---
The ACC Latinx Faculty and Staff Association extends an invitation to those of you who identify as Latino or Hispanic, to join us at an upcoming meeting or event. 
Mission
We empower ACC's Latinx faculty and staff by providing cultural, personal, and professional development opportunities. We strive to create a supportive environment that fosters an inclusive and equitable college.
Values
Nurture and grow relationships by sharing social, service, and professional experiences

Strengthen our collective voice as ACC embraces diversity, inclusion, and equity

Promote Latino cultural awareness

Collaborate across the college to promote diversity
Meetings
We have monthly meetings with varying agendas. 
Contact
Contact Veronica Chavez (veronica [dot] chavez [at] arapahoe [dot] edu) and / or Cynthia Villegas (cynthia [dot] villegas [at] arapahoe [dot] edu) or latinxaffinitygroup [at] arapahoe [dot] edu for more information and to join the association. 
Mission Statement
To support ACC Employees that identify in the LGBTQ+ community through open discussion in a judgment-free environment, and through outreach with the ACC community.
Vision Statement
Create an inclusive environment for ACC's LGBTQA+ employees where they feel championed, recognized, and represented.
Contact
If you would like to join, contact Anna Super at lgbtqemployeeaffinitygroup [at] arapahoe [dot] edu.
IEC Training Opportunities
Equity-Minded Teaching Academy
Background
Arapahoe Community College continues to be dedicated to implementing the Inclusive Excellence framework and has recently created a new strategic plan that includes strategic directions of Equity and Inclusion and Excellence in Teaching and Learning. Expected outcomes identified within these two strategic directions include the implementation of culturally responsive pedagogy, diversifying the curriculum, and equity-minded professional development. The Diversity in the Curriculum sub-committee of the Inclusive Excellence Council, which is made up of full-time and part-time faculty members, program chairs, department chairs and directors, the director for the Center for Professional enrichment, and the chief inclusive excellence officer, have recently developed a structured format to engage faculty and instructors in learning about equity-minded and culturally responsive pedagogy. 
The purpose of engaging in this type of professional development is to increase academic success and retention of all students and close equity gaps in student course pass rates and grade distribution between students of color and white students. This professional development opportunity will be modeled from the Community College of Aurora's Equity in Instruction Leadership Academy (EILA). Upon completion of EILA, faculty members who participated in CCA's EILA program saw their student success rates increase by nearly 25% from 66.4% pass rate to a 91% pass rate after just two years of implementing equity-minded practices. Faculty members also saw their student success gaps nearly close between Latinx, and White students going from a 16.2% gap to a 3.1% gap, and a 9.7% gap between Black and White students to a 1.3% gap. The proven success of this type of professional development will benefit ACC students and will contribute to making ACC a more equitable and inclusive institution. It will be expected of all full-time faculty at ACC to participate in this Equity-Minded Teaching Academy over the next five years to create sustainable change for equity. The information below details the process of selection, compensation, structure, and content of the professional development program.  
Process and Structure
The Academy will be offered in the fall, spring, and summer semesters. There will be 2 cohorts offered for the fall and spring semesters and one cohort offered over the summer semesters. There will be a total of 9 3-hour sessions that will be offered virtually, or in-person depending on the guidelines of ACC and needs of the participants. 
To participate in the Academy, all participants must be teaching within the same semester and have taught at ACC for at least one academic year. The Academy will be open to part-time instructors, but it is not expected for every part-time instructor to participate. Department and program chairs will work with their faculty and instructors to determine who should participate in each academic year based on schedules and availability by no later than April 15 of every year and will communicate selections to the director of the Center for Professional Enrichment.  
If you are interested, please complete the interest form by Tuesday, May 9.
Participant Commitment: Up to 52 hours total 
9 3-hour meeting sessions 

5-7 hours of one/one meetings with peers and academy facilitators 

Homework for each session, ranging from 1-3 hours / week 
Facilitators
Cohorts will be facilitated with 2 facilitators. One facilitator will take on the lead-facilitator role and the other will take on the mentor role. The lead facilitator will coach the mentor through the content, structure, and facilitation skills. Facilitators will meet one on one with participants prior to the start of the Academy and multiple times throughout the academy, to discuss classroom observations, syllabi review, and additional protocols informed by the University of Southern California's Center for Urban Education and Center for Race and Equity. The mentor will take on the lead-facilitator role the following year and then begin to coach a new mentor.  
 Facilitator & Mentor Commitment: Up to 83 hours total 
Full-day facilitator training  

Facilitating 9 three-hour meeting sessions  

Six individual 1-hour meetings with five participants 

Preparation and meeting debriefs 
Session Descriptions and Learning Outcomes
Session 1 (BCC Week) 
Participants will learn about expectations of the academy   

Build community and learn about previous experiences of the academy  

Understand classroom observation protocol  

Increase knowledge of common language used when engaging in equity-minded teaching practices
Session 2 (week 2 of semester) 
Provide feedback to cohort mates on classroom observations  

Create a feedback survey for students based on classroom observations  

Examine language of success and identify race neutral language  
Session 3 (week 4 of semester) 
Examine language of success   

Identify strengths and opportunities from student survey results   

Understand social identity and group membership associated within identities  

Facilitators share data, begin conversation on equityzing the data-give article for homework
Session 4 (week 6 of semester) 
Identify how the cycle of socialization impacts individual perceptions and assumptions related to marginalized identities and how to interrupt the cycle to support students  

Discuss student success data article,  

Review student success data   
Understand second classroom observation protocol
Session 5 (week 8 of semester) 
Identify racialized experiences in classrooms  

Identify which data sets to focus on for the next semester   
Address power dynamics between teacher/student  

Understand how to code language from classroom observations
Session 6 (week 10 of semester) 
Deconstruct understanding of racialized classroom experiences  
Understand syllabus review protocol   

Engage in self-reflection of academy experiences and explore areas of change and opportunity 
Session 7 (week 12 of semester) 
Provide feedback to cohort mates on second classroom observations  
Understand assignment task deconstruction protocol
Session 8 (week 14 of semester) 
Identify how to review and revise syllabi to create an inclusive and supportive environment for students   

Identify class assignment revisions that are clear, student centered, and equity-minded
Session 9 (week 15 of semester) 
Engage in self-reflection of participation and impact of the academy   

Create action plan based on data and academy experiences
Equity Training Series Description
This training program will support increase knowledge, awareness, and skills regarding equity, diversity, and inclusion concepts and practices that can support and affirm the success and identities of students and employees. The training will consist of 6 workshops for three hours each. Each workshop will be scaffolded and will require prep work and/or homework to do in between sessions. These sessions will be held once or twice a month, depending on the needs of the cohort. Please refer below for the description of each workshop and the outcomes for each one.
Outcomes of Inclusive Excellence (IE) Training Program:
Provide employees with knowledge, skills, awareness, and resources to create and maintain an inclusive, welcoming, and equitable environment.

Develop leaders across multiple divisions and departments at ACC who advocate for equitable practices, policies, and environments.

Implement practices in the roles of ACC employees to equip them with using equity in decision making, in professional development, and in service.
Training Workshop Descriptions
Exploring the Foundation
The purpose of this training program will be covered during this first workshop to provide participants with a comprehensive understanding of changing demographics, addressing the equity gap, and creating welcoming and inclusive environments. Participants will explore connections between and commitment to equity and ACC and examine the concept of inclusive leadership. Participants will explore and define common language and begin to reflect on their professional and personal contributions to diversity, equity, and inclusion.
Outcomes:
Understand the concept and commitment of ACC

Identify strengths and improvements of Inclusive Leadership

Identify changing national and Colorado demographics at community colleges

Connect the concept of diversity to leadership and interactions
Social Identity Awareness
Participants will explore social identities of themselves and others (gender, class, age, race, nationality, sexual orientation, gender identity, ability, and religion). They will also discuss how social identity and perceptions of those identities impact the work environment and interpersonal interactions in the workplace.
Outcomes:
Understand social identity and group membership associated with each.

Examine social messaging and how it impacts the work environment.

Identify how the cycle of socialization impacts individual perceptions and assumptions and how to interrupt the cycle.
Inclusive Conversations
This workshop will examine language that is oppressive and can unintentionally be harmful to individuals from historically marginalized identities. Participants will learn about microaggressions and gain strategies of best practice to engage inclusive conversations.
Outcomes:
Educate participants on best practices when using inclusive language.

Build knowledge of microaggressions and their hidden power structure and assumptions.

Understand the difference between a person's intent versus the impact it may have on an individual or an organization.

Create strategies to engage in more inclusive conversations.
Implicit Bias
This workshop will allow participants to understand the concept of implicit bias and examine how implicit bias influences decisions, guidelines, and interactions with students and colleagues. Participants will have the opportunity to examine strategies to interrupt bias particularly in decision making.
Outcomes:
Explore the concepts around unconscious/implicit bias and its formation.

Examine one's own background/experiences and biases and how they influence perceptions and behavior.

Identify the differences between stereotyping, bias, and prejudice.

Identify skills needed to interrupt unconscious/implicit bias.
Exploring Systemic Oppression and Critical Race Theory
During this workshop participants will have the opportunity to learn about the historical oppression experienced by different groups and understand the present-day indicators of common isms such as racism, sexism, homophobia, and xenophobia. Participants will also learn about critical race theory in higher education. Participants will then have an opportunity to think critically about their individual contributions to oppression and gain strategies to combat systemic oppression.
Outcomes:
Understand and identify different isms that impact groups.

Analyze how different isms have contributed to oppressive systems and structures in higher education.

Examine how members of dominant groups benefit from oppressive structures.

Identify strategies from Critical Race Theory to examine and analyze ACC policies, processes, and practices.
Equity in Action
This workshop will empower participants to use the equity impact assessment to implement change and embed equity-mindedness in their roles. Participants will have the opportunity to practice navigating difficult but productive and effective conversations with their colleagues by identifying equity detours in order to create and maintain welcoming, equitable, and inclusive environments.
Outcomes:
Understand and demonstrate action techniques that will address and interrupt exclusive and oppressive behaviors.

Identify strategies to respond to equity detours and dialogue blockers when trying to create inclusive environments.

Create personal action plans with specific tools individuals will use in their work with others.
Inclusive Excellence at ACC Timeline
2013? 2014?) – ACC's CDIP held Diversity Dialogues and a Diversity Day Events 
Presentations on Bias  
Presentation on Inclusive Syllabi  
An all-college presentation on ACC's achievement gap 
Worked with HR to ensure protections for the employees working towards equity and inclusion on campus  
Worked with HR to revise the hiring process, including supporting their work on a presentation around implicit bias in the hiring process 
CDIP changed name to IEC 
First-Gen branding  
DACA Support Presentation  
Inclusive Syllabi Training  
Rewrote Diversity and Inclusion Statement  
Wrote initial Recognition of Land Statement  
Worked with the library to create a Diversity and Inclusion resource section 
Establish a relationship with the Northern Arapaho Business Council 
ACC officially adopts the inclusive excellence framework 

IEC forms committee in alignment with the IE framework + Human Resources 

Began Pronoun Training and Email Signatures 

Partnership Agreement signed with the Arapaho Nation 

All college Presentation by Kathy O'bear 

IEC shifted to a joint training/professional development and work group 

LGBTQIA+ and LatinX Employee Affinity Groups  
January - Women's Affinity Group Created 

February - Inclusive by Design Course began running 

CIEO Position Created (FY 21) & Budget Expanded 

March - Campus Climate Survey Distributed  

June - CIEO position filled 

June - Solidarity with Black Lives Matter Event & Statement released 

July - Equity Training Series launched with the College Leadership team 

November - More Employee Affinity Groups created including Asian American & Pacific Islander, Black & African American, Employee Disability Affinity Group, LGBTQ Employee Affinity Group, & Latinx Faculty & Staff Association 
January - IEC moved to having a leadership team instead of co-chairs under the CIEO 
January - Equity Training Series continues with 19 members of IEC 
January - Student Government Association adds an Inclusive Excellence Officer position 
February - Campus Climate Findings Presentation  
March - IEC opened training/professional development to the entire college  
April - Campus climate follow up focus groups conducted  
---
Arapahoe Community College prohibits all forms of discrimination and harassment including those that violate federal and state law, or the State Board for Community Colleges and Occupational Education Board Policies 3-120 or 19-60.  The College does not discriminate on the basis of sex/gender, race, color, age, creed, national or ethnic origin, physical or mental disability, veteran status, pregnancy status, religion, genetic information, gender identity, or sexual orientation in its employment practices or educational programs and activities.  Arapahoe Community College will take appropriate steps to ensure that the lack of English language skills will not be a barrier to admission and participation in vocational education programs.
The College has designated Angela Johnson, Human Resources Director, as its Affirmative Action Officer/Equal Opportunity Coordinator/Title IX Coordinator with the responsibility to coordinate its civil rights compliance activities and grievance procedures. For information, contact Angela Johnson, Human Resources Director at 5900 S. Santa Fe Drive, Littleton, CO 80120, telephone 303.797.5715.
You may also contact the Office for Civil Rights, U.S. Department of Education, Region VIII, Federal Office Building, 1244 North Speer Boulevard, Suite 310, Denver, CO 80204, telephone 303.844.3417.
Asian American and Pacific Islander Heritage Month
Asian American and Pacific Islander Heritage Month (AAPI Heritage Month) is an annual celebration in May that recognizes the historical and cultural contributions of individuals and groups of Asian and Pacific Islander descent to the United States.
#StopAsianHate
Stop Asian Hate appeared in 2021 to denounce the violence targeting Asian American Pacific Islander communities (AAPI) in the United States during the COVID-19 pandemic. The FBI documented an increase of 70% for reports of anti-Asian hate crimes in the COVID-19 pandemic.
Visit the ACC Library in April to view the AAPI Heritage Month display in collaboration with the Asian Pacific Islander Desi American (APIDA) Employee Affinity Group at ACC.
apidaemployeeaffinity

[at] arapahoe

[dot]

edu

(Contact APIDA affinity group)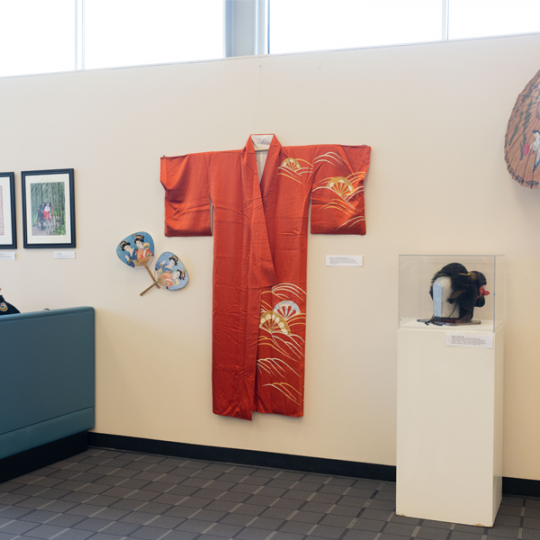 Denver Pride Parade
Walk with ACC in Denver's Pride Parade: June 25 at 9:30am in Denver. RSVP. The parade will leave Cheesman Park, travel down Colfax Avenue, then arrive at Civic Center Park: the site of Denver PrideFest. Participants will receive an ACC pride shirt and other goodies. Space is limited, so sign up ASAP!