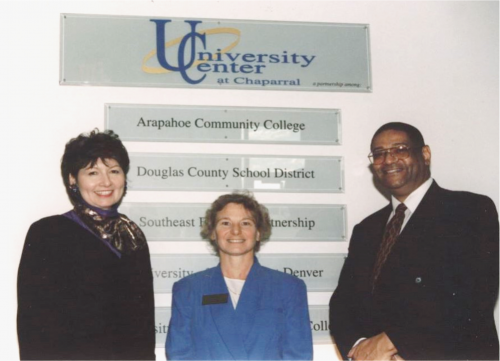 In 2001, Arapahoe Community College (ACC) became a consortium partner of Colorado Higher Education in forming the University Center at Chaparral. The collaboration with CU Denver, the University of Denver, Douglas County School District (DCSD) and Southeast Business Partnership allowed ACC to expand into the Parker area to provide educational programs and workforce training in Douglas County.
In September 2010, the State Board for Community Colleges and Occupational Education (SBCCOE) approved the name change to the ACC Parker Campus. The campus supported students with small class sizes and a place close to home to begin, or resume, a college education.
Sale of the Parker Campus
Earlier in 2022, DCSD approached ACC to inquire about purchasing the Parker Campus. While ACC was not actively seeking to sell the Parker property, conversations with DCSD provided an opportunity to leverage and capitalize upon a more highly sustainable and intentional presence in the Parker/Lone Tree area.
Through partnership and collaboration with DCSD via long-term leased space at the DCSD Legacy Campus - formerly known as CU South or The Wildlife Experience - ACC intends to develop shared career and technical education (CTE) high school-to-college programs that address the business and industry needs of the south metro Denver communities.
In May 2022, the SBCCOE unanimously voted its approval for the sale of the current ACC Parker Campus to DCSD. In addition, the SBCCOE supports ACC's lease agreement and partnership at DCSD's new Legacy Campus in Lone Tree.
ACC is building programs to continue serving the community as we transition to CTE programs at DCSD Legacy Campus beginning in the fall of 2022 and continuing into 2023. ACC's initial offerings at the Legacy Campus include the Robotics and Automation Technology AAS and EMT Certificate. Please stay tuned as we continue finalizing details on additional programming to be offered at the Legacy Campus.
The ACC Parker Campus will officially close on May 31, 2022. Testing services will be available at the Parker Campus through 5pm on May 23.
All staff from the Parker Campus will begin new opportunities with ACC's campuses in Littleton and Castle Rock beginning June 1, 2022.
---
If you are a current Parker Campus student, please contact your academic advisor for assistance with scheduling Fall 2022 classes at the Littleton Campus, ACC Sturm Collaboration Campus at Castle Rock, or online. ACC is committed to your academic success and career goals, and we are here to support you during this transition.
Parker Campus
15653 Brookstone Drive
Parker, CO 80134
parkercampus [at] arapahoe [dot] edu
Phone: 303.734.4822
Fax: 303.734.3885
Contact
Admissions
303.797.4222
admission [at] arapahoe [dot] edu

Advising
303.797.5664
advising [at] arapahoe [dot] edu
Littleton Campus
5900 S. Santa Fe Drive
Littleton, Colorado 80120
Sturm Collaboration Campus
4500 Limelight Ave.
Castle Rock, CO 80109