Robotics and Automation Technology / Mechatronics
Become a leader in technology with an Associate of Applied Science degree in Robotics and Automation Technology from Arapahoe Community College.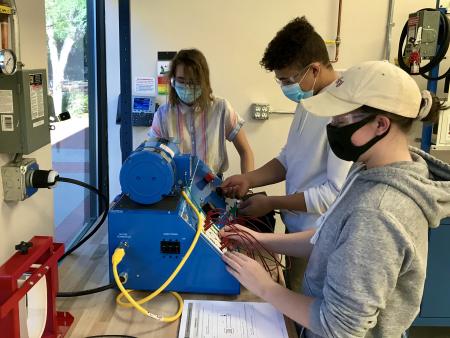 The world is changing at an amazing rate. Demands for efficient process have driven advanced control technology into just about every aspect of our lives. A Robotics and Automation Technology degree will prepare you to design, install, troubleshoot, and maintain industrial automation systems. The multidisciplinary curriculum provides you with the diverse skill set required to install, calibrate, modify, troubleshoot, repair, program, and maintain automated systems and industrial robots. Once you graduate, you'll be qualified to work in electronic automation and control systems environments.
What You'll Learn
With an AAS in Robotics and Automation, you'll be able to:
Install and operate instrumentation and process control devices across the spectrum of industries.

Use quality and safety standards necessary for the operating, maintaining and repairing of automated equipment.

Program, configure, troubleshoot and repair automated, industrial equipment for machining, assembly, chemical processing and logistic distribution.

Diagnose root problems to maintain the production flow

Communicate effectively and appropriately with team members
CIP 150406 (ROAT)
The Robotics and Automation Technology program encompasses an aspect of engineering that focuses on the design, implementation, and maintenance of products and processes integrating mechanical, electrical, and programmable engineering technologies to complete a number of jobs in the advanced manufacturing field. The diverse program is built in collaboration with multiple industries in the field of advanced manufacturing in quest of workers with the skills and training essential in the field. The curriculum is built on a partnership with the Packaging Machinery Manufacturing Institute (PMMI) to prepare students for PMMI certification.
Admission Requirements
Program Requirements
General Education Courses (15-16 credit hours)
Major Courses (40 credit hours)
Elective Courses
Choose two from the following:
Total: 61-62 credit hours
Graduation Requirements
Apply for graduation online at www.arapahoe.edu/graduation.

As a graduate of a Career and Technical Education program you will be contacted by an ACC employee in approximately six months to verify your employment information. This information gathering is a federal requirement to ensure that ACC receives certain federal funding.
ACC academic plans will help guide you through your chosen program. The academic plan will provide you with important information, like which semesters courses are offered, if there are any pre-requisites or co-requisites for courses, program outcomes, course sequence recommendations, notes for the program, graduation requirements and other important information. These are updated annually, so we recommend downloading a copy of yours to keep on track to graduation.
Robotics and Automation Technology / Mechatronics Engineering Technology Academic Plan
Job Opportunities in Robotics Automation Technology
Robotics and Automation Technology Tour
Look inside ACC's Robotics and Automation Technology program with Program Chair and faculty member Chris Gorrie. Learn more about job potential and courses, as well as getting an inside look at the equipment used by the students in the program.