Emergency Medical Services (EMS Academy)
Choose an Emergency Medical Services degree, certificate, or CEU refresher course to achieve your educational and career goals in the EMS field.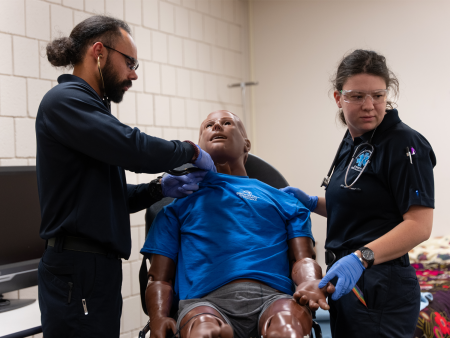 ACC's EMS Academy provides you with relevant coursework, including IV and EKG courses, along with extensive hands-on practical training and clinical work. You'll learn from full-time faculty and part-time instructors who have years of experience in the field and know what you need to be successful. Joint learning exercises with nursing, paramedic / EMT, and law enforcement academy students will prepare you to be an integral part of any healthcare team. ACC's paramedic education program is the fifth oldest in the United States. Our pass rates on national certification exams are among the highest in the country.
What You'll Learn
Paramedic Program
Classroom and lab work with experienced instructors to enhance your skills

Hands-on experience with emergency care equipment, including simulation mannequins and our ACC ambulance

Simulation training that includes cross-training with other ACC health programs and the Law Enforcement Academy

Integrated training between EMT and Paramedic programs

Clinical rotations in emergency departments at upper-level trauma centers, critical care units, labor and delivery units, pediatric units, cardiac cath labs, surgical services, respiratory therapy, and geriatric extended care

Capstone field internship 

Transfer options to continue your education

Paramedicine courses offered at the Littleton Campus
EMT
Classroom instruction and lab sessions to give you the foundation and experience you need

Clinical shifts in an emergency department and a rescue unit (ambulance and fire rescue)

Cadaver and extrication labs

Emergency training simulation exercises

EMT courses offered at the Littleton Campus and ACC at DCSD Legacy Campus
Complete an ACC application and meet all admission requirements.

Be at least 18 years of age to attend off-site emergency department clinicals.

Have a current CPR certificate American Heart Association Health Care Provider.

Immunizations: Hepatitis B (the first two injections for EMT and full series for IV), MMR, Tetanus and Chicken Pox, TB skin test no more than 3 months prior to the start of class, a seasonal flu vaccination. COVID-19 vaccine - one dose of J&J or two doses of Pfizer or Moderna and any future boosters required by clinical sites. No titers will be accepted at this time.

A Criminal Background Check and Drug Screen are required for all EMS students. In the event, the student background check reveals any disqualifying factors or tests positive for a prohibited substance, a student will be dismissed from the EMS program. View disqualifying events information. Please note: Criminal background checks and drug screens require a fee.
Read and sign the Functional Position Description - EMS Provider document.
You should begin this process at least two weeks prior to the start of classes.
ACC academic plans will help guide you through your chosen program. The academic plan will provide you with important information, like which semesters courses are offered if there are any prerequisites or co-requisites for courses, program outcomes, course sequence recommendations, notes for the program, graduation requirements, and other important information. These are updated annually, so we recommend downloading a copy of yours to keep on track to graduation.
ACC's EMS Academy is accredited by the Commission on Accreditation of Allied Health Education Programs (CAAHEP) upon the recommendation of the Committee on Accreditation of Educational Programs for the Emergency Medical Services Professions (CoAEMSP).
To contact CAAHEP:
Commission on Accreditation of Allied Health Education Programs
9355 113th St. N #7709, Seminole, FL 33775
Phone: 727.210.2350
Fax: 727.210.2345
mail [at] caahep [dot] org (mail[at]caahep[dot]org)
www.caahep.org
To contact CoAEMSP:
8301 Lakeview Parkway, Suite 111-312
Rowlett TX 75088
Phone: 214.703.8445
Fax: 214.703.8992
www.coaemsp.org
Take CEU and refresher courses through our Workforce & Community Programs, including:
BLS Provider

Colorado EMS Instructor Series

Critical Care Transport

EMT Refresher

Paramedic Refresher
CAAHEP Accredited Paramedic Programs and CoAEMSP Letter of Review (LoR) Programs track and report outcome measures annually to the Committee on Accreditation for the Emergency Medical Services Professions (CoAEMSP).
The most current CoAEMSP Annual Report was for the calendar year 2021.
The most recent success rate for the National Registry of EMT Paramedic / State Cognitive exam was 97.2%.
The most recent positive placement rate for graduates was 100%.
Positive placement is defined by the CoAEMSP as 'Employed full or part-time in a related field and/or continuing his/her education and/or serving in the military'. Positive placement is measured at the completion of the program.
The most recent retention rate was 94.7%.
Students enrolling or continuing at Arapahoe Community College (ACC) have a right to certain information that the college is required by law to provide. As a student applying for or attending the Emergency Medical Technician (EMT) Program or Paramedic Education Program, you have the right to know it meets the certification criteria for Colorado. It is possible that the degree/certificate may count toward licensing or certification in states other than Colorado. If you are planning to seek professional certification or licensure, it is strongly recommended that you contact the appropriate entity in the state in which you are located or plan to locate in order to seek information and guidance regarding licensure or certification requirements before you begin this program. This program meets the applicable state prerequisites for licensure or certification in Colorado as listed below:
Successful completion of the EMT and Paramedic programs makes the students eligible to sit for the National Registry of EMTs (NREMT).  Successful completion of the NREMT, at the specific provider level, makes the students eligible for certification in the states listed below*. Other certification requirements may exist for a state.  If a student is considering seeking certification in a state other than Colorado, the student is encouraged to contact that state EMS office directly by clicking the link for the state below. 
Alabama, Arizona, Arkansas, California, Connecticut, District of Columbia, Delaware, Florida, Georgia, Hawaii, Idaho, Illinois, Indiana, Iowa, Kansas, Kentucky, Louisiana, Maine, Maryland, Massachusetts, Michigan, Minnesota, Mississippi, Missouri, Montana, Nebraska, Nevada, New Hampshire, New Jersey, New Mexico, North Carolina, North Dakota, Ohio, Oklahoma, Oregon, Pennsylvania, Rhode Island, South Carolina, South Dakota, Tennessee, Texas, Utah, Vermont, Virginia, Washington, West Virginia, Wisconsin, Wyoming
The states listed below have identified 'alternative methods' of certification.  Students should contact the state for additional information. 
Additional information about transferability of EMS certifications can be found on the EMS Compact page.
ACC has not determined if the EMT or Paramedic program meets applicable certification or licensure requirements for the US Territories listed below.  Students are encouraged to contact the EMS office for the territory of interest.
American Samoa, Guam, Northern Mariana Islands, Puerto Rico, and the U.S. Virgin Islands.
*Data provided is from the National Registry of EMTs (NREMT)
Advance your career with Care Forward Colorado
Care Forward Colorado is investing in Colorado's healthcare workforce through zero-cost, short-term training programs at community and technical colleges. Ready for your next step? Launch your healthcare career with Care Forward Colorado. Get free, short-term training at ACC.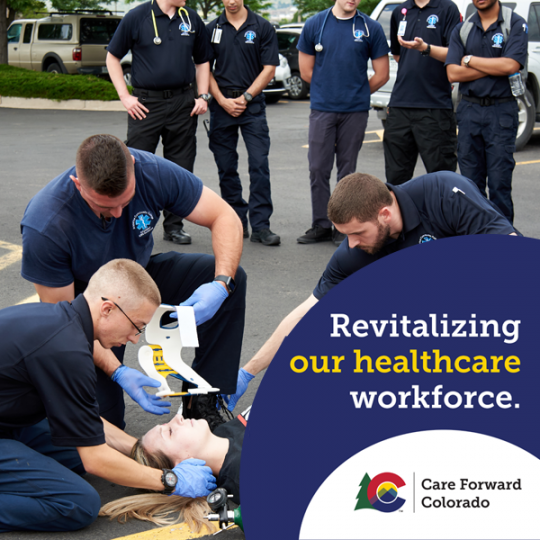 Minimum Expectation Goal
To prepare competent entry-level Emergency Medical Technician-Paramedics in the cognitive (knowledge), psychomotor (skills), and affective (behavior) learning domains with or without exit points at the Advanced Emergency Medical Technician and/or Emergency Medical Technician, and/or Emergency Medical Responder levels.
Advanced Placement, Experiential Learning, and Credit Transfer
The Emergency Medical Services (EMS) programs at ACC (EMT and Paramedic) do not offer advanced placement into any of the EMS programs. The EMS programs do not offer credit hours for previous experience or experiential learning. Credits from previous course work at an accredited institution of higher learning can be applied to EMS programs with acceptance into the EMS program and based on ACC transfer policy. 
Job Opportunities in Emergency Medical Services (EMS)
Choosing Your EMS Path
Paramedic Program
The Paramedic Education Program began in mid-1970. In the program, you'll learn the acute, critical changes in physiology and clinical symptoms related to pre-hospital emergency medical care. You'll gain clinical experience and practical skills related to emergency medical care. You will also learn the ethical and legal responsibilities in the paramedic field. Our students have an excellent success rate on the National Registry Exam.
EMT
The EMT program will help you build the knowledge and skills to deliver emergency care to a sick or injured patient. To apply to most fire departments and ambulance companies in Colorado, these classes must be successfully completed. After completion, you must take the National Registry EMT written exam. Upon successful completion of this exam, you may apply for Colorado State Certification as an EMT. Our students have excellent pass rates on the National Registry Exam.