Move Mountains to serve and protect your community with an Associate of Applied Science degree or certificate in Law Enforcement from Arapahoe Community College.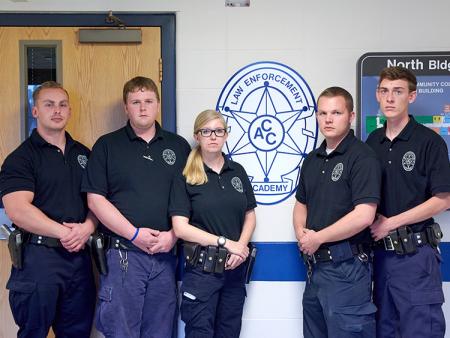 Our Law Enforcement Academy (LEA) is a POST certified basic academy for entry into law enforcement. We have 700+ hours of instruction and 40 college credit hours. Staff consists of 80 subject matter experts from multiple agencies throughout Colorado that serve in an active public safety role. LEA serves self-sponsored and agency sponsored cadets in a para-military and law enforcement squad room environment. We offer 4 full-time academies and 1 part-time academy to meet the needs of your schedule. Our reputation within the law enforcement community for providing quality graduates is unrivaled! If your calling is to serve and protect mankind, then the ACC LEA program is for you!
What You'll Learn
The Law Enforcement Academy at ACC will help you develop a variety of skills to help you with your career in law enforcement or criminal justice. Once you complete your program, you'll be able to:
Show leadership skills

Apply critical thinking skills

Display effective oral and written communication skills

Discuss how the criminal justice system works

Explain individual right, constitutional rights, and due process procedures
CIP 430103 (CJLE)
The Law Enforcement A.A.S. Degree is designed for students who completed or plan to complete Arapahoe Community College's Law Enforcement Academy and are seeking a career in Law Enforcement. This program prepares students to be employed in law enforcement at departments requiring a two-year college degree.
Admission Requirements
Completion of ACC's Law Enforcement Academy, or a current Colorado Post certificate holder, or permission of the Program Coordinator.
Program Requirements
General Education Courses (15 credit hours)
Required Criminal Justice Courses (9 credit hours)
Law Enforcement Academy Courses (38 credit hours)
Note(s):
These courses will be completed through ACC's Law Enforcement Academy. Upon review and permission of the Program Coordinator, successful completion of Law Enforcement Academy at another institution may serve as an equivalent and may be transferred to ACC for course credit.
CIP 430107 (LEA)
The Law Enforcement Academy is a P.O.S.T. (Peace Officer Standards and Training) certified program accredited through the Colorado P.O.S.T. Board. The Law Enforcement Academy is basic training for law enforcement officers and enables graduates to take the P.O.S.T. certification test to become certified as peace officers in Colorado. The ACC Academy program consists of 40 semester credit hours consisting of 700+ contact hours involving lecture, practical exercises, skills training and fitness. This program exceeds the hours required by P.O.S.T. for a Basic Law Enforcement Academy and includes the P.O.S.T. written exam following graduation.
Students must possess current CPR and First Aid Certifications (included in the program) in order to sit for the P.O.S.T. exam. Due to the Intensity and format of the classes in the academy no electives are required or recommended during the Academy program.
Admission Requirements
The Law Enforcement Academy requires an additional application process, including but not limited to:
a personal advising interview with a member of the Academy staff

a criminal background check prior to acceptance and enrollment

A High School Diploma, G.E.D or equivalent

Current and valid Colorado driver's license.

ENG 121 or higher or assessed to be at college-level English (see Student Resources and Services - Assessment in this Catalog)

Ability to legally possess firearms

No criminal history of any Felonies or any Misdemeanor specified in 24-31-305(1.5) (b) through (h), C.R.S.
For more information, please contact the Law Enforcement Academy Program in Room N1170 or at 303.797.5793.
Program Requirements
Major Courses (40 credit hours)
Fall registration is open from March 1 - June 30.
Spring registration is open from October - early December.
Anytime before applying to the Law Enforcement Academy
Apply for Financial Aid
October-November / March-June
Apply to the Law Enforcement Academy (Application Packet)
Complete a Certified Criminal Background Check – including criminal history. Use code RS45. Fees apply.

A copy of your current Colorado Driver's License

A copy of your High School Diploma or GED

College Placement Test Scores or evidence of passing English 121. (Information and requirements for the college placement test)

If you have a college degree or have attended college, an unofficial copy of your college transcript

A copy of your DD214 if serving or have served in the military. *Required DD214 Member 4 form.
Steps 1-10 need to be completed prior to scheduling an interview.
Schedule an interview with the Academy staff - A NON-REFUNDABLE $30.00 interview / application fee must be paid to the cashier's office and a receipt returned to academy office prior to your interview. The deposit slip will be obtained from the academy staff.
All documents collected above will be turned into the Academy investigator at your scheduled interview.
Once you have completed your interview with the Academy Staff and it has been determined that you are a good candidate for the Academy, you will be offered a place in one of the classes. You must pay a $100.00 fee to hold your place in the class. This is later applied towards tuition and will be refunded if you are unable to attend. Classes are filled on a first come, first served basis.

POST requires fingerprints to be submitted to CBI. This must be completed by Arapahoe Community College - Campus Police. Please contact Campus Police for scheduling options: 303.797.5835 dial 2. Fees apply.
LEA staff will grant approval for registration and email courses and additional deadlines after receipts are obtained in Step 12 and 13.
Registration will close once the Academy class is filled or 30 days before the first day of class. Official dates will be provided to LEA applicants at the time of their interview and additionally once the placement fee payment is offered to eligible candidates.
Physical Exam - Please schedule a physical exam and have your doctor sign off on our letterhead form (printable Physical Exam form)
Driving History - This can be ordered online through the Department of Motor Vehicles (DMV) or in person at your local DMV. (We require all records going back 5 years.) If you have lived in multiple states, LEA will request additional records from those states.

Orientation information, schedules, costs, and required POST documentation will be sent out by email to all registered students 30 days prior to the academy 1st day of class.
Steps 14-16 must be completed and submitted 2 weeks prior to the 1st day of class.
Job Potential
Our standard academy program focuses on the P.O.S.T. basic law enforcement requirements for entry level law enforcement officers. When you graduate, you'll be prepared for your P.O.S.T. written exam and for a job as a:
Police Officer

Patrol Officer

Correctional Officer

Bailiff
Start Your Journey to a Career in Law Enforcement
If you're interested in a career in law enforcement, look no further than ACC's Law Enforcement Academy. Get real-world training from experienced instructors. Get ready to Move Mountains!
Message from the Law Enforcement Academy Director
I cannot condemn strongly enough the death of George Floyd through the actions of police officers from the Minneapolis Police Department. No person should have to beg to be allowed to breathe, no adult should feel so helpless that they must yell for their mother to save them. The basic principles that we strive to pass-on to our graduates is that  every person on this earth deserves to be treated with respect and dignity. I recognize that these basic principles are not always applied to African Americans and other people of color which can and has put their lives in danger. That is why the Law Enforcement Academy will be adjusting curriculum to meet the police training measures listed on the Campaign Zero website.
Thank you,
David P. Bruce
Director, Law Enforcement Academy