Prepare to become a Certified Nurse Aide (CNA) with part-time courses. Get your Nurse Aide certificate from Arapahoe Community College while you work.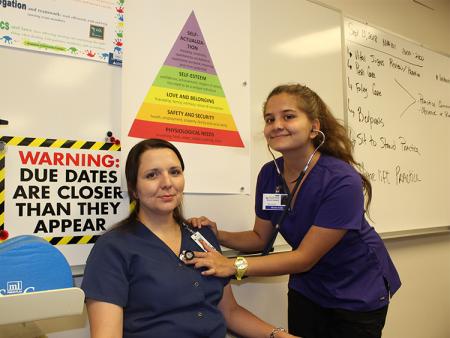 Do you want to start on a path into the field of nursing as soon as possible? ACC provides a one-semester part-time Nurse Aide certificate. After completing the Nurse Aide Certificate program, you will be prepared for entry-level employment as a Certified Nurse Aide (CNA), following certification by the Colorado Board of Nursing. Our program is designed to allow you to continue your current employment while attending school. Hone the care and compassion you already possess and apply to ACC to enter the nursing industry.
What You'll Learn
Our nurse aide program will help you develop a variety of basic nursing skills, including:
Activities of daily living

Use of assistive devices

Recognition of the emotional, social, cultural and individual rights of patients
You will have an opportunity to practice these skills in the our labs with transition into healthcare agencies. 
CIP 513902 (NR3)
This program will prepare the student for employment as a nurse aide in hospital, home-care, skilled care and hospice facilities. The entry level skills of a nurse aide are an excellent introduction to a broad range of health professions. Nurse Aides provide close personal care for a variety of clients. Successful students are considerate of others and recognize how to meet the needs of vulnerable humans as well as how to interact with other members of the healthcare team. Basic nursing skills, including activities of daily living, use of assistive devices and recognition of the emotional, social, cultural and individual rights of patients are all competencies that will be covered in the coursework. Students will have an opportunity to practice these skills in the college lab with transition into healthcare agencies. Successful completion of the Nurse Aide Certificate course at ACC qualifies the student to take the State Certification Examination, also known as the NNAAP exam, to become a Certified Nurse Aide (CNA). The Nurse Aide program is approved by the State Board of Nursing, located at 1560 Broadway, Suite 1370, Denver, Colorado 80202-5146, telephone 303.894.2430.
Please see the full list of requirements and checklist at http://www.arapahoe.edu/departments-and-programs/a-z-programs/nurse-aide on the Nurse Aide Page.
Admission Requirements
Program Requirements
Major Courses (6 credit hours)
Graduation Requirements
Courses required for this certificate must be completed with a "C" or better to meet graduation requirements.

Apply for graduation online at www.arapahoe.edu/graduation.

As a graduate of a Career and Technical Education program you will be contacted by an ACC employee in approximately six months to verify your employment information. This information gathering is a federal requirement to ensure that ACC receives certain federal funding.
As part of the Colorado Community College System, ACC offers courses at a very reasonable tuition rate. At today's tuition rates, the 6 credit hours of the NUA certificate would only cost a COF (College Opportunity Fund) eligible student approximately $900. Apply for your stipend.
Nonresidents will find tuition information in the current semester schedule. For schedule information and tuition and fees updates please view ACC's current Tuition and Fees.
Students in the NUA program are also financially responsible for the nominal costs associated with clinical affiliations potentially including uniforms and travel to and from the clinical facility. Additionally, students are responsible for the cost of vaccinations, CPR and First Aid Certification, and a background check and drug test.
Job Potential
The projected percent change in Nurse Aide employment between from 2016 to 2026 is expected to be 11%. The expected number of yearly job openings in Colorado is about 740. The 2014 statistics from the Bureau of Labor indicated that the median hourly wage for Nurse Aides is $13.72 and the median annual wage is $28,530. For more information on wages and employment trends, please visit CareerOneStop and O-Net OnLine.
Once you get your certification, you can find a job as a:
Certified Nurse Aide

Community Health Worker

Home Health Aide

Nursing Assistant
"[ACC instructors] have all been super helpful and caring not only to me but also to my learning...The simulations were well thought out and extremely helpful to my learning as a CNA."
~ Andrea, ACC Sturm Campus Concurrent Enrollment Student
"I have never taken online courses prior to COVID-19, however since then I have had my share of them. This is by far, and I am really not overexaggerating here, by far the most organized course I have ever had the pleasure of taking."
-  Yelena, ACC Nurse Aide Fall 2020 graduate
"You can tell you care through your grading responses, and genuinely want us all to succeed. You are all so generous with your knowledge and go above and beyond what I would have expected from administrators and professors in going back to school!"
- Susie, ACC Nurse Aide Fall 2020 graduate
Nurse Aide Application Process
Notes
To secure a clinical placement you MUST have the following. Failure to complete these requirements by the deadline will require you to drop the clinical courses NUA 170 and 171. You will be allowed to register for subsequent clinical courses on a space available basis only and must be approved by the Department Chair prior to official registration.
75% average in each portion of NUA 101 (Lab and Theory) by the first identified program start for NUA 170.

A Criminal Background Check and Drug Screen free of disqualifying factors. (Directions to follow)

Informed Consent on file with ACC Human Resources (Form is available on NUA web page and with Human Resources)

Documentation of at least 2 Hepatitis B vaccinations or immunity. View additional information about the Hepatitis B vaccine.
Documentation of 2 MMR (Measles, Mumps, Rubella) vaccines or immunity. Find additional information about the MMR vaccine.

Documentation of 2 Varicella (chicken pox) vaccines or immunity.

Documentation of Tdap vaccine within 10 years. Get additional information about the Tdap vaccine.
Documentation of negative TB by one of the following methods (Must be done within the last 12 months)

Negative results from a Tuberculin Skin Test (TB)

Negative chest x-ray with a previous positive TB test

Negative TB blood test, QuantiFERON® or T-SPOT®
For additional information visit the CDC website.
CPR Certification Card from an American Heart Association Basic Life Support for Health Care Providers. CPR certification is offered at ACC as HPR 102 course

Fall and Spring students must have the current seasonal flu vaccine (Generally available September 1). Get additional information about the flu vaccine.

Registration in mCE, My Clinical Exchange (Details on page 16)

Completion of the Regulatory (OSHA/HIPAA) exam with documentation of a score of 100%. This will be assigned by your instructor.