Capture and create works of art with your associate degree in photography from Arapahoe Community College.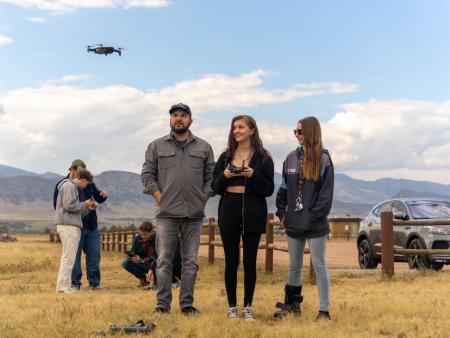 Build your skills and your portfolio while you earn your associate degree in Commercial Photography or Studio Art from ACC.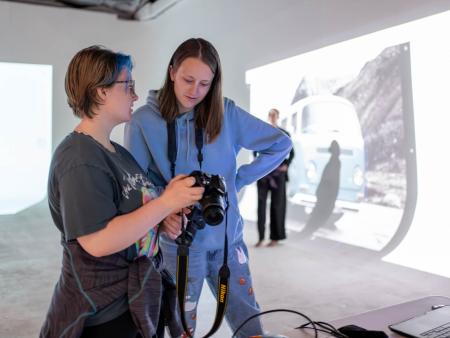 Develop your skills to help you Move Mountains toward a career in photography.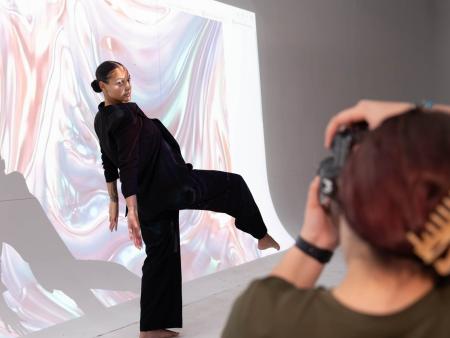 Finite details, bold contrasts, and a world of wonder...you can capture it all. At ACC, we offer 2 photography programs for you to hone your visual eye: Commercial Photography AAS and Studio Art Transfer AA. Our Commercial Photography AAS will show you how to create imagery with an emphasis on storytelling to help market a product, service, person, or idea. You will focus on developing skills in the areas of studio and location lighting, digital photography, asset management, post-production techniques, and marketing and business practices. With an AAS degree in Commercial Photography, you can begin your career upon graduating from ACC.
What You'll Learn
In both commercial photography and studio art, you'll learn how to use professional photography equipment, traditional and digital photography, basic and advanced photography skills, color and black and white techniques and printing and multimedia production. You'll also learn specific skills based on the degree you choose. 
CIP 500406 (CPHO)
The Commercial Photography AAS Degree is designed for people who want a varied and fulfilling career that is both creative and exciting. We offer a solid foundation for students to start a career in a range of photography and imaging-related fields. The curriculum provides extensive training in digital and traditional photography, professional camera equipment, contemporary studio and location lighting techniques, portraiture, events and multimedia photographic production. Students learn image capture and manipulation, digital asset management and workflow, and digital printing, publishing and video. Students will also learn about business and marketing aspects of commercial photography necessary to be successful. This program is balanced between the technical and the aesthetic skills necessary to make compelling images. There is balance between traditional and digital image making and balance between the art and business of commercial photography. Electives and portfolio development courses allow students to focus their exploration on the specific kinds of photography they enjoy. An emphasis is placed on strong conceptual thinking and storytelling.
This is a skills-focused, highly intensive program for students serious about working in the photography industry. Taught by expert faculty who have first-hand experience working with top clients and agencies, students will emerge from the AAS Degree program prepared to compete in a range of photographic fields. Students will work with high- end industry standard equipment available for checkout. Don't take on tens of thousands of dollars in for-profit college student loan debt, when you can gain the excellent training and education you need for a fraction of the cost, right here at Arapahoe Community College!
Admission Requirements
Program Requirements
General Education Courses (15 credit hours)
Major Courses (39 credit hours)
Restricted Electives (6 credit hours)
Choose (2) courses from the following:
Graduation Requirements
Apply for graduation online at www.arapahoe.edu/graduation.

As a graduate of a Career and Technical Education program you will be contacted by an ACC employee in approximately six months to verify your employment information. This information gathering is a federal requirement to ensure that ACC receives certain federal funding.
CIP 500702 (FSTU)
The purpose of a statewide articulation agreement is to identify the courses a student at a Colorado public community college must complete as part of an AA/AS degree to be guaranteed to be able to complete the designated baccalaureate degree program at public four-year colleges and universities as designated by the Colorado Department of Higher Education (CDHE) transfer agreement.
For more information about this transfer degree please refer to the Colorado Department of Higher Education website.
Admission Requirements
Program Requirements
General Education Courses (31 credit hours)
Additional Required Courses (21 credit hours)
Please Note: If these credits are not required for the major at a receiving 4-year institution, they will be applied to the Bachelor's degree as elective credit towards graduation. Please check with the receiving institution to determine in which way these courses will be applied.
Any 3-credit Studio Art course
Electives (8 credit hours)
Elective credit must be completed from the following lists of approved prefixes or courses to bring the total credit hours to 60.
Any course in the following prefixes
Any course in the following prefixes except Special Topics, Independent Study, Capstone, and Internships:
ANT, ART, BIO (100 OR above), CHE, ECO, HIS, HUM, LIT, MUS, PED, PHI, PHY (105 OR above), POS, PSY, SOC.
Note(s):
Students planning to transfer to CSU-FC for completion of the BA in Studio Art must complete 2 semesters of one foreign language for their electives OR be able to pass the CSU-FC Foreign Language placement exam at the sophomore level. It may not be possible to complete the BA in Studio Art in two years without this prior foreign language competency.

Any additional courses taken in the discipline covered by this agreement might not count toward the requirements of the major at the receiving institution.
Total: 60 credit hours
All courses required for this degree must be completed with a "C" or better to be considered for transfer to another Colorado institution. Transferability of courses to colleges or universities outside of Colorado is determined by the receiving institution.
ACC academic plans will help guide you through your chosen program. The academic plan will provide you with important information, like which semesters courses are offered if there are any prerequisites or co-requisites for courses, program outcomes, course sequence recommendations, notes for the program, graduation requirements, and other important information. These are updated annually, so we recommend downloading a copy of yours to keep on track to graduation.
Commercial Photography
With your Commercial Photography AAS degree, you will learn:
Lighting techniques in situations in the studio and on location

Composition and visual literacy and storytelling

Technologies used by today's professional photographers

Conceptual and critical thinking and problem-solving

Interpersonal and communication skills

Necessary business principles and practices

Traditional and contemporary marketing principles and practices

How to create a compelling and cohesive portfolio for a specific market

To develop the curiosity and skills to become lifelong learners
Studio Art
Studio Art Photography will expand your skills in:
Creating original artwork

Studio art photography research

Strategies for visual arrangement

Using the medium's tools, materials, and equipment

Using professional presentation standards

Verbal and/or written critique
Job Opportunities in Photography
Choosing Your Photography Degree
Commercial Photography AAS
The Commercial Photography program is for those who want a career creating images to promote products, services, or people. You will focus on studio and location lighting, digital photography and videography, asset management, post-production techniques, marketing, and business practices. With an AAS degree in Commercial Photography, you can begin your career right after you graduate from ACC.
Our courses are taught by expert faculty who have first-hand experience working with top clients and agencies. You'll have access to professional equipment to explore the kinds of photography that interest you, such as architecture, portraiture, fashion, food, products, or sports through electives and portfolio creation. Turn your passion into a fulfilling career.
Studio Art Transfer Major AA
The Studio Art Photography program is geared towards those who want to be fine artists, using photography as their primary medium. Our program focuses on the history of art and photography, along with how your work fits within current practices. You will explore digital, traditional, mixed media, and alternative photographic processes. Once you graduate with your AA degree in Studio Art, you can transfer into a 4-year BFA program to continue your education or start your career.
Learn from instructors who are local and national award winners. You'll have access to our studio space to hone your skills and practice what you learn in class. ACC will help you capture your creativity.
Commercial Photography Student Work
Click on the image to enlarge / see full image.