Business and Business Administration
Gain a solid foundation in key business areas with the Business Administration program at Arapahoe Community College.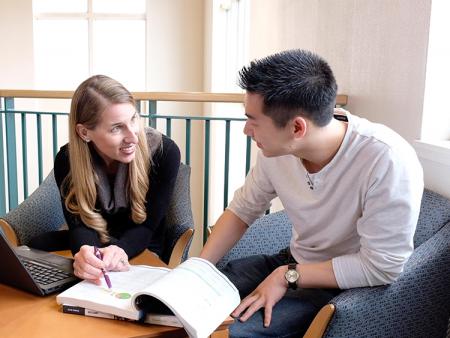 Through ACC's focused Associate of Applied Science degrees in Business Administration, you gain the business, management, entrepreneurship, and marketing skills you need to be successful in business. Courses offer opportunities to experience leadership, negotiation, networking, and a variety of other skills that are highly valued in the workplace. With a business-focused certificate or degree, you will be prepared to join the workforce or continue your education at a 4-year university. 
What You'll Learn
The business program offers the skills you need to be successful in your education and your career. Whichever concentration area you choose to study, once you graduate, you will be able to:
Write properly structured and organized business documents.

Examine a business problem and design a course of action

Use correct business terms
Depending on your focus, you may also learn how to:
Develop a business opportunity (Entrepreneurship)

Examine the use of financial statements for planning and monitoring financial decisions. (Finance)

Explain the universal management functions of directing, planning, organizing, and controlling (Management)

Develop the appropriate marketing mix to capitalize on a marketing opportunity (Marketing)

Contrast cultural differences between domestic and international business (International Business)
ACC academic plans will help guide you through your chosen program. The academic plan will provide you with important information, like which semesters courses are offered, if there are any pre-requisites or co-requisites for courses, program outcomes, course sequence recommendations, notes for the program, graduation requirements and other important information. These are updated annually, so we recommend downloading a copy of yours to keep on track to graduation.
Job Potential in Business
Getting your degree and/or certificate in Business Administration provides you with many career paths. Depending on your area of focus and your goals, the ACC Business Administration program prepares you for a wide range of business careers, including:
Discover Business and Business Administration Jobs through Purple Briefcase
Review the jobs below and more through Purple Briefcase (accessed through MyACC – Training & Technology – Career Services).
Business Administration Focus Areas
ACC offers a wide range of concentrations in the Business Administration program. Whether you want to begin your career or transfer to a 4-year college or university to get your bachelor's degree or beyond, the Business Administration program will get you there! Visit with your advisor or the Career & Transfer Center to help you decide the path that is best for you.
Business Transfer Major AA
The Business Transfer Major AA, prepares you to transfer to any 4-year college or university in Colorado to pursue a bachelor's degree in business. Visit the Colorado Department of Higher Education website to learn more about Colorado's guaranteed transfer and guided degree pathways.
Business Administration AAS
(Concentrations in General Business, Finance, Management, Marketing, Entrepreneurship, and International Business & Foreign Language)
Getting your Business Administration Degree provides you with the foundational skills you need to begin an exciting career, start your own business, advance in your current job or continue your education at select 4-year institutions.
Business Administration Certificate
The Business Administration Certificate offers you the opportunity to add a wide range of business related courses to advance in your job, to enhance skills needed in the workforce, and to excel in self-employment.