Message from the President
Our Mission – Your Success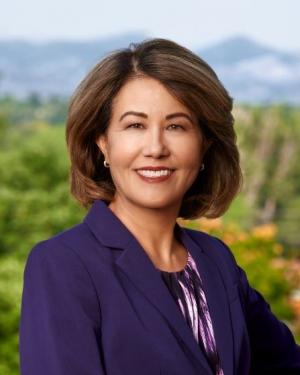 Welcome to Arapahoe Community College and congratulations on selecting ACC to pursue your educational goals. For more than 50 years, ACC has helped students just like you achieve personal and professional aspirations. We look forward to being a part of your journey toward success!
At ACC, we are proud to offer a wide variety of innovative opportunities, including more than 100 degree and certificate programs. Whether you attend ACC to pursue a new career, upgrade your skills or plan to transfer to a four-year institution, our educational offerings and services are the first steps to providing you the skills and knowledge you need to achieve your goals. With nationally recognized faculty, small class sizes and cutting-edge technology, we are confident the education you receive at ACC is among the best you will find in Colorado.
ACC is the communities' college. That's why in addition to traditional college programs we offer many opportunities for lifelong learners, including continuing education for practicing professionals, customized training for industry needs, programs for seniors, and fundamental programs to help students prepare for college coursework. With convenient course times and campuses in Littleton, Parker and Castle Rock, as well as a robust online offering of programs and courses, you're sure to find classes that will best fit your schedule and lifestyle.
In this catalog is everything you need to get started at ACC.
I am pleased to welcome you to the ACC family and wish you every success. We're glad you're here!
With warmest regards,
Stephanie J. Fujii, Ph.D.
President
The History of Arapahoe Community College
1964 - A group of Littleton residents research the need for a junior college and present their findings to local school districts. With help from community and business leaders, school officials and citizens, Littleton residents vote to establish a college.
1965 - Arapahoe Junior College is founded on May 4, 1965.
1966 - Arapahoe Junior College opens and welcomes its first 550 students.
1970 - The College joins the Colorado Community College and Occupational Education System and is renamed Arapahoe Community College (ACC).
1970 - The College becomes accredited by the North Central Association of Colleges and Schools
1974 - The Main Building on the Littleton campus is completed.
1977 - An Annex to the Main Building is added.
1979 - The Colorado Gallery of the Arts opens.
1989 - The College acquires and opens the West Alamo Center in downtown Littleton near the main campus; the acquisition is renamed the ACC Art and Design Center.
2000 - ACC expands into Douglas County with the opening of the University Center at Chaparral (UCC) in Parker.
2001 - ACC completes a $13 million renovation of the Main Building on the Littleton Campus to house the Weber Center for Learning Resources (the library) and additional classrooms.
2006 - The College's reaffirmation of accreditation is received by The Higher Learning Commission
2011 - The University Center at Chaparral (UCC) is renamed the Arapahoe Community College Parker Campus.
2011 - The College expands again with the opening of the Arapahoe Community College Castle Rock Campus. The new campus offers credit and noncredit classes plus Workforce Training programs and facility rentals.
2017 - The College's reaffirmation of accreditation is received by The Higher Learning Commission
2019 - The Arapahoe Community College Sturm Collaboration Campus at Castle Rock opens
2022 - Arapahoe Community College sells the Parker Campus to DCSD. ACC partners with DCSD to offer courses at the DCSD Legacy Campus in Lone Tree
2023 - Renovation of ACC's Littleton Campus Annex building begins to create the Health Innovation Center
Our Door is Always Open
Arapahoe Community College is an open-door admissions institution. If you have a high school diploma, General Education Development (GED) certificate, or are not in high school and 17 years of age or older, you may be admitted. Please remember that admission does not guarantee enrollment in any specific programs and courses. You may be required to meet prerequisites designed to help you successfully complete a course of study. Admission may be denied in accordance with the State Board for Community Colleges and Occupational Education Board Policy BP 4-10.
Vision Statement
To be the leader in innovative community college education.
Mission Statement
To provide innovative and responsive educational and economic opportunities in an accessible, inclusive environment that promotes success for students, employees, and the communities we serve.
Values Statement
Life-Long Learning — We uphold the highest academic standards and support the growth and success of each individual we serve.
Collaborative Partnerships — We foster trusting relationships and respectful communication through collaboration with our students, employees, and external stakeholders.
Integrity — We encourage an ethical environment that embraces honesty, respect and personal responsibility.
Inclusion — We encourage the free exchange of ideas and an open dialogue in a brave environment that embraces individual differences.
ACC Institutional Student Learning Outcomes
Preparing learners for life success is an important commitment at Arapahoe Community College. These learning outcomes address the knowledge, skills, and values that are fundamental to the personal and professional growth of our students, employees and community.
Communication — The students will be able to construct, deliver, and engage in effective communication for a variety of audiences and purposes.
Equity and Inclusion — The students will be able to define, describe and analyze various issues related to diversity, equity, and inclusion in their respective disciplines.
Information Management — The students will be able to identify, retrieve and synthesize information in order to think critically, reason logically, and make informed judgments.
Personal Enrichment — The students will be able to analyze and incorporate social accountability and ethical behavior along with continual development of self-concept and identity to obtain meaningful goals.  
Quantitative Reasoning — The students will be able to retrieve, interpret and evaluate quantitative information to determine trends, make predictions, and develop informed decisions.
Equity Statement
We welcome and value the identities and experiences of our students, staff, faculty, and surrounding communities. We seek to engage and support historically marginalized groups whom higher education has traditionally failed to serve. We work to foster an equitable and inclusive learning and work environment that supports our students and employees through professional development, programming, reflection, and transformational change of ACC practices, procedures, services, and teaching. We collectively commit to holding ourselves accountable to our equity goals through assessing these efforts with multiple strategies that include voices of those impacted by this work.
Institutional Accreditation
Arapahoe Community College is accredited by The Higher Learning Commission and a member of the North Central Association of Colleges and Schools. The Commission can be reached at 312.263.0456. Web address: www.ncahigherlearningcommission.org.
ACC Program Accreditations
The following programs hold accreditation and / or approval as listed:
Automotive Service Technology, ASE Education Foundation
Certified Nursing Assistant, Colorado State Board of Nursing
Early Childhood Education, National Association for the Education of Young Children (NAEYC)
Emergency Medical Technician, Colorado State Department of Health, Emergency Medical Services Division
Health Information Technology, American Health Information Management Association
Interior Design, National Kitchen and Bath Association (NKBA)
Law Enforcement Academy, Colorado P.O.S.T. (Peace Officer Standard and Training Board)
Medical Laboratory Technology, National Accrediting Agency for Clinical Laboratory Sciences
Mortuary Science, American Board of Funeral Service Education
Nursing (Registered), The Accreditation Commission for Education in Nursing, Inc. and The Colorado State Board of Nursing
Paralegal, American Bar Association
Paramedicine, Commission on Accreditation of Allied Health Education Programs (CAAHEP)
Physical Therapist Assistant, Commission on Accreditation in Physical Therapy Education
Addresses and phone numbers for these accrediting agencies are listed within the description of each specific degree or certificate.