Meet ACC's New President: Stephanie J. Fujii, PhD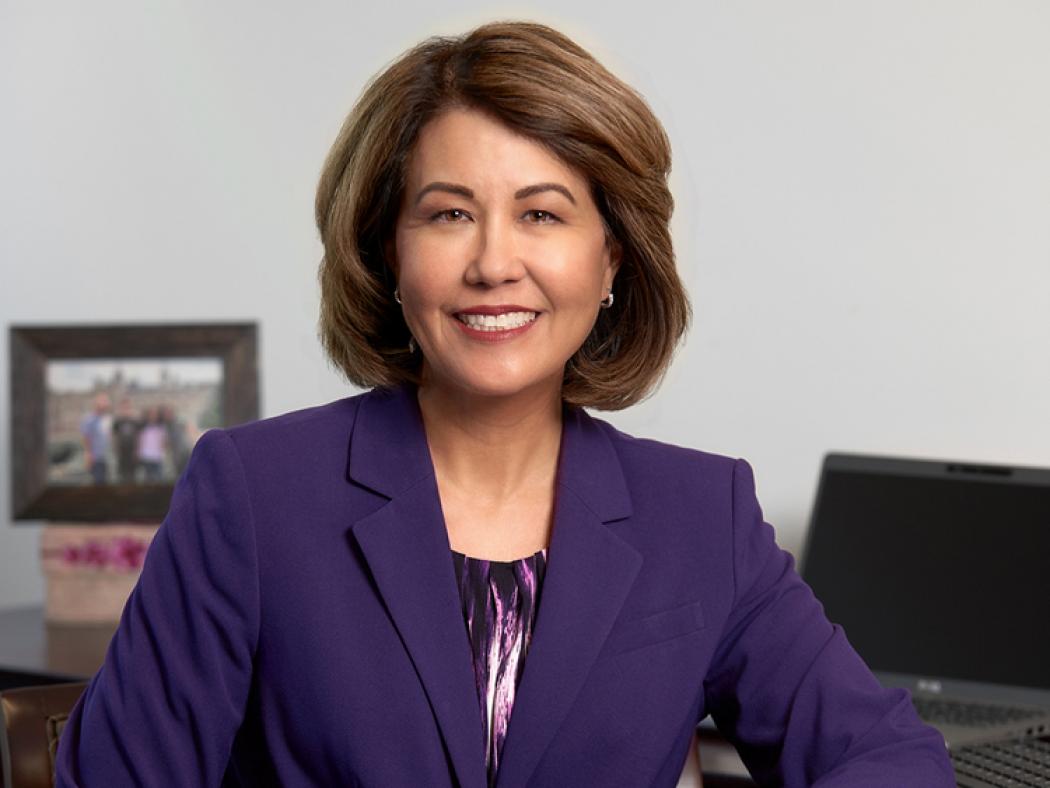 Stephanie J. Fujii, PhD, began her role as President at Arapahoe Community College (ACC) on July 12, 2021. She came to Colorado from Arizona, having worked in the Maricopa Community College system in the greater Phoenix metro area. At Scottsdale Community College, home of mascot "Artie the Artichoke", Stephanie was the Vice President of Academic Affairs for 5 years. She has more than 32 years of higher education experience as a counselor, faculty member, and administrator.
"I am honored and humbled to serve as the new ACC president," said Stephanie. "The warm reception and the overall graciousness with which I have been received, all affirm my belief that ACC is a very special place. I feel blessed to be here and to have the opportunity to work with and learn from you all. I am excited about the start of our new journey together!"
Stephanie is a nationally-recognized higher education leader and scholar with a demonstrated record of developing and launching collaborative partnerships with business and industry which support the college's communities and offer career opportunities to students. She grew up in Las Vegas, working jobs in food service, retail, housekeeping, and even a brief stint as a blackjack dealer in Reno, Nevada.
She made this move with her partner, 2 college-age children, and a dog who had never seen snow or stairs. "When I first arrived in Colorado, I was always getting lost," exclaimed Stephanie. "People remind me I can always find west by looking for the mountains. I do get to sleep with my windows open inviting the cool Colorado summer breeze in, something I could never do in Arizona. There is a peacefulness about the beauty of our local area which calms the spirit."
Stephanie has presented across the country on the topics of diversity, inclusion, equity, student retention / persistence, college counseling, and student development. She authored a column for the national newsletter of the American College Counseling Association (ACCA) and is published in the Community College Journal of Research and Practice. She was also recently appointed to the Diversity, Inclusion and Equity Commission out of the American Association for Community Colleges (AACC). 
We're so excited to introduce her to the Arapahoe Community College Community! 
---
ACC Spotlight: Stephanie J. Fujii, PhD
We asked Stephanie a few questions to help us get to know her better...
What is your job at ACC?
College President
What do you do at ACC (explain your role)?
Serve as the chief executive officer for the college. In this role, it is my responsibility to advance educational opportunities and economic mobility for students working closely with our communities (K-12, business & industry, local legislators, etc.)
To do this, it is incumbent for me to (1) know the good work being done and (2) provide support for the faculty and staff who deliver the instruction and services to our students.
Why did you choose ACC?
ACC's commitment and evidenced outcomes of being a truly innovative and responsive institution. It is a college that strives to do and be more. I was and am continually impressed by the dedication of all employees throughout the college who actively seek to foster a sense of inclusion and belongingness for all in a shared mission of student success.
What is your mountain (ultimate goal)?
For our community colleges to facilitate and support students' successful achievement of meaningful and relevant certificates/degrees which lead to greater educational and economic opportunities. My ultimate mountain/goal is for 95% of the students who start with us, complete with us, ready and well prepared to transfer and/or start a well-paying career.
What's your favorite ACC memory so far?
Working the Welcome Desk area outside during the First Week of Classes. So much fun to see and experience the wonderful and warm energy of our faculty and staff welcoming our students back to campus.
Tell us a fun fact about you.
I had a brief stint as a black jack dealer in Reno, NV when I was in college.
Top 5 Hobbies
Reading. Some favorite finds include Victor LaValle, Silvia Moreno-Garcia, and old standby, Stephen King.

Watching TV with family (partner & 2 college-age kids). Really like Ted Lasso, The Mandalorian.

Hiking - This was a big draw for us in moving to Colorado. Lots of great places to hike!

Shopping for a great deal. I try not to buy what I do not need, but really like consignment stores, thrift shopping. I don't mind "hunting" when I have the time.

Travel - I enjoy going some place new, walking around, getting a sense of its history, culture, and eating local cuisine. I do like to eat!
What is your advice to future and current students at ACC?
As a college student, I struggled, I failed multiple classes, but managed to graduate after six years. I was a "conditional" admit to graduate school and it wasn't until my master's education, I began to believe I was and could be a "good" student. Academic success is not about being the "smartest," but rather (like much in life), it does require discipline, focus, and support. When I lacked the first two, I had the third. What makes ACC so special is all the support a student can receive. From our front-line folks, faculty, service area staff - All are invested and committed to supporting students acquisition of knowledge, abilities and skills which will enable not just academic success, but life-long success!
---
"It is my observation and belief that ACC is an innovative and responsive institution with a passionate workforce committed to student success. My interest and desire in serving as your president resides in the fact that ACC is a college which strives to do and be more."
When you see Stephanie walking around campus, be sure to say hi to her, and give her a big Puma welcome to ACC.