Mechatronics Engineering: It's not Sci-Fi, But There Are Robots!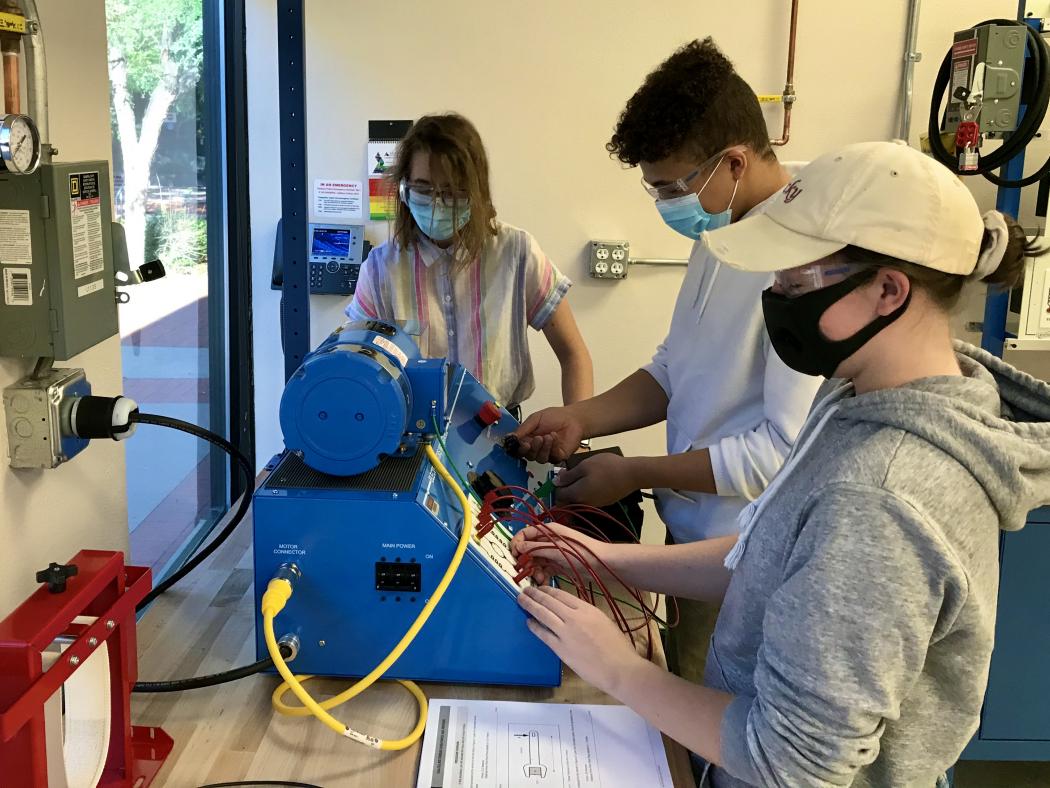 Star Wars. The Terminator. Transformers. Pacific Rim: Uprising. Westworld. Since the middle of the 20th century, human fascination with robots has continued to grow as evidenced by the overwhelming popularity of film and television blockbusters like these. We've all gotten used to grabbing the popcorn and watching robots save the day — or threatening to destroy mankind. Sometimes both.
While popular culture may thrive on the more sci-fi aspects of these mechanical beings, robotics and automation play a big part in everyday life. While robotics may not take the fantastical forms that we see in the movies, its practical application has a direct impact on the workplace and the economy in Colorado and beyond. And preparing the next generation of expert technicians to guide and evolve automation and robotics is exactly what the Mechatronics Engineering program at Arapahoe Community College (ACC) is all about.
Mechatronics Engineering: It's Not Sci-Fi, But There Are Robots!
The first question most people ask when they encounter the field of mechatronics engineering is, "What is it?"
"Mechatronics engineering is a bit of a combination of things that have all existed independently for quite some time," says Chris Gorrie, Director of the Mechatronics Engineering Technology program at ACC. "At its heart is the idea of automation. There are components of industrial controls, robotics, and programmable logic controllers (PLCs) that have all been in industry for quite some time. But what is happening now is that all of these independent technologies are being brought together under one umbrella with this program."
Answering the question of exactly when mechatronics came to be isn't as straightforward as it may seem, Chris says. Some would say the concept stretches back to advances in automation made by Henry Ford and has been evolving ever since. Regardless, the field itself involves working with robotics, motors and controls, fluid power such as hydraulics and pneumatics, and PLCs — essentially an industrial computer programmed to control a system that could be as simple as a conveyor belt or something much more complex.
"The purpose of mechatronics engineering is to develop the broad skill set to troubleshoot all of that," Chris says. "So students coming out of our program will be able to be qualified technicians in fields where all of this is going on."
What Does Mechatronics Look Like, and How Does it Impact Everyday Life?
Equally important to the question of what is mechatronics, is how the technology impacts us daily. Decades ago, Chris explains, being able to automate a production line or process relied almost entirely on the scale of the operation. If a business was large enough, it could automate production because sufficient revenues were coming in to pay for the automation.
As the cost of automation continues to come down, Chris says, more and more smaller companies are able to automate their process, because it's now cost-effective for them, too. One of the best examples in terms of how mechatronics engineering affects us today is Amazon.
"One of the big impacts is it's changing the nature of the workforce. A lot of the jobs that in the past had been done manually, are going to be automated in the future. One example of that is what we're seeing with Amazon in their warehouses," Chris says. "Can you imagine working in an Amazon warehouse where you would have to go and pick stuff off a shelf for 10 hours a day? You get some shelf number and walk a half-mile to get it and dump it into a bin, and then all of a sudden, something else shows up and you have to walk to the other end to get that. So that's just one example of how automating a process like this can make things more efficient."
"So now, instead of having a crew of people doing this sort of menial, back-breaking task you have a fleet of robotic carts doing that with robotic arms, and you have people then who are trained to program and maintain them," Chris says. "It's a good-paying job for the right person, and it can be interesting. If you like to troubleshoot and program and things like that, it's a really good fit."
How Does the Mechatronics Engineering Technology Program at ACC Prepare Students to Succeed in the Field?
Chris points to several key strengths and aspects of the experience at ACC that sets the program apart from others that students may be considering. "One of the big advantages of going through a program like this at Arapahoe Community College is that it's a very nurturing environment," he says. "We don't assume that students are coming in and knowing how to do this or that. We start them from the ground up and teach them everything they need to know to be proficient in this field."
That closely-knit, supportive environment is especially valuable because it allows faculty, support staff, and tutors to focus on each student's individual needs. "It's a rigorous program, but we provide the support needed so that students will succeed," Chris says.
Mechatronics engineering students who successfully complete the program earn the Associate of Applied Science (AAS) degree, and they'll be prepared to take additional certification tests as well, Chris explains. Some of these include the NOCTI certification for robotics and the PMMI certification, which applies to product packaging. In all, there are more than 15 certifications related to Mechatronics for which students can prepare.
What Kind of Technology and Learning Resources Do Mechatronics Engineering Students at ACC Use?
Students entering the ACC program can expect a very hands-on learning experience, Chris says. The idea is to provide students with the classroom information they need and then to spend as much time as possible in the labs working with the equipment and technology.
"I'm not a proponent of lecturing for 2 hours in front of a class," Chris says. "There's no better way to learn this material than by working hands-on with the equipment. Another thing that I stress is working as part of a team day-to-day in class. This helps students develop interpersonal other soft skills that will be such an important asset for them in their careers. That's a big part of the learning experience in my program."
As a result of this intentional hands-on approach, ACC equipped its mechatronics engineering labs with state-of-the-art equipment that emulates as closely as possible what students will find in industry after they graduate.
"A great example of that is the industrial robotic arm in the lab. It's a FANUC, which is a really popular piece of equipment in the field, and that's why we chose it," Chris says. "Students who learn on this FANUC system will likely encounter that in industry if they're working in robotics. And even if they wind up working with some other line of robotics, the skills they learn as part of the ACC program are very transferable."
The same is true with the program's PLC equipment, Chris explains, which also is designed to better prepare those who graduate from ACC with a mechatronics degree.
"We've got Allen Bradley PLCs in our lab, which is ubiquitous in North America," Chris says. "Again, there are other brands; Siemens has a whole line of PLCs. But in the United States, Allen Bradley is really the big one, so that's what we have our students learning on. These skills are also transferable. Can a student go and pick up programming on a Siemens PLC? Of course. But chances are, if they're going to work in the United States, that they'll be working with Allen Bradley."
Since Technology is Changing So Rapidly, How Does ACC Keep its Mechatronics Engineering Curriculum Up to Date?
The program's curriculum has been carefully designed to deliver all the preparation a student needs to enter the workforce ready to succeed. It begins with a solid foundation in the concepts and principles of electricity, says Chris, who is an electrical engineer by training.
"That's the basis for a lot of this," he explains. "If you understand how electricity works, single phase, three phase, then add on to that some PLC programming, and some higher-level programming with robotics, you end up with a pretty complete skill set."
Additionally, Chris stays keenly focused on ensuring that the program remains as up-to-date as possible. He accomplishes this by gaining the input of the program's Advisory Board, which is comprised of several business owners who provide input on what's happening in industry and what emerging trends are on the horizon.
"This really helps us keep the curriculum as current as possible," Chris says. "Mechatronics engineering is a rapidly changing high-tech field, and as with any high-tech field, you have to keep up with what the demands out there in the workplace. What type of robot are you using? What types of tools do students need to be familiar with?"
Members of the Advisory Board also prove to be a vital resource when it comes to another cornerstone of the program — internships. "Internships give students the ability to get experience with a company that does something that they're really interested in," Chris says. "If a student really like robotics, or if they're more into programming PLCs, it gives them the opportunity to pursue those interests in a meaningful, actual industrial setting."
What Positions are Graduates of the Mechatronics Engineering Program Prepared for When They Graduate?
Between a curriculum that's shaped by industry insiders, an emphasis on hands-on learning, and cutting-edge equipment that is, as Chris puts it, "brand spanking new," the program at ACC is in a unique position to offer the highest level of preparation for a future mechatronics technician.  
And Chris would know. After earning his degree in electrical engineering, he came to Colorado to finish up his graduate studies in renewable energy. As part of that, he was charged with actually building the resources and equipment necessary to do his work.
"I did a lot of work putting the lab together, I built electrical junction boxes for all the equipment, I needed, ran gas lines, modified ultra-high vacuum deposition chambers to run experiments," he says. "And I really enjoyed that part of the work. I was frustrated by some of the scientific results, but it was a great experience getting high-tech equipment to do what I wanted it to do."
This experience, coupled with a longstanding passion for education, led him to begin teaching at a school, covering topics and material that paralleled mechatronics engineering in many ways. Some of these areas included the basics of electricity, motors and controls, fluid power, industrial wiring, and PLCs.
"Also, a lot of things in the wind industry are analogous to what mechatronics students would see in the field," he says. "Wind turbines themselves are essentially big robots that generate electricity. There's a generator, sensors, hydraulics, pneumatics all monitored and controlled by industrial computers. A lot of the same equipment that you find in an industrial setting."
This eventually led Chris to ACC and the Mechatronics Engineering Technology program, where he is building the student experience from the ground up.  
"One other thing that's important for people to know about our program is the emphasis we place on safety," he says. "Having a level of comfort with the tools and the technology, there's also a big safety component to that. You have to know what to expect when you turn on a piece of equipment and understand the safety protocols related to it. Safety is baked into all of the classes."
And unlike professions such as electrical engineering, that have been around for much longer than mechatronics, Chris says there isn't a single definitive job title that graduates of the program should focus on.
"Our graduates are prepared to work in a wide range of industrial settings," he says. "Warehouse settings, shipping and receiving, all kinds of different production settings that are on a big enough scale to be automated. Those are probably the big three. As far as actual job titles, they may include terms such as, robotics, automation, control systems, electronics, and so on. This career field is broad and exists at the exciting crossroads of electrical, mechanical, and programming skillsets."
What are the Future Prospects of the Mechatronics Field in Terms of Opportunities and Growth?
Graduates of the ACC program can expect to find a strong job market, both nationally and in Colorado. The U.S. Department of Labor expects the number of positions for trained professionals to remain steady through 2028.
According to the Occupational Information Network, which is a subsidiary of the U.S. Department of Labor, the median annual salary for mechatronic technicians in Colorado is $69,530, more than $10,000 per year higher than the national median.
"Amazon is in the process of converting all of its fulfillment centers — that's thousands of jobs across the country that will be in need of qualified technicians who have these exact skills," Chris says. "And that's just one example."
If you would like to learn more about the Mechatronics Engineering Technology program at ACC, you can speak with an advisor or request more information. Just visit the program page on our website, or call 303.797.5637.