by Diana Hornick and Josie Mills
I'm really shy, so it's nice to have a buddy today to take me around to get resources and to tell me, 'It's okay.' I just want people to know I still have a nice heart, even though I need some help."  Project Homeless Connect Guest
Project Homeless Connect—an annual, one-day event open to people of all ages experiencing homelessness or facing housing instability—provided services such as medical care, identification documents, haircuts, housing information, clothing, legal aid, child care, and pet care to approximately 1,600 guests at the Colorado Convention Center on the snowy day of October 10, 2019. 
PHC is organized by Mile High United Way, Denver's Road Home, and the City and County of Denver, and their representatives said that nearly 300 job offers were made and 4,000 meals were served this year at the event. Volunteers helped set up, tear down, prepare lunches, manage the flow of information, and work one-on-one with guests to make them feel welcomed and cared for, all totaling over 4,300 volunteer hours.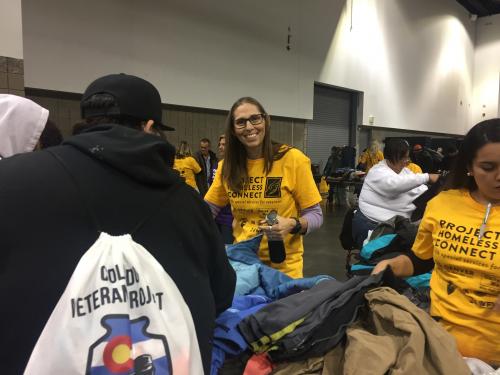 One of ACC's administrators, Meredith Tofield, volunteered again this year to guide guests and had this to say about Jessie and his best friend: "When we stopped by the pet care area, [Jessie] learned that he could get free vaccines [for] his newly acquired dog, so he ran out to his car to retrieve his dog, Rocket (a pit bull mix I think) and brought him back in. Rocket was scared of all the people around and didn't want to walk on his leash, so Jessie ended up carrying him part of the way back to the pet care area. It was great to see [Rocket] lie still for his shots and Jessie even got a voucher to take Rocket to get "fixed" at a veterinarian clinic. On our way out, a lady stopped us and offered [Rocket] a doggie coat (handmade) before they went out into the cold."
Colorado's Finest High School of Choice, part of ACC's Cosmetology program, had 42 second-year cosmetology students providing haircuts, 13 estheticians providing skin cleansing and support, and 45 first-year cosmetology students providing nail care. These exceptional students did about 315 haircuts and 50 or so manicures. One student who volunteered said "Not only did I make a difference in their lives, but they made a difference in mine."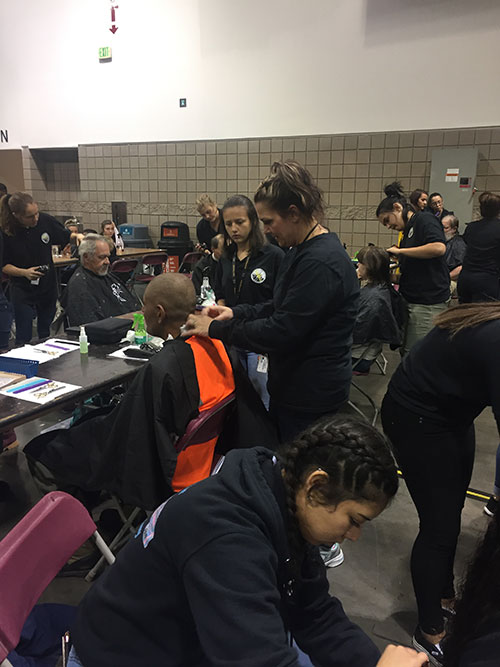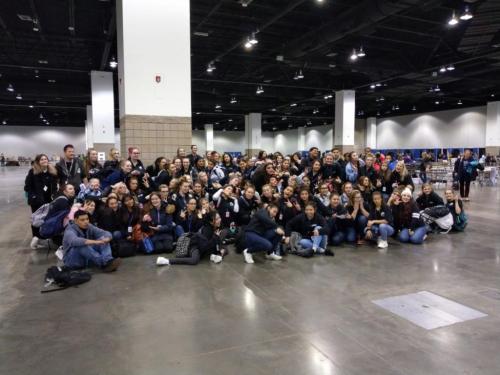 Scott Guenthner's English class was there too. The 22 students were paired up with guests to help them prioritize and navigate the resources. Scott had this to say about volunteering with his own guest that day: "When I shared what I did for a living and that my class was studying issues of poverty, he shared the three things he wanted them to understand about homelessness.  First, he said the hardest thing was sleeping, and the lack of a safe place to sleep, not getting enough sleep, made getting through the days and dealing with stress extremely difficult.  He also wanted to make sure my students actually learned peoples' stories, talk to them, so they weren't relying on the stories they tell themselves about the homeless.  He reiterated that the stories we tell ourselves about the homeless often times are used to treat people less than human.  Finally, he shared that the smallest gesture, giving a cup of coffee or saying hello, can be the one thing that helps someone make it through the day."
While teaching his 10 photography students at the event, who took professional portraits of 125 guests, Brad Bartholomew said, "My favorite moment was watching a young man open his folder and burst into a huge smile when he saw his photograph. He timidly asked if he could get another copy of the photo because he wanted to give it to his mother. It was an example of the power and importance of portraits and the simple things that we take for granted."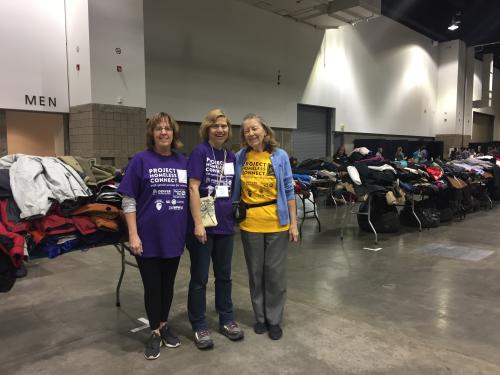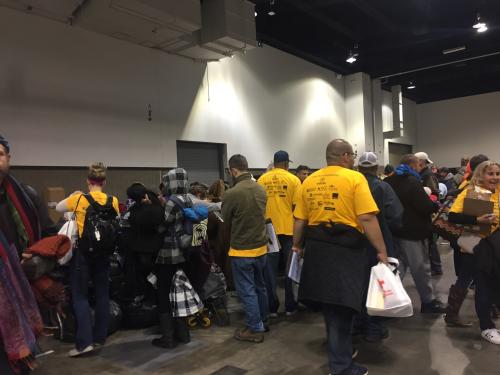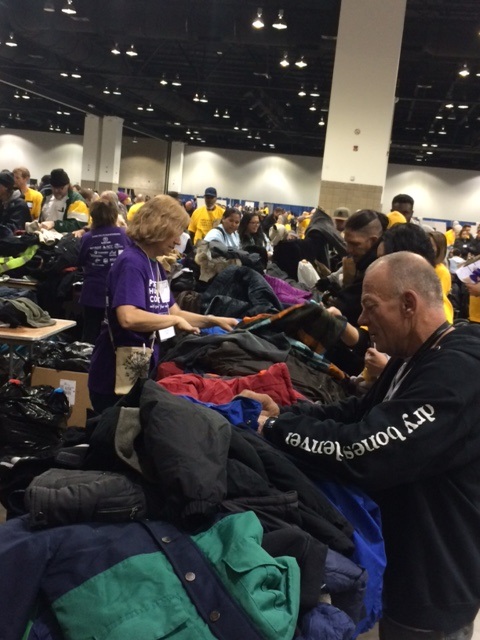 As part of ACC's Service Learning Center, ACC served as a sponsor and one of approximately 130 service providers, with 18 students, staff, and faculty organizing and distributing 1,500 coats (over 700 from ACC donations), along with more than 300 hats, gloves, and scarves, and a countless number of socks. ACC is proud to support such a worthwhile initiative within our community, and we look forward to helping again next year.