Early Childhood Education
Help children develop their skills emotionally, physically, and mentally with an Associate of Arts degree or certificate from Arapahoe Community College.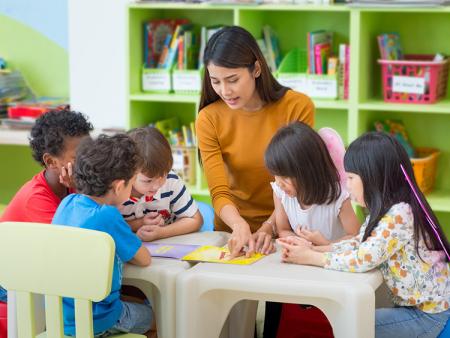 Do you have a passion for working with young children and their families? Early Childhood Education is a rich and rewarding career that demands well-prepared professionals. ACC and the Early Childhood Education Department faculty are committed to providing you with a wide variety of academic pathways, and a strong foundation that meets your career goals in early care and education as well as other related fields. Our programs are designed to help you master the proficiencies you need to become an effective Early Childhood Teacher or Director in Colorado. All of our certificate and degree programs include observations and hours in the classroom to provide you with a wide range of hands-on experiences with different ages and programs. Our courses will prepare you for wherever your educational journey takes you.
What You'll Learn
Getting your Associate of Arts degree in Early Childhood Education will prepare you for an immediate career or the option to transfer to any Colorado 4-year university with ease. Once you graduate, you'll be able to:
Write a position paper on an ECE topic that integrates knowledgeable, reflective, and critical perspectives

Observe, document, and assess the development young children

Develop an action plan that will improve social and emotional outcomes for children

Create an Integrated Curricular Plan

Create a learning environment that will foster a child's development through age appropriate and engaging activities

Build family and community relationships

Become a professional and advocate for our field
Early Childhood Education students are required to complete a national criminal background check through Castle Branch. This requirement is for both lecture-based classes where students are required to visit Early Childhood Programs and for practicum-based courses where students spend significant amounts of time in Early Childhood classrooms. This background check is a requirement of the Colorado Community College System and is implemented and monitored by ACC's Human Resources Department. Background checks from employment sites will not be accepted.
You are responsible for completing the criminal background check with Castle Branch. You will set up a personal account with this company and will have access to your information. The check will take 3-5 days to complete. You must show your instructors a screenshot of your account which indicates the check has been "completed." 
Background checks are valid from the date of clearance as long as you are continuously enrolled at ACC in a CCCS approved program with no more than a two semester lapse in enrollment. The Department Chair or Dean has the discretion to request additional background checks at any time, and you will be responsible for the associated costs. 
Should any required record indicate that you are unable to work with children, you will not be eligible to complete the courses requiring interactions with children. See the Disqualifying Events list (at the top of the document). You may file an appeal with the Colorado Department of Human Services should the findings indicate ineligibility to work with children. If your background check prevents you from working with children or to be hired by an educational facility, the department chair will work with you to determine an alternative education plan and career path.
Qualifications for an ECE Teacher
The Colorado Department of Human Services, Office of Early Childhood, determines the coursework and experience needed to be an early childhood teachers. Please view their Early Childhood Teacher Chart.
Qualifications for an ECE Director
The Colorado Department of Human Services, Office of Early Childhood, determines the coursework and experience needed to be an early childhood teachers. Please go to their website to view the Director and the credential equivalency charts. 
Colorado Rules and Regulations for ECE Programs
You can find the most updated version at The Colorado Department of Human Services, Office of Early Childhood website.
Vision
To be the center of excellence for EC professionals by providing dynamic and sustaining opportunities for them to grow in their knowledge, understanding, and implementation of best practices thus empowering them to think critically and be advocates for young children and their families.
Mission
To be the resource for innovative learning by exceeding the standards for the education of early childhood professionals.
At ACC we provide Early Childhood Professionals with a variety of opportunities to grow and develop in our field. We do this by being an open enrollment community college; by offering a variety of credit-bearing and professional development courses; scheduling classes at 3 campus locations and throughout our service area; providing students will support services; assessing student outcomes with NAEYC's Standards; offering high quality instruction, partnering with area early childhood councils and other ECE agencies; and responding to the needs of our community. 
Job Potential
Did you know 85% of a child's brain development takes place in the first 5 years? Early childhood educators play a critical role in preparing children's healthy development. Currently there is a shortage of well-prepared early childhood professionals in the U.S., according to the U.S. Bureau of Labor Statistics. With your degree or certificate, you could go on to work with children and their families in:
Head Start classrooms

Infant and toddler programs

Child care centers

Preschools

Family child care homes

Community agencies

Directing early childhood programs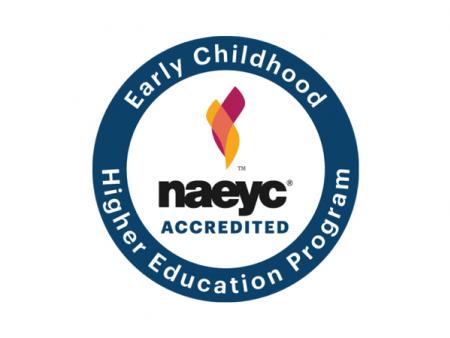 The Associate of Arts Early Childhood Teacher Education at Arapahoe Community College Institution is accredited by the Commission on Early Childhood Higher Education Programs of the National Association for the Education of Young Children, 1313 L Street NW, Suite 500, Washington, DC 20005. (800) 424-2460 ext. 8007. The accreditation term runs from March 2019 to March 2024.