Find your career or move up the ladder with an Associate of Applied Science degree in Construction Management or certificate in drafting, estimating or fundamentals.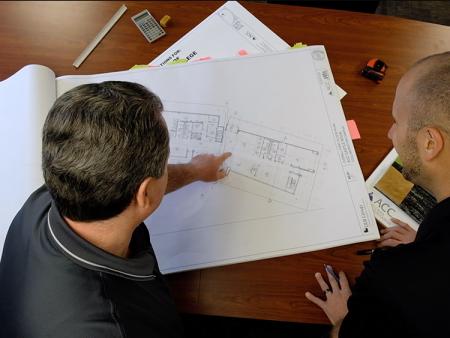 Our program is designed for the "in-house" construction industry person. We offer three cutting-edge paths – get an AAS in Construction Management, certificate in Architectural Contracts and Materials, or a mini certificate in Estimating. Some of the exciting career possibilities include: construction estimator, surveyor, field supervisor, sub-contractor, materials specialist, or energy analyst. Start making a direct impact on your community today!
What You'll Learn
During your studies in the Construction Management AAS program, you'll learn innovative skills in:
Energy technologies

Building practices and materials

Estimating, scheduling, and hands-on surveying

Building codes

Print reading

Contracts and legal information
Job Potential
Build a solid foundation while we prepare you with the best skills for employment. With Colorado's increasing population, an AAS in Construction Management can open doors to a number of careers right here in your community. Some of the exciting career paths include:
Construction estimator

Surveyor

Construction scheduler

Field supervisor

Sub-contractor

Insurance and manufacturing representatives
LEED Exam Preparation
Need to prepare for the LEED (Leadership in Energy and Environmental Design) exam? We offer a course for that too. Created by the U.S. Green Building Council (USGBC), the LEED (Leadership in Energy and Environmental Design) course provides a detailed exploration of the LEED rating system for a general understanding of what LEED is and how it is implemented. LEED is a green building certification system. Buildings that are LEED certified are designed to save energy, water, improved indoor air quality and a reduction in CO2 emissions. LEED exam preparation consists of one 3-credit hour course designed to prepare students to take the LEED examination. The LEED professional certification is managed by Green Building Certification Institute (GBCI). For more information see USGBC.