Find your career or move up the ladder with an Associate of Applied Science degree in Construction Management or certificate in drafting, estimating or fundamentals.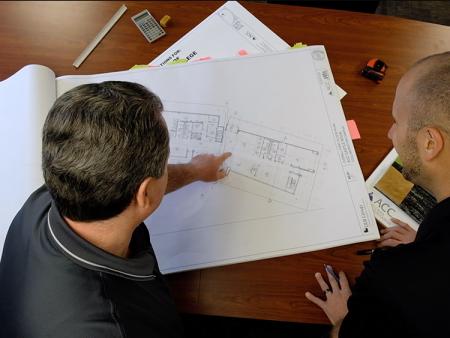 Our program is designed for the "in-house" construction industry person. We offer three cutting-edge paths – get an AAS in Construction Management, certificate in Architectural Contracts and Materials, or a mini certificate in Estimating. Some of the exciting career possibilities include: construction estimator, surveyor, field supervisor, sub-contractor, materials specialist, or energy analyst. Start making a direct impact on your community today!
What You'll Learn
During your studies in the Construction Management AAS program, you'll learn innovative skills in:
Energy technologies

Building practices and materials

Estimating, scheduling, and hands-on surveying

Building codes

Print reading

Contracts and legal information
CIP 460412 (CSB6)
Students completing the AAS in Construction Management degree have prepared themselves for supervisory/administrative roles within the construction/energy industry. The curriculum incorporates coursework in energy technologies, architectural principles, business, and construction technology.
Admission Requirements
Program Requirements
General Education Courses (16 credit hours)
Major Courses (47 credit hours)
CIP 150101 (DRA2)
The Architectural Drafting Certificate provides the educational background and basic technical training necessary for the student to seek employment within one of the area architecture firms. Students will be prepared for a variety of entry level positions that include Draftsperson or Computer Aided Design Technician. Refer to your catalog for basic skills assessment required for this program.
Any student who has an interest and feels he/she can profit from the program may enroll.
Admission Requirements
An interview is usually held by the program chairperson with the prospective student to determine the student's interest and desire and to discuss the purpose of the program with the student.
Program Requirements
Major Courses (25 credit hours)
Electives (3-4 credit hours)
4 Credits (recommended)OR
or ART GT course AH1, AH2, AH3, AH4 or CAD or AEC courses
Total: 28-29 credit hours
CIP 460412 (CST7)
The Construction Management Fundamentals certificate introduces students to residential and commercial print reading, covering the interpretation and reading of construction prints and related documents as used within the building trades industry. This certificate also covers basic construction estimating. Students will develop skills in estimating the amount and cost of various constructions and will demonstrate these skills by making estimates of materials and labor quantities and the cost of representative types of construction.
Admission Requirements
Program Requirements
General Education Courses (3 credit hours)
Major Courses (18 credit hours)
Restricted Elective Courses (3 credit hours)
Choose 3 Credits from the following courses:
Job Potential
Build a solid foundation while we prepare you with the best skills for employment. With Colorado's increasing population, an AAS in Construction Management can open doors to a number of careers right here in your community. Some of the exciting career paths include:
Construction estimator

Surveyor

Construction scheduler

Field supervisor

Sub-contractor

Insurance and manufacturing representatives
LEED Exam Preparation
Need to prepare for the LEED (Leadership in Energy and Environmental Design) exam? We offer a course for that too. Created by the U.S. Green Building Council (USGBC), the LEED (Leadership in Energy and Environmental Design) course provides a detailed exploration of the LEED rating system for a general understanding of what LEED is and how it is implemented. LEED is a green building certification system. Buildings that are LEED certified are designed to save energy, water, improved indoor air quality and a reduction in CO2 emissions. LEED exam preparation consists of one 3-credit hour course designed to prepare students to take the LEED examination. The LEED professional certification is managed by Green Building Certification Institute (GBCI). For more information see USGBC.