Study human culture and societal experience with an Associate of Arts degree in Anthropology.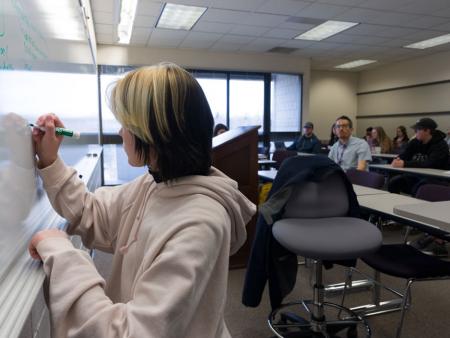 Explore and study mankind on a global scale with the Anthropology program at Arapahoe Community College. Learn to understand the human experience within cultures and societies. Study how language, biology, and culture impact societies.
Our AA degree in Anthropology is guaranteed to transfer to any Colorado 4-year university. Our courses will prepare you for your future education and career in Anthropology.
What You'll Learn
Throughout our program, you'll learn how to:
Understand and utilize anthropological terms

Discuss cultural beliefs and behaviors from a worldview perspective

Display ethical responsibility when studying other cultures

Discuss the pros and cons of globalization on various cultures
CIP 450201 (DANT)
The purpose of a statewide articulation agreement is to identify the courses a student at a Colorado public community college must complete as part of an AA/AS degree to be guaranteed to be able to complete the designated baccalaureate degree program at public four-year colleges and universities as designated by the Colorado Department of Higher Education (CDHE) transfer agreement.
For more information about this transfer degree please refer to the Colorado Department of Higher Education website
Admission Requirements
Program Requirements
General Education Courses (32-33 credit hours)
Additional Required Courses (22 credit hours)
GT - One GT Pathways Arts & Humanities course (GT-AH1, GT-AH2, GT-AH3, or GT-AH4)
GT - One GT Pathways ANT course in Social & Behavioral Sciences (GT-SS3)
GT - One GT Pathways Social & Behavioral Science course (must be GT-SS2 or GT-SS3)
Electives (5-6 credit hours)
Elective credit must be completed from the following lists of approved prefixes or courses to bring the total credit hours to 60. Please Note: Any additional courses taken in the discipline covered by this agreement might not count toward the requirements of the major at the receiving institution.
Any course in the following prefixes
Any course in the following prefixes except Special Topics, Independent Study, Capstone, and Internships:
ANT, ART, BIO (100 OR above), CHE, HIS, ECO, HUM, LIT, MUS, PED, PHI, PHY (105 OR above), POS, PSY, SOC.
Total: 60 credit hours
All courses required for this degree must be completed with a "C" or better to be considered for transfer to another Colorado institution. Transferability of courses to colleges or universities outside of Colorado is determined by the receiving institution.
ACC academic plans will help guide you through your chosen program. The academic plan will provide you with important information, like which semesters courses are offered, if there are any pre-requisites or co-requisites for courses, program outcomes, course sequence recommendations, notes for the program, graduation requirements and other important information. These are updated annually, so we recommend downloading a copy of yours to keep on track to graduation.
Job Opportunities in Anthropology