ACC Celebrates Inaugural Class of CHCC Academy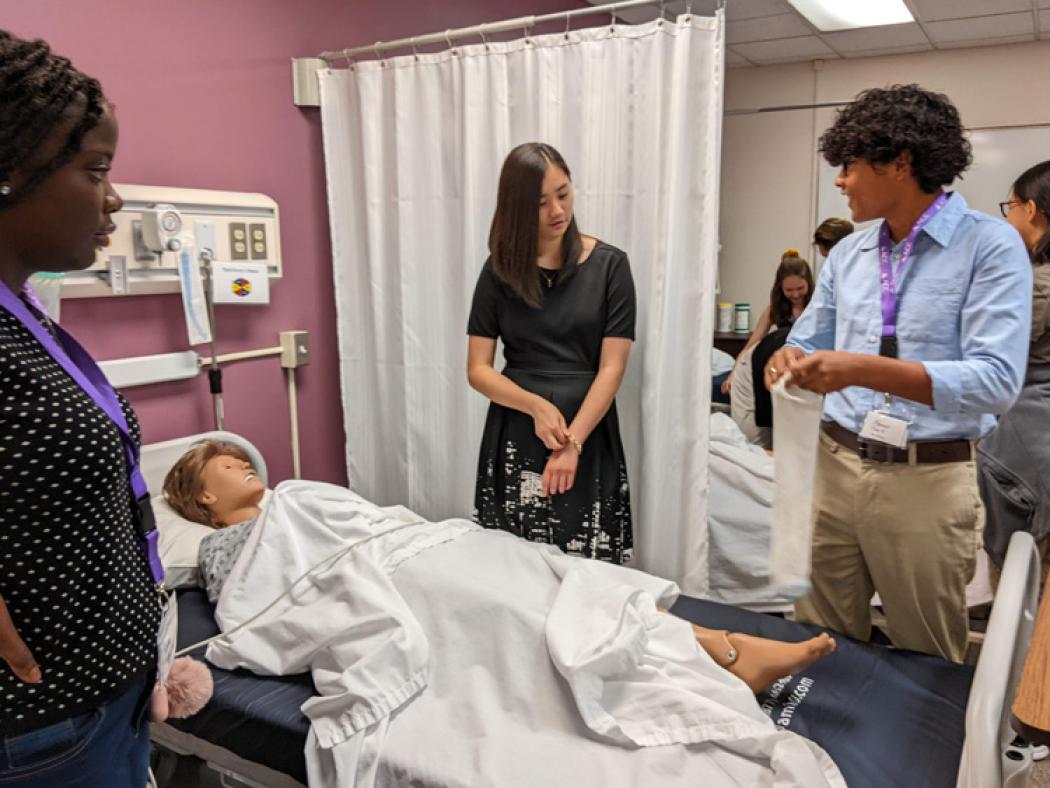 Arapahoe Community College (ACC) and the Community College of Denver (CCD) are proud to announce that 152 students successfully completed the inaugural Colorado Health Careers Collaborative (CHCC) Academy, a program providing a seamless pathway from education to employment for Colorado high school and college students who aspire to embark upon careers in the healthcare industry.
Summer 2022, CHCC Academy participants represented multiple Denver-area school districts and five community-based organizations, and more than 78% identified as a minority.
"The CHCC Academy brings together innovative organizations from both the public and private sectors to co-create pathways to rewarding careers in healthcare for Colorado's youth," said ACC Vice President for Workforce & Economic Development Eric Dunker, PhD and Dr. Fida Obeidi, CCD Dean of Health Sciences. "Our most sincere gratitude goes out to ZOMALAB, Beyond Campus Innovations, College Invest Colorado, Arapahoe/Douglas Works!, school district partners, Centura Health, HealthONE and DaVita for collaborating with ACC and CCD to make this scalable solution a reality."
The CHCC Academy, which is free for eligible participants, combines hybrid instruction and modern apprenticeships to create equitable education-to-employment career pathways, postsecondary certification, career navigation and job shadowing opportunities across fast-growing healthcare industries in Colorado. Throughout the 6-week program, students attended weekly courses and participated in on-site training and instruction across four programs, including nursing (LPN/RN), medical assisting, medical lab sciences and radiologic technology.
CHCC students developed self-awareness through career exploration and experiential learning, and those who completed the program received a $500 stipend deposited into their College Invest account.
"Through the SyncUp Colorado Challenge, we hoped to accelerate innovative partnerships across the state to expand opportunities for young Coloradans to get job relevant skills and build quality careers," said Ben Walton, co-founder of ZOMALAB. "We're thrilled that Dr. Dunker and Dr. Obeidi are modeling an approach - designed in partnership with 3 of our state's largest health employers - that supports career development for young Coloradans and helps supply healthcare workers critical to meeting community needs."
ZOMALAB's SyncUp Colorado Workforce Design Challenge provided a $2 million grant to ACC and CCD for the development and implementation of the CHCC Academy.
"ACC and CCD are proud to partner with likeminded organizations that are committed to providing equitable access to education and connecting students to unique, fulfilling careers," said ACC President Stephanie J. Fujii, PhD, and CCD President Marielena P. DeSanctis, PhD. "By working together on collaborations such as the CHCC Academy, we can amplify our reach and educate young adults on the benefits of earning a degree. We look forward to continuing this model and expanding our services to even more students in the months to come."
For more information about the CHCC Academy, or to inquire about the next cohort at ACC or CCD, please contact ACC CHCC Program Manager brianna [dot] barnes-eldert [at] arapahoe [dot] edu (Brianna Barnes-Eldert) or CCD Program Coordinator nafeesa [dot] lynn [at] ccd [dot] edu (Nafeesa Lynn).