Villalobos Finds Great Career Path at ACC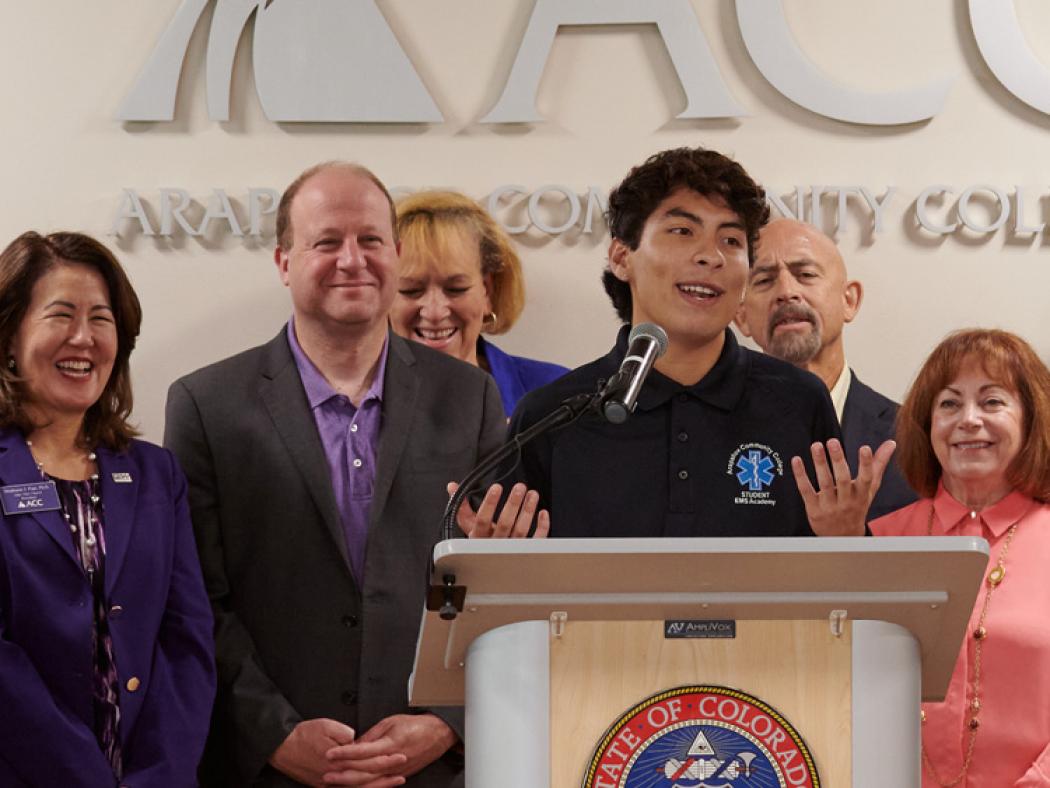 George Villalobos began attending Arapahoe Community College (ACC) in August 2022. Within a mere few days of being enrolled in the Emergency Medical Technician (EMT) Certificate program, Villalobos was asked by Dennis Edgerly, ACC EMS Academy Director, to speak about the benefits of the Care Forward Colorado program during a press conference held by Colorado Governor Jared Polis at the ACC Littleton Campus.
Villalobos nailed it. Energy … check. Enthusiasm … check. Contagious smile … check. Not only did he tout an initiative that's helping to revitalize Colorado's healthcare workforce, Villalobos also launched a great career providing emergency care to others in his community as an EMT.
Villalobos, 19, grew up in south metro Denver, attending Ralph Moody Elementary School, then Euclid Middle School, and finally Heritage High School. He worked for three years at a home improvement store while attending Heritage before switching gears to take a job at a local pizzeria.
Villalobos, a middle child, has an older sister (23) and a younger sister (12). His father is a plumber; his mother works as a maid. Villalobos has long been told that he has a penchant for helping others.
"I have always enjoyed caring for people in need," Villalobos said. "I started researching options to begin a career as a first responder, and that's when I discovered ACC's EMT program."
It was perfect timing, as shortly thereafter, Villalobos also found out about a new program called Care Forward Colorado that could help make his dream a reality by covering the expenses related to his cost of attendance. Everything aligned for Villalobos to begin & complete the EMT Certificate program in one semester.
"George arrived at ACC with such a great attitude and work ethic," said Edgerly. "He was really a model student during his semester in our program. I foresee him enjoying a lengthy and successful career helping others in the community."
Villalobos, who is, self-admittedly, not the best test taker, credits ACC EMT instructor Alec Giroir's amazing support for helping him to persevere and successfully navigate his exams.
"I'll always remember the wonderful instructors and friends I made at ACC," exclaimed Villalobos. "I hope to continue my education with a degree in Business, and maybe someday, have my own business venture on the side."
When it comes to academic success, Villalobos is a staunch advocate for believing in yourself, taking advantage of opportunities when they present themselves, and utilizing available resources.
"Always look to the future, and learn from every opportunity that comes your way," says Villalobos. "Rely on your friends and family for support, and don't take anything for granted."
Care Forward Colorado helped George Villalobos embark upon a great career in healthcare, and it can help you, too. The program provides zero-cost, short-term healthcare training at ACC. In one year or less, you can learn the skills to become a certified nursing assistant, emergency medical technician, phlebotomy technician, or medical assistant, and more in-demand healthcare professions. Students who have been impacted by COVID-19 and declare one of seven certificate programs as their primary major may be eligible to be reimbursed for tuition, fees and materials (through 2024).
Are you ready to Move Mountains with Care Forward Colorado at ACC? Call ACC Admissions at 303.797.5637 to learn more about eligible certificate programs and reimbursement options.