Meticulous and Creative Art with Evette Goldstein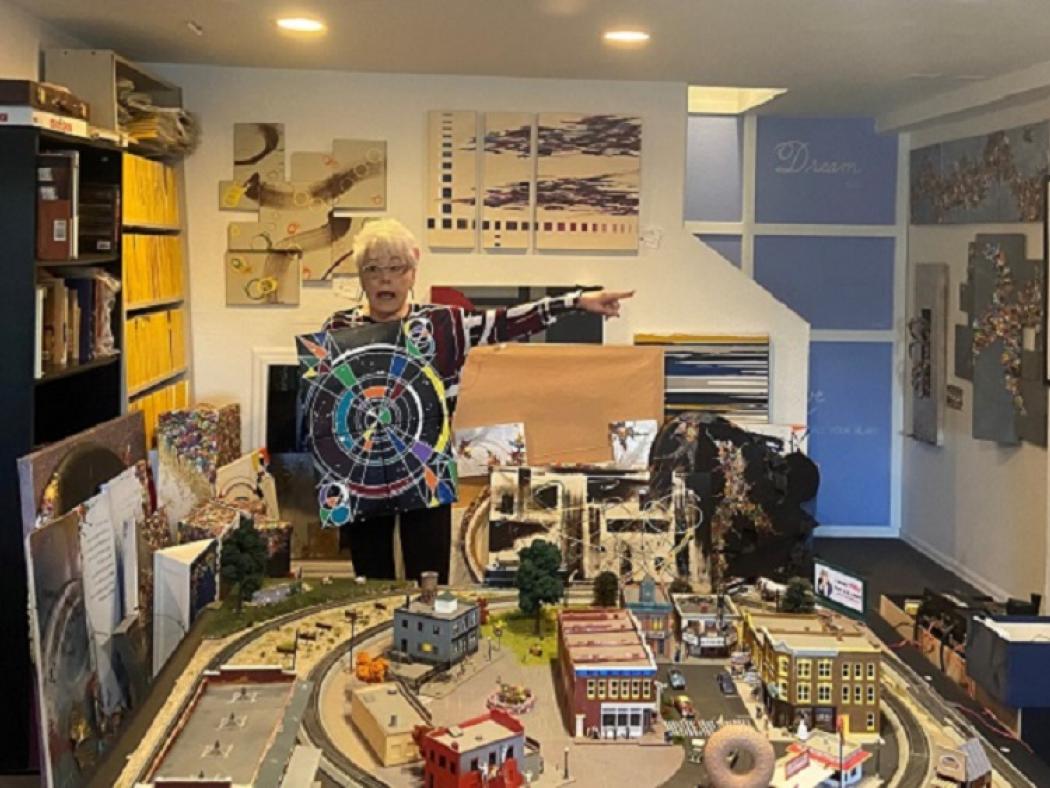 On Monday February 20, a few members of our WCP team had the pleasure of touring artist and calligrapher, Evette Goldstein's home and studio. Evette's eye for pretty writing and pretty art is evident from the moment you step into her studio, and the home she shares with her husband, Rohn. From painted banisters and outlet wall plates, to geometric light fixtures and stained-glass window detail, art is everywhere.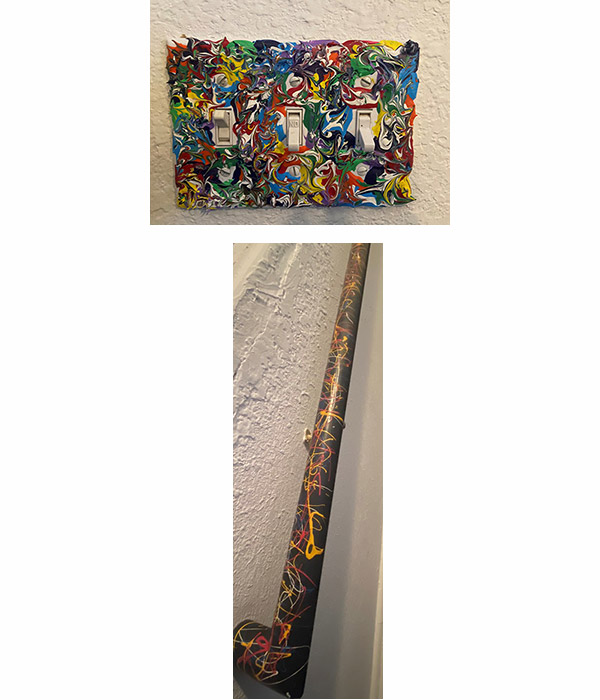 Evette describes her work as meticulous and creative and attributes this to her 50/50 right brain/left brain personality. She applies the same precision she used in her career in aerospace to her art. She experiments with canvases in different ways. Many of her paintings can be hung in different directions. She flips canvases, paints canvas interiors, experiments with multi-canvas creations and 3-D art. One innovative example of her creative eye was when she painted the insides of three prism-shaped canvases, which resulted in a finished work reminiscent of geodes.
Though a lot of her work is planned, some artistic inspiration arrives spontaneously. She tells us of a time when she was getting ready to hang a piece in a gallery and dropped the canvas, which resulted in a tear. Thinking quickly, Evette took a smaller geometric canvas, covered up the tear, and created a 3-D extension of the previous design. While this solved the problem of the tear, she thought it needed some more magic, and then took another small geometric canvas, repeated the process a second time, and completed her piece. She tells of another accident where a beloved piece of art shattered in her dining room. She literally picked the pieces off the floor and repurposed the colorful, gear-like shapes, incorporating them into several paintings.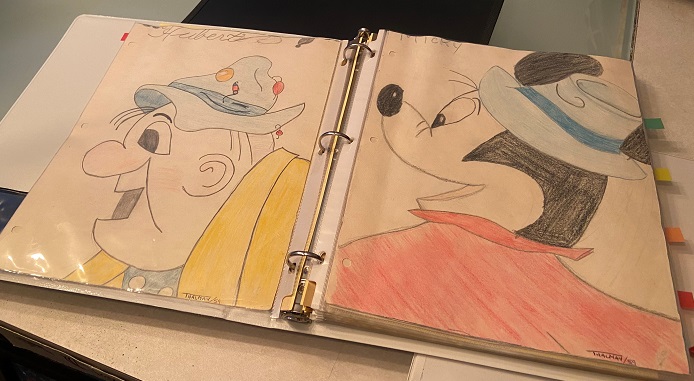 Evette started drawing at the age of seven, when she would take inspiration from Sunday newspaper comics, enlarging the images two to three times. In high school one of her favorite art assignments resulted in drawing the floorplan, foundation, and exterior of an imagined cabin. She enjoyed this assignment because she could envision the project to completion.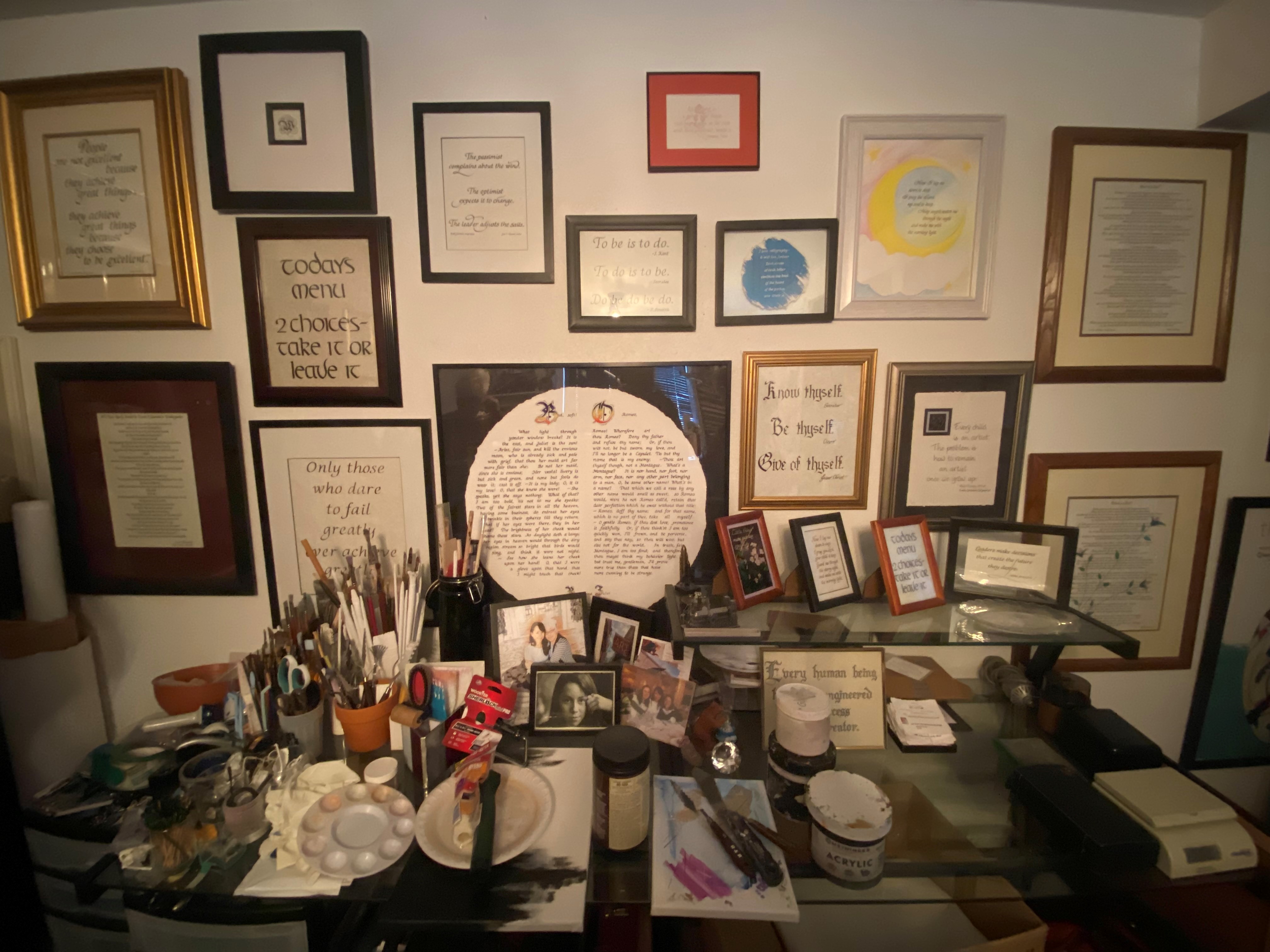 Evette's calligraphy can be found in a separate room in her studio. She works on a drafting table, and uses different sized guides to meticulously size the letters. When she was in elementary school, she was constantly changing her handwriting, so much so that her teacher never knew it was her. Evette loved experimenting with different styles and this was one of her earliest forays into calligraphy and pretty writing. In 2002, Evette launched her own website, PrettyWriting, to showcase her unique talents and calligraphy services. From wedding invitations, to Shakespearean verses, to awards presented at formal functions, Evette can create anything that can be written.
Evette has taught calligraphy at WCP since Spring 2005. Two of her WCP students are now professional calligraphers. A former student notes, "You sign up for her class for calligraphy, but she goes deeper and beyond what you'd expect."
Evette teaches two WCP classes this spring. Chancery Hand Calligraphy starts April 6 and Copperplate Calligraphy starts May 18. Learn more and sign up below.