It's AmeriCorps Week, Learn About the AmeriCorps Program and How ACC is Involved!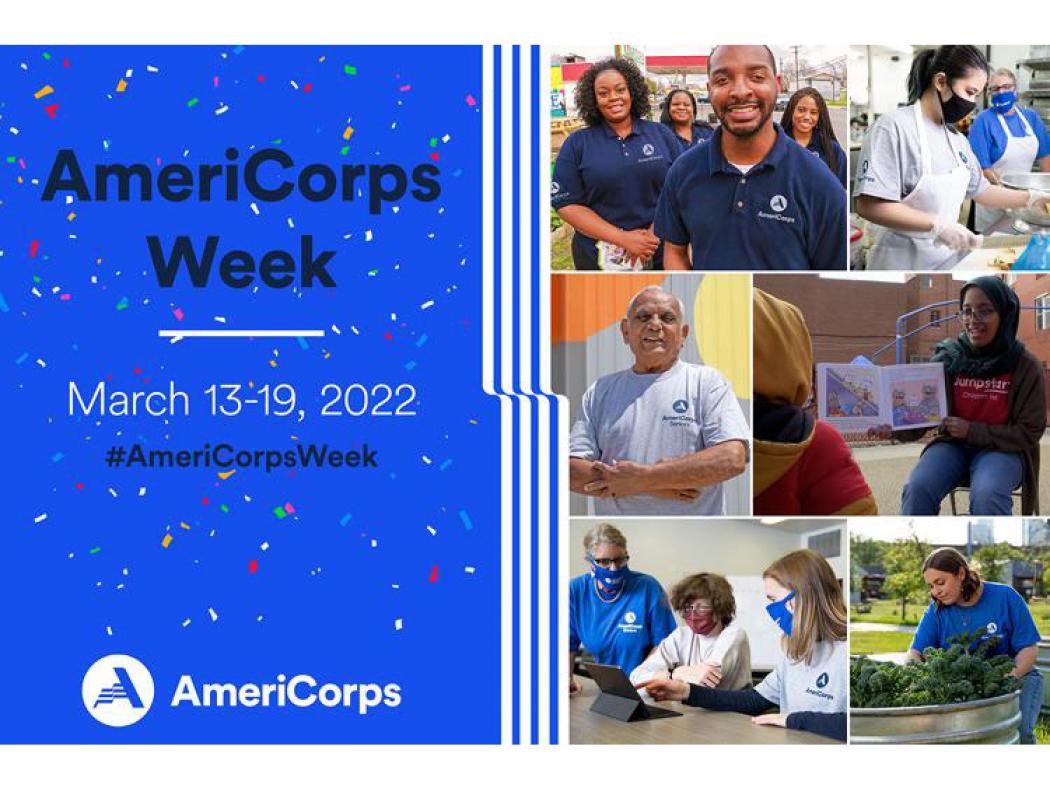 By Philip Drum – ACC AmeriCorps Volunteer
Well, it's everyone's favorite time of year again, that's right it's AmeriCorps Week! Wait, what? What do you mean you don't know what AmeriCorps is! AmeriCorps is a great program that's part of the government and is centered around helping people and communities. I mean their mission statement is: "To improve lives, strengthen communities, and foster civic engagement through service and volunteering". Who wouldn't get behind that? AmeriCorps focuses on several areas and improves these areas in a variety of ways. They dedicate themselves to education by mentoring students and helping them apply for higher education, economic opportunity by helping people get jobs and building affordable housing, the environment by conserving natural habitats and helping wildlife, and that's just to name a few!
There are also a ton of different programs a person can choose from to join AmeriCorps and they all tackle issues in their own ways. The National Civilian Community Corps (AmeriCorps NCCC) deals with issues by using a team-based approach. Their work is usually very "hands-on" and members live and work together to solve problems. This program is only open to people age 18 to 26 and is a great opportunity to get some real-life experience and make some great friends and connections!
AmeriCorps Seniors has a few programs under their umbrella, all open to people 55 and older. The Foster Grandparents program is all about guiding and mentoring students, caring for infants, and caring for children with disabilities. With the Retired Senior Volunteer Program (RSVP) members will find themselves using their skills to help communities and organizations solve problems in a variety of ways. The Senior Companion Program is all about helping other seniors live in their homes for as long as possible. Members do this by assisting with daily life tasks and spending time with the people they are helping. The State and National program is among the more diverse programs when it comes to the issues they work to help solve. State and National members can be part of projects that help communities prepare for natural disasters and help them rebuild after they occur, help protect the environment by maintaining public parks and hiking trails, improve wellbeing by increasing access to health foods and building community gardens, and a myriad of other service areas.
Last, but certainly not least, is the AmeriCorps Volunteers in Service to America program (VISTA). This program is mainly focused on working to end poverty. VISTAs do this by working with low-income communities and the organizations that help them to help build and strengthen their own programs in a sustainable way so they can help themselves and each other even after the VISTA has left. The work VISTAs do is usually more office based and has a lot of researching, writing grants, fundraising, and recruiting volunteers. All AmeriCorps members get special benefits during their service term as well such as a living allowance, end of service award, and even loan deferment for most federal loans. Not to mention all the connections and professional development that can be used in future jobs!
Now, on to me and why I know so much about this. My name is Philip Drum, an AmeriCorps Member VISTA, and I have been working at Arapahoe Community College since August 31, 2021 in the Career and Transfer Services and the Workforce and Community Programs Departments. My project focuses on helping the school help low-income people by researching non-profits that are in the same locations that the school serves and adding them to a database. This database has all the information I can find on them that I think would be useful to someone who would like to make use of their services or get in contact with them. I am then reaching out to these organizations to see if they would be interested in partnering with ACC and receiving our newsletter of classes.
The idea behind this is that these organizations would tell the people they work with about ACC and the classes we have, and we could let students at the school know more about what services are around them they can take advantage of. Students would have more information on what help is available to them if they need it, the organizations would be able to help more people, and people using the services of these non-profits would be able to know more about the classes that ACC offers and can take the first steps in furthering their education which will in turn help them when looking for jobs.
Exhilarating, I know. Since I'm sure you all are now currently busy planning your AmeriCorps week parties, I won't keep you for much longer. Just remember to invite your local AmeriCorps member and if you or any of your party guests are interested to learn more about my project here, AmeriCorps in general, or how to become a member of AmeriCorps, feel free to send me an email at: Philip [dot] Drum [at] Arapahoe [dot] edu or by checking out the AmeriCorps website at: americorps.gov. Happy AmeriCorps week, everyone!