Colorado Gives Day is December 6, 2022

This Colorado Gives Day the ACC Foundation aims to raise $20k for scholarships! We ask you for your support. 
Did you know that 4 out of 10 part-time ACC students don't return the second semester?! Not because of inability to perform academically, but because they juggle jobs, family, and general life challenges while trying to attend school.
These students need financial support to help them achieve their educational goals. Fulfillment of their educational goals translates to more nurses, more cyber security technicians, and more skilled workers for Colorado.
Because of our communities' compassion for students—and our donors' deep-set belief that higher education is crucial to a vibrant community, ACC continues to be a leader in innovative community college education!
ACC Scholar: Ryan Wade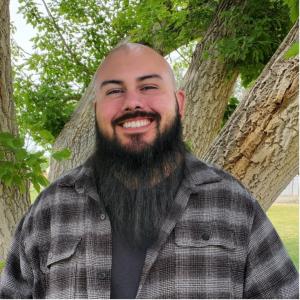 Ryan Wade is the recipient of the More than One Path, Colorado Motorsports, First Gen, and COSI scholarships.
We had the opportunity to chat with Ryan a couple weeks ago and was not only struck by his perseverance and will to better his life, but how his story is a perfect example of the power of education.
My name is Ryan Wade, I am 31 years old and currently live in Englewood, CO.
I moved frequently when I was younger, but I was primarily raised in southern California. Growing up for me was rough, and I had a very hard life that a child has no business being a part of. My mother was an abusive methamphetamine addict- a very cruel and mean woman who I suspect also suffers from mental illness. We were frequently homeless, 4 times before I was 23. I began working construction under the table at a young age, but due to my mother's drug use and chaotic lifestyle, it was never enough to keep our heads above water long, and I was never able to finish school.
When I bought my first car at 25, I couldn't afford repairs from a mechanic, so I bought a tool set and learned how to do it myself. I had no idea at the time that this would be one of the most important decisions I would ever make. It spawned a love and fascination with automotive that I never knew I had.
When I lost my job in October of 2020 due to COVID-19 cutbacks, I decided to go to school for a formal education, regardless of people saying I am too old. I earned my GED and hit the ground running, and despite my late start, have had a fantastic amount of achievement that I once thought not possible for myself.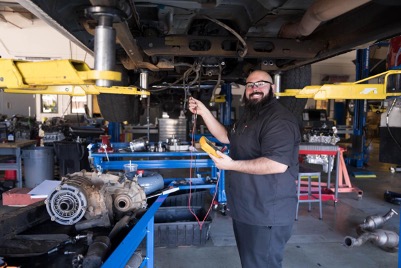 I am currently finishing my second year of school and will be transferring to Regis University next Fall. I will be participating in their dual degree program pursuing a master's degree in Applied Psychology with a minor in Business Management. I believe I can do many great things with a psychology degree, and many amazing doors can be opened with it. I have come so far, and I wonder what else is possible. I hope to use aspects of psychology to better serve businesses, as well as hopefully help individuals coming from struggling backgrounds like mine.
I am very grateful that I did not give up on myself, and the success and support I have received along the way have filled me with a motivation and inspiration that I may be able to help others find a better version of themselves, as I have found mine.
About the ACC Foundation and Colorado Gives Day
Every year in early December, Coloradans come together on Colorado Gives Day to support nonprofit organizations throughout the state. In fact, Colorado Gives Day has grown to be Colorado's largest 24-hour giving event.
The ACC Foundation works to advance the mission of the College by providing financial assistance and opportunities to students, encouraging public support for the College, and strengthening the teaching, learning and cultural environment of ACC and its surrounding communities.
During the fiscal year ending June 30, 2022, the ACC Foundation provided approximately $1 million in scholarships to students and over $50,000 in student emergency stipends to help cover students' expenses – including food, gas, shelter and other necessities – so that they could continue their studies at ACC.
How were we able to make this happen? More than 400 corporations, companies and individuals just like you came together in support of ACC.
Even more, Community First Foundation, FirstBank and other community partners from across the state want to make your support of Colorado nonprofits go even further on Colorado Gives Day. Every donation made to the ACC Foundation between November 1 - December 6 at ColoradoGives.org counts towards Colorado Gives Day and gets a boost from the $1.4 million Incentive Fund.
Thank you so very much for your consideration of the ACC Foundation on Colorado Gives Day.