Calling all Newbees: Learn the Art of Beekeeping at ACC!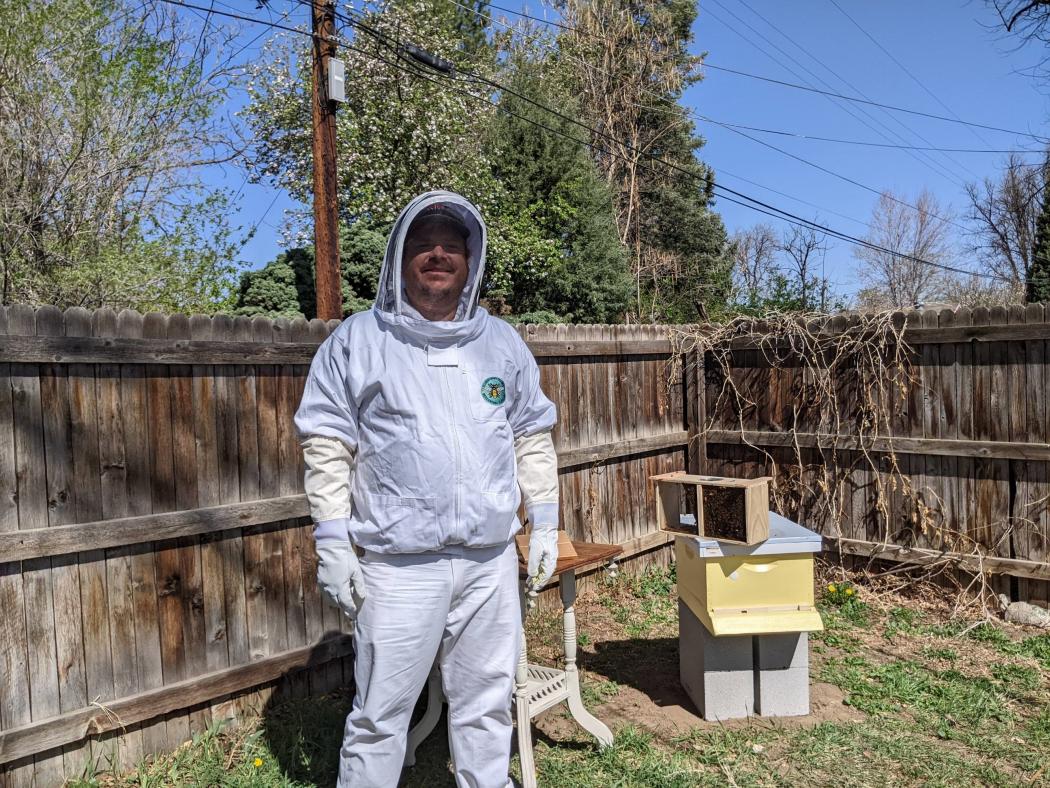 Beekeeping For Newbees was my first introduction into the world of bees. My knowledge prior to this was limited; I categorized bees as agents of pain (I was stung as a child) to be avoided at all costs. I'm so thankful and proud to say that this course changed my outlook on beekind and I see them now as friends, not foes. The course instructor, Keysha Boggess, played a huge part in this. She was incredibly knowledgeable about bees and also wise enough to know how and when to deliver information to us Newbees in manageable chunks. She even brought in a whole host of bee equipment for us to familiarize ourselves with. Most importantly, she was so passionate about everything bee-related. It was infectious! I would wager that everyone in attendance was smiling throughout the course if I'd been able to see underneath their masks. Safety first, however. I was particularly impressed by how well the course blended multiple bee topics together: practical applications for becoming a beekeeper were intertwined with histories of bees and beekeeping in a way that felt holistic. Keysha also went above and beyond in her kindness by providing some bee-related treats to the class and also making herself available as a resource to anyone who might need bee-related help in the future. I'm very happy that I attended this course and would absolutely recommend it to others. 
Beekeeping & Beeyond was my second bee course, after having attended the Beekeeping For Newbees course a few weeks prior. I appreciated the spacing between courses as it allowed me enough time to digest and process the information I'd gathered from the Newbee class. Beekeeping & Beeyond felt like both a natural progression onwards from the Newbee class while also allowing us to dive deeper into the world of bees. Our instructor, Keysha Boggess aka Queen Bee aka Beeysha aka The Beeople's Champ was once again an amazing teacher. Her passion and excitement made the class fun, informative, and also allowed attendees to feel comfortable to ask questions and interact with one another. Most of the attendees had previously attended the Newbee course and several had decided to become beekeepers, which segued perfectly into this course because we had the opportunity to dive deeper into materials, best practices, and responsibilities for beekeeping. Keysha kept the class exciting while delivering lots of great knowledge to the group.
You might be asking...where am I now? Well, I'm officially a beekeeper and I love it! It has been so fun and so rewarding to take care of the bees and feel like I'm contributing to my neighborhood. 
Thank you to ACC and Keysha and to all beekind for the courses. I had fun, learned a ton, and am now actively engaging in the community.
---
If you are interested in learning more about beekeeping, enroll in one of ACC's Workforce & Community Programs Beekeeping classes today!