Beautiful Writing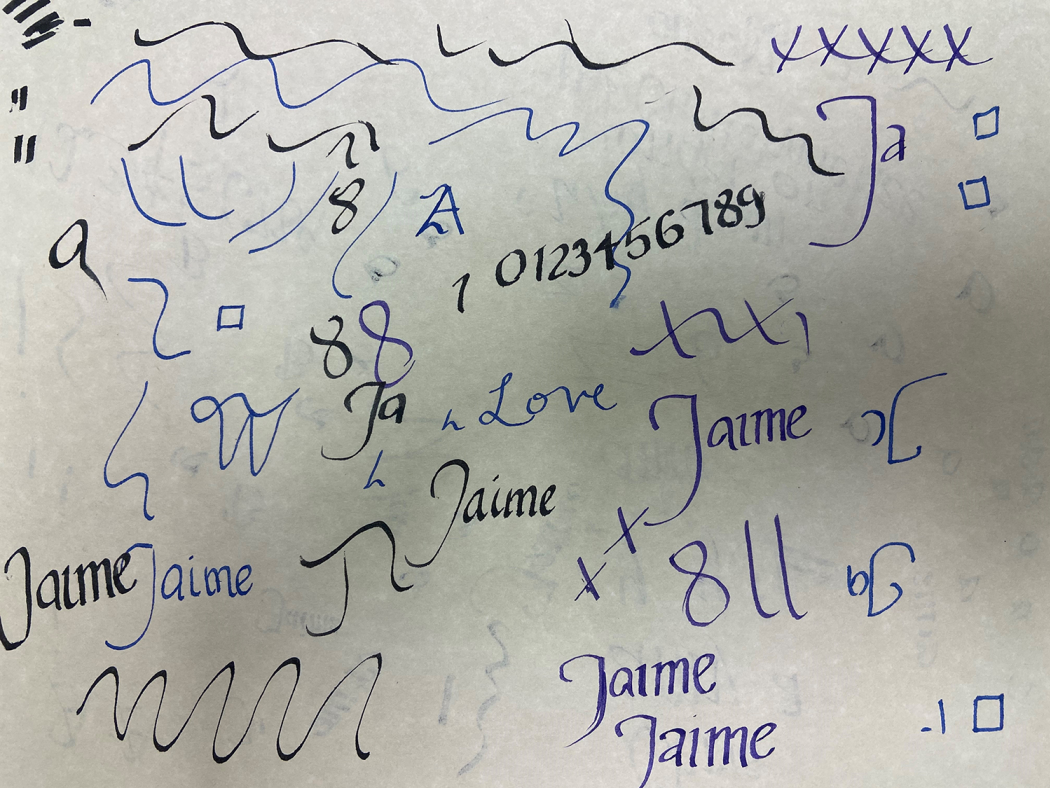 Working at Arapahoe Community College, I love the aspect of learning within our surrounding community. As a Workforce Navigator in the Office of Workforce and Community Programs, we oversee and foster this learning opportunity which allowed me to preview the classes being offered in Fall 2022. I was elated to support our community work by signing up for a class and tapping into my lifelong learning potential. Calligraphy caught my eye and led me to a world of creativity and possibilities that I never expected. While I am not super artsy, I loved the history of this art and wanted to learn how to increase play in my life with a stroke of a pen.
Chancery Hand Calligraphy was the first course I have ever taken for handwriting—after grade school. Often, I have received compliments for my handwriting and felt the nudge to further the skill. Dating back to its evolution from Egyptian hieroglyphics and the Greek alphabet, calligraphy flourished in the Middle Ages among scholars and monasteries until the invention of the printing press. WCP offers Chancery Hand and Copperplate Calligraphy and, after chatting with the instructor, Evette Goldstein, the first course I opted for was Chancery Hand Calligraphy. 
Evette exudes passion in this skill. In the first class, Evette offers all the supplies you will need to be your most successful calligrapher. Evette is quick to share that the true definition and finite translation of calligraphy is 'Beautiful Writing.' We are encouraged to practice, play, and try all sorts of things in our spare time from the very beginning. Evette has a designer background that connects to Littleton in many ways and is an ACC alum. Within the first class, I was honed into the Dos, Don'ts and Onlys of this skill:
Do pull the pen, Don't push

Do keep your nib at a 45-degree angle

Don't use tissue or cotton to clean your pen nibs

Only clean with cold water
Evette shared the historical aspects of this writing style, her passion in the skill and left us wanting more for the coming sessions. In the second class, Evette brought a variety of her favorite pens and shared how the ink can be different for each. As the classes progressed, more tools and completed pieces trickled into our space and consumed our class time. One of the books Evette brought to class, I selfishly snagged and kept close while I practiced my calligraphy. We watched a YouTube Channel of a Master of Penmanship who lives in Colorado; he is one of 12 Masters in the world! Every tidbit shared exposed me to even more opportunities that this skill can bring into my life.
Initially, I joked that this course would solely endorse my handwriting and it has done that and so much more. I plan to decorate gifts for friends and family with my handwritten messages, help friends with their wedding invites and those annual celebrations after, and create general signage within my professional role. The possibilities are endless, and I have only begun to scratch the surface. I look forward to learning more in the Copperplate Calligraphy classes.
Final Chancery Hand Calligraphy Project by Diane Duckworth
Instructor Evette Goldstein's Website
Check out more of WCP's Community Art Classes