Become an accomplished musician, singer, composer, or audio engineer with an Associate of Arts degree from Arapahoe Community College.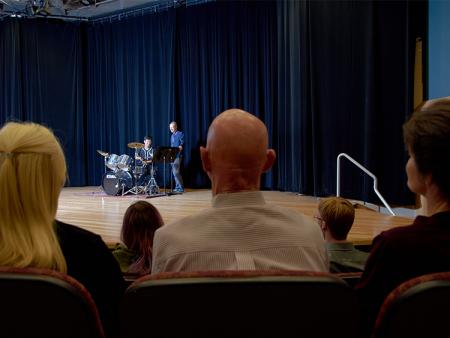 ACC's Music Department provides classes in a wide variety of musical disciplines that are accessible to students and community members of all levels. Classroom and private instruction are available year-round to help you reach your goals and earn your Associate of Arts in Music degree at your own pace.
Many of our music students go on to earn Bachelor's degrees and pursue careers as musicians or in music education. Our curriculum includes guaranteed transfer courses that can transfer to Colorado's public 4-year colleges and universities. You will learn from some of Denver's best music instructors, many of whom are well-known professional musicians.
We offer private and ensemble lessons for drums, guitar, piano, strings, trumpet, and voice. Reach out to us if you have a specific need.
Our ensembles perform for our community and solo recitals are presented twice each year.
You can be a part of:
ACC Choir

Jazz Ensemble

Pop/Rock Ensemble

String Orchestra

We also offer non-credit (non-degree seeking) lessons through our Community Programs.
What You'll Learn
ACC's Music Department offers instruction in: brass, composition, guitar, percussion, piano, strings, voice, and woodwinds. With your Associate of Arts Degree in Music, you will be able to:
Prepare and present a musical performance

Demonstrate a fundamental knowledge of music theory

Display a fundamental level of music history
ACC academic plans will help guide you through your chosen program. The academic plan will provide you with important information, like which semesters courses are offered if there are any prerequisites or co-requisites for courses, program outcomes, course sequence recommendations, notes for the program, graduation requirements, and other important information. These are updated annually, so we recommend downloading a copy of yours to keep on track to graduation.
Job Opportunities in Music