Earn an Associate of Applied Science in Mortuary Science and provide services and support for those who have experienced the death of a loved one.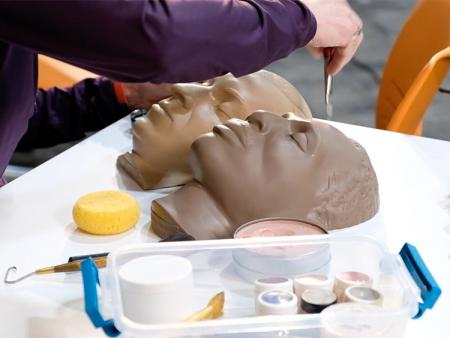 Empathy, communication, and an interest in human services are a few of the qualities that our Mortuary Science students possess. Our mission is to educate you in every phase of funeral service to develop both the social and technical skills necessary to be successful in the profession. We are nationally recognized because of our high standards, small class sizes, and online course options and we have the only program of its kind in Colorado. Our faculty are national conference presenters, widely published, and have over 30 years of clinical embalming experience. With your Associate of Applied Science degree in Mortuary Science, you will be one step closer to helping the deceased and their loved ones in such a crucial time.
Mortuary Science Application Deadline
The application process for the Mortuary Science program will be available on December 1 through March 31 for the following fall semester each year. 
How to Apply
If you are an ACC student already, login to your ACC application account. Start a new application with "Mortuary Science, Associate of Applied Science" as the major and select the semester for program start. Once you complete the new application, you will get follow-up emails about the supplemental items and further instructions. If you are new to ACC and have all of your appropriate prerequisite coursework nearing completion, login to or begin the ACC application. Start a new application with "Mortuary Science, Associate of Applied Science" as the major and select starting semester.
CIP 120301 (MOR)
Mortuary Science is a field of human and community service which offers a variety of work, intellectual challenge and satisfaction of helping the bereaved through life's most trying period. The program prepares individuals to become a mortuary science practitioner, funeral director and embalmer.
Accreditation Status: The Mortuary Science Program at Arapahoe Community College is accredited by the American Board of Funeral Service Education (ABFSE). The Board can be reached at 992 Mantua Pike, Suite 108, Woodbury Heights, NJ 08097, 816.233.3747, www.abfse.org.
National Board Examination pass rates, graduation rates, and employment rates for this and other ABFSE-accredited programs are available at www.abfse.org.
Aims and Purposes
The ACC Mortuary Science Program recognizes mortuary science personnel as:
Members of a human services profession.

Members of the community in which they serve.

Participants in the relationship between bereaved families and those engaged in the funeral service profession.

Professionals knowledgeable of and compliant with federal, state and local regulatory guidelines.

Professionals sensitive to the responsibility for public health, safety and welfare in caring for human remains.
In addition, the program objectives are:
To enlarge the background and knowledge of students about the funeral service profession.

To educate students in every phase of funeral service and to help enable them to develop the proficiency and skills necessary of the profession.

To educate students concerning the responsibilities of the funeral service profession to the community at large.

To emphasize high standards of ethical conduct.

To provide a curriculum at the postsecondary level of instruction.

To encourage research in the field of funeral service.
Program Requirements
General Education Courses (27 credit hours)
Major Courses (39 credit hours)
Graduation Requirements
All MOR courses must be completed within four years of starting the Major Courses.

All major, general education and other courses required for this degree must be completed with a "C" or better to meet graduation requirements (major courses may only be repeated once).

Apply for graduation online at www.arapahoe.edu/graduation.

As a graduate of a Career and Technical Education program you will be contacted by an ACC employee in approximately six months to verify your employment information. This information gathering is a federal requirement to ensure that ACC receives certain federal funding.
ACC academic plans will help guide you through your chosen program. The academic plan will provide you with important information, like which semesters courses are offered, if there are any pre-requisites or co-requisites for courses, program outcomes, course sequence recommendations, notes for the program, graduation requirements and other important information. These are updated annually, so we recommend downloading a copy of yours to keep on track to graduation.
The Mortuary Science Degree Program at Arapahoe Community College is accredited by the American Board of Funeral Service Education (ABFSE), 992 Mantua Pike, Suite 108, Woodbury Heights, NJ 08097, (816) 233-3747. Web: www.abfse.org.
National Board Examination scores, graduation rates, and employment rates for this and other ABFSE-accredited programs are available at www.abfse.org.
Complete a Criminal Background Check through ACC. View disqualifying events information
Note: Criminal background checks require a fee and the applicant's social security number. Should the background check reveal any disqualifying factors or a positive drug screen, the student will be required to drop the program.
| Year | Total Enrolled | # of New Students | # of Grads | Timely Grad* | Grad Rates | Did Not Finish** | Overall % Employed | Employed in FS |
| --- | --- | --- | --- | --- | --- | --- | --- | --- |
| 2021 | 105 | 51 | 32 | 32/32 | 91% | 3 | 84% | 81% |
| 2020 | 108 | 46 | 46 | 46/46 | 72% | 2 | 91% | 63% |
| 2019 | 106 | 51 | 37 | 36/37 | 98% | 2 | 92% | 92% |
* Timely graduation = complete program in 1 1/2 times designated program length.
** Left before completing the program; did not finish.
| Single Year | School Pass Rate | National Pass Rate |
| --- | --- | --- |
| 2021 Arts | 61% | 68% |
| 2020 Arts | 58% | 73% |
| 2019 Arts | 77% | 72% |
| Single Year | School Pass Rate | National Pass Rate |
| --- | --- | --- |
| 2021 Sciences | 65% | 57% |
| 2020 Sciences | 67% | 64% |
| 2019 Sciences | 68% | 63% |
The central objective of the ACC Mortuary Science Program is to educate students in every phase of funeral service so that program graduates are prepared for entry-level employment in funeral service. In support of this objective, the program as adopted the following Learning Outcomes:
Explain the importance of funeral service professionals in developing relationships with the families and communities they serve. 

Identify standards of ethical conduct in funeral service practice.

Interpret how federal, state, and local laws apply to funeral service in order to ensure compliance. 

Apply principles of public health and safety in the handling and preparation of human remains. 

Demonstrate technical skills in embalming and restorative art that are necessary for the preparation and handling of human remains. 

Demonstrate skills required for conducting arrangement conferences, visitations, services, and ceremonies. 

Describe the requirements and procedures for burial, cremation, and other accepted forms of final disposition of human remains. 

Describe methods to address the grief-related needs of the bereaved. 

Explain management skills associated with operating a funeral establishment. 

Demonstrate verbal and written communication skills and research skills needed for funeral service practice.
You'll also be eligible to take the National Board Exam (NBE). Compare NBE statistics.
Students enrolling or continuing at Arapahoe Community College (ACC) have a right to certain information that the college is required by law to provide. As a student applying for or attending the Mortuary Science Program you have the right to know it meets the certification criteria for Colorado. It is possible that the degree may count toward licensing or certification in states other than Colorado. If you are planning to seek professional certification or licensure, it is strongly recommended that you contact the State Board of Funeral Directors/Embalmers in the state in which you are located or plan to locate to seek information and guidance regarding licensure or certification requirements before you begin this program.
Successful completion of the Mortuary Science Program programs makes the students eligible to sit for the National Board Exam. Other certification requirements may exist for different states.  If a student is considering seeking certification in a state other than Colorado, the student is encouraged to contact that state board directly. Contact information for each state board is available by clicking the links below. 
Alabama, Alaska, Arizona, Arkansas, California, Colorado, Connecticut, Delaware, District of Columbia, Florida, Georgia, Hawaii, Idaho, Illinois, Indiana, Iowa, Kansas, Kentucky, Louisiana, Maine, Maryland, Massachusetts, Michigan, Mississippi, Missouri, Montana, Nebraska, Nevada, New Hampshire, New Jersey, New Mexico, New York, North Carolina, North Dakota, Ohio, Oklahoma, Oregon, Pennsylvania, Rhode Island, South Carolina, Tennessee, Texas, Utah, Vermont, Virginia, Washington, West Virginia, Wisconsin, Wyoming
ACC has not determined if the Mortuary Science program meets applicable certification or licensure requirements for the U.S. Territories: American Samoa, Guam, Northern Mariana Islands, Puerto Rico, and the U.S. Virgin Islands.
Job Opportunities in Mortuary Science
Faith Haug Named as an NFDA Emerging Leader
The National Funeral Directors Association (NFDA) announced the funeral service professionals who have been selected to participate in the 2022-23 National Emerging Leaders Program. Through this program, they will develop leadership skills that will serve them well in any setting they may find themselves – their funeral home, their state or national association, their community, and beyond.