Mechatronics Engineering Technology
Become a leader in technology with an Associate of Applied Science degree in Mechatronics Engineering Technology from Arapahoe Community College.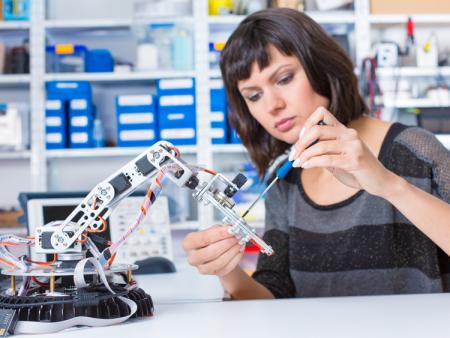 The world is changing at an amazing rate. Demands for efficient process have driven advanced control technology into just about every aspect of our lives. A Mechatronics Engineering Technology degree will prepare you to design, install, troubleshoot, and maintain industrial automation systems. The multidisciplinary curriculum provides you with the diverse skill set required to install, calibrate, modify, troubleshoot, repair, program, and maintain automated systems and industrial robots. Once you graduate, you'll be qualified to work in electronic automation and control systems environments.
What You'll Learn
With an AAS in Mechatronics Engineering Technology, you'll be able to:
Install and operate instrumentation and process control devices across the spectrum of industries.

Use quality and safety standards necessary for the operating, maintaining and repairing of automated equipment.

Program, configure, troubleshoot and repair automated, industrial equipment for machining, assembly, chemical processing and logistic distribution.

Diagnose root problems to maintain the production flow

Communicate effectively and appropriately with team members
CIP 150406 (METE)
The Mechatronics Engineering Technology program encompasses an aspect of engineering that focuses on the design, implementation, and maintenance of products and processes integrating mechanical, electrical, and programmable engineering technologies to complete a number of jobs in the advanced manufacturing field. The diverse program is built in collaboration with multiple industries in the field of advanced manufacturing in quest of workers with the skills and training essential in the field. The curriculum is built on a partnership with the Packaging Machinery Manufacturing Institute (PMMI) to prepare students for PMMI certification.
Admission Requirements
Program Requirements
General Education Courses (15-16 credit hours)
Major Courses (40 credit hours)
Elective Courses
Choose two from the following:
Total: 61-62 credit hours
Job Potential
Mechatronics is a new and emerging growth area and in-demand industry cluster. According to the US Bureau of Labor Statistics and ONET OnLine, employment opportunities for Electromechanical Technicians, including Mechatronics Technicians, were expected to grow 15% between 2016 and 2026 in Colorado.
The average salary for an Electromechanical Technician in Colorado was $62,230 with a high of $91,180 in January 2018.
Graduates with a Mechatronics degree can take up careers in a wide spectrum of industries including robotics, aerospace, defense, automotive and manufacturing, health, medical, and many more. Job opportunities include:
Mechatronics Technician

Industrial Technologist

Manufacturing Engineer

Robotics Technician

Electromechanical Engineering Technologist

Industrial Machinery Maintenance Technician
Certifications
In two years, not only will you earn your AAS in Mechatronics Engineering Technology, you'll also earn the following industry certifications:
PMMI Mechatronic

Industrial Electricity I

Motor and Motor Controls

Programmable Logic Controllers (PLC) I

PLC II
National Institute for Metalworking Skills (NIMS)

Basic Mechanical Systems

Basic Pneumatic Systems

Electrical Systems

Process Control Systems
Occupational Safety and Health Administration (OSHA)
SolidWorks

Certified SolidWorks Associate

3D Printing

Stratasys Additive Manufacturing