Plot out your journey to discovering how people and the planet interact with an Associate of Arts in Geography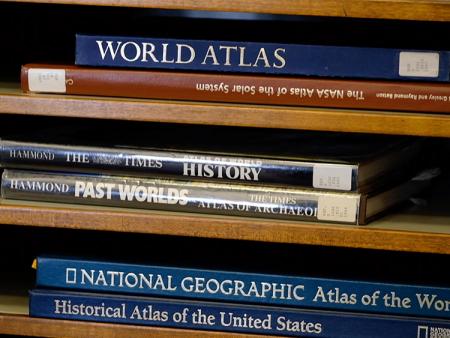 Are you fascinated by our blue planet and the people that live on it? By studying Geography at ACC, you can learn about how the Earth and its people behave and interact with each other to shape the modern world we live on. Whether your interest lies in the planet's natural phenomena, how regions shape cultures, or how humans impact the environment, we can help you take that interest and turn it into a career with our Associate of Arts program. Our Geography AA degree is designed to transfer to any 4-year university in Colorado so you can easily reach your goals.
What You'll Learn
When you study geography, you're learning critical skills that can help you within and outside of your day-to-day life. You'll be learning how to: 
Locate and identify various geographical aspects on a map.

Identify and analyze spatial diffusion of ideas, culture, and the human interaction between regions.

Interpret, analyze, and assess the effect of spatial patterns on the landscape.

Examine the interconnections between human society and the physical environment.
CIP 240199 (GEOL)
The purpose of a statewide articulation agreement is to identify the courses a student at a Colorado public community college must complete as part of an AA/AS degree to be guaranteed to be able to complete the designated baccalaureate degree program at any public four-year college and university (hereafter referred to as receiving institutions) that offers that program within the minimum number of credits designated by the Colorado Commission on Higher Education.
For more information about this transfer degree please refer to the Colorado Department of Higher Education website.
Admission Requirements
General Education Courses (36 credit hours)
Written Communication (6 credit hours)
Mathematics (5 credit hours)
Arts and Humanities (6 credit hours)
GT - Two GT Pathways Arts & Humanities courses (GTAH1, GT-AH2, GT-AH3, GT-AH4)
History (3 credit hours)
GT - One GT Pathways course from: History (GT-HI1)
Social and Behavioral Science (6 credit hours)
GT - Two GT Pathways Social & Behavioral Science courses (GT-SS1, GT-SS2, GT-SS3)
Natural and Physical Sciences (10 credit hours)
Additional Required Courses (23 credit hours)
Please Note: If these credits are not required for the major at a receiving 4-year institution, they will be applied to the Bachelor's degree as elective credit towards graduation. Please check with the receiving institution to determine in which way these courses will be applied.
Elective Courses (1 credit hours)
Elective credit must be completed from the following lists of approved prefixes or courses to bring the total credit hours to 60.
Any course in the following prefixes
Any course in the following prefixes except Special Topics (275) and Independent Study (285): AST (100 or higher), BIO (100 or higher), CHE (100 or higher), EGG (100 or higher), MAT (121 or higher, except 155 or 156), PHY (111 or higher), or any foreign language (111 or above).
Note(s):
Students are strongly encouraged to seek academic advising prior to registration regarding the acceptability of online science courses if they anticipate transferring to a 4-year institution or completing graduate work in the sciences or health professions. It should be noted that per Colorado Revised Statute, §23-1-125(1)(e), general education courses taken online are guaranteed to satisfy core course (gtPathways) requirements at all Colorado public institutions of higher education.
Total: 60 credit hours
Transferability of courses to colleges or universities outside of Colorado is determined by the receiving institution.
Job Potential
Geography is a highly interdisciplinary field because of its relationship between physical and human phenomena. There are many careers in business and government that a geography major can work in. Some of them include:
Cartographer

Geographer

Market Research Analyst

Photogrammetrist

Surveyor

Urban and Regional Planner