Make an impact on the next generation of learners by becoming a passionate teacher with an Associate of Arts degree in Teacher Education from Arapahoe Community College.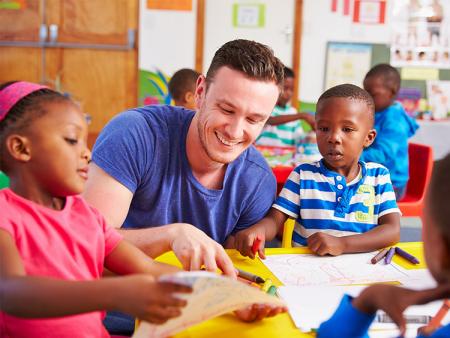 If you're interested in teaching, getting your start at ACC is a great way to enter the education field. We offer an Associate of Arts transfer degree in Elementary Teacher Education that's designed to be accepted at any public four-year college and university. If you're interested in teaching at the secondary level, you can earn guaranteed transfer credits in the content area that you want to teach, as well as education foundation courses. Once you've graduated from ACC, you can transfer those credits to the Colorado public institution of your choice to complete your Bachelor's degree and fulfill the requirements to earn your teaching license. If you've already earned your teaching license, you can renew it by taking education classes at ACC as well.
What You'll Learn
As a teacher, you must develop the skills needed not only to teach, but to foster an environment that makes it easy to learn. By earning your degree in elementary education at ACC or taking classes to transfer for a degree to teach at the secondary level, you will be doing so through:
Communication

Information Management

Personal Development

Quantitative Reasoning

Cultural Awareness

Responsibility and Accountability
CIP 240101 (EMTD)
The purpose of a statewide articulation agreement is to identify the courses a student at a Colorado public community college must complete as part of an AA/AS degree to be guaranteed to be able to complete the designated baccalaureate degree program at public four-year colleges and universities as designated by the Colorado Department of Higher Education (CDHE) transfer agreement.
For more information about this transfer degree please refer to the Colorado Department of Higher Education website.
Admission Requirements
Program Requirements
General Education Requirements (35 credit hours)
Elective Courses (19 credit hours)
Consult with an Advisor at the transfer institution and an ACC Advisor to determine appropriate electives for any GT course
Total: 60 credit hours
All courses required for this degree must be completed with a "C" or better to be considered for transfer to another Colorado institution. Transferability of courses to colleges or universities outside of Colorado is determined by the receiving institution.
Earn recertification and/or re-licensure credit:
EDU 261: Teaching, Learning & Technology (3 credits)
EDU 234: Multicultural Education (3 credits)
Job Potential
Teachers of all levels are needed everywhere in the world. Whether you plan to teach at the elementary or secondary level, some of the positions that you could have include:
Elementary Teacher / Instructor

Secondary Teacher / Instructor

Special Education Teacher

Instructional coordinator

Teacher assistant
Getting Started
A student who is planning to become an Elementary Education Teacher will complete 41 credits that are guaranteed to transfer to teacher education programs offered by Colorado Public institutions of higher education listed below.  
The additional 19 credits that are guaranteed to transfer are unique to each transfer institution, so you need to decide on a transfer college or university to know what to take.  It is required that students working toward a degree contact an advising [at] arapahoe [dot] edu (advisor), 303.797.5664, or kathleen [dot] sutherland [at] arapahoe [dot] edu (Kathleen Sutherland), 303.797.5784, to ensure you choose the right courses for the college or university you transfer to. See course list for other 19 credits.
Transfer Options
With your AA in Elementary Education, you can transfer to any of the following colleges / universities: