Change your life with an Associate of Science degree in Chemistry from Arapahoe Community College.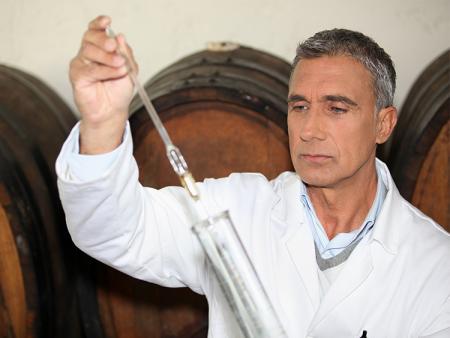 Getting your Associate of Science degree in Chemistry will give you the flexibility to find a career in a variety of fields. Chemistry is all around us and getting your foundation in chemistry will set you up for a career in a wide range of areas. At Arapahoe Community College, we have chemistry courses designed to teach you the skills you need in your future career and prepare you for transfer to a 4-year university.
What You'll Learn
Once you graduate with your AS in Chemistry, you'll be able to:
Employ proper lab technique and critical thinking to carry out, record, and analyze data from chemical experiments

Solve chemistry problems using critical thinking and analytical reasoning

Use modern instruments to interpret and analyze graphical representations of experimental results

Write about chemistry topics in a clear and concise manner
CIP 240199 (CHED)
The purpose of a statewide articulation agreement is to identify the courses a student at a Colorado public community college must complete as part of an AA/AS degree to be guaranteed to be able to complete the designated baccalaureate degree program at public four-year colleges and universities as designated by the Colorado Department of Higher Education (CDHE) transfer agreement.
For more information about this transfer degree please refer to the Colorado Department of Higher Education website.
Admission Requirements
Program Requirements
General Education Courses (30 credit hours)
CCCS Courses Applied to gtPathways General Education Curriculum (see Notes 1, 2, 3, 4 Below)
Written Communication (6 credit hours)
Mathematics (5 credit hours)
Arts and Humanities (3 credit hours)
GT - One GT Pathways Arts & Humanities course (GTAH1, GT-AH2, GT-AH3, GT-AH4)
Social and Behavioral Science (3 credit hours)
GT - One GT Pathways Social & Behavioral Science course (GT-SS1, GT-SS2, or GT-SS3)
Natural and Physical Sciences (10 credit hours)
Additional Required Courses (29 credit hours)
Elective Courses (1 credit hour)
Elective credit must be completed from the following lists of approved prefixes or courses to bring the total credit hours to 60.
Any course in the following prefixes
Any course in the following prefixes except Special Topics (275) and Independent Study (285): AST (100 or higher), BIO (100 or higher), CHE (100 or higher), EGG (100 or higher), MAT (121 or higher, except 155 or 156), PHY (111 or higher), or any foreign language (111 or above).
Total: 60 credit hours
Notes:
1. This statewide transfer articulation agreement in Chemistry does not fulfill requirements for the GT Pathways general education curriculum or the Associate of Science degree prior to transfer; however, this agreement does guarantee a student, if admitted, junior standing and completion of the baccalaureate degree within an additional 60 semester hours at the receiving institution.

2. Completion of the receiving institution's lower division general education requirements is fulfilled only under the condition that one GT Pathways-approved course in arts and humanities (AH1, AH2, AH3, or AH4) and one GT Pathways-approved course in social and behavioral sciences (SS1, SS2, or SS3) are successfully completed at the receiving institution within the first 30 hours or 12 calendar months.

3. Students transferring to a four-year college/university under this Chemistry agreement are encouraged to 'reverse' transfer the one GT Pathways course in arts and humanities and the one GT Pathways course in social and behavioral sciences (Note #2 above) back to their community college in order to complete the GT Pathways general education program and to earn their Associate of Science degree with a Chemistry designation.

4. Lecture and laboratory portions of organic chemistry, CHE 211 and 212, must not be taken in an online delivery format.
ACC academic plans will help guide you through your chosen program. The academic plan will provide you with important information, like which semesters courses are offered, if there are any pre-requisites or co-requisites for courses, program outcomes, course sequence recommendations, notes for the program, graduation requirements and other important information. These are updated annually, so we recommend downloading a copy of yours to keep on track to graduation.
Job Potential in Chemistry
Few majors can offer you as many career opportunities as chemistry. From healthcare to renewable energy, many fields require a basic understanding of chemistry, along with critical-thinking and problem solving skills. Check out some careers in chemistry-related fields.