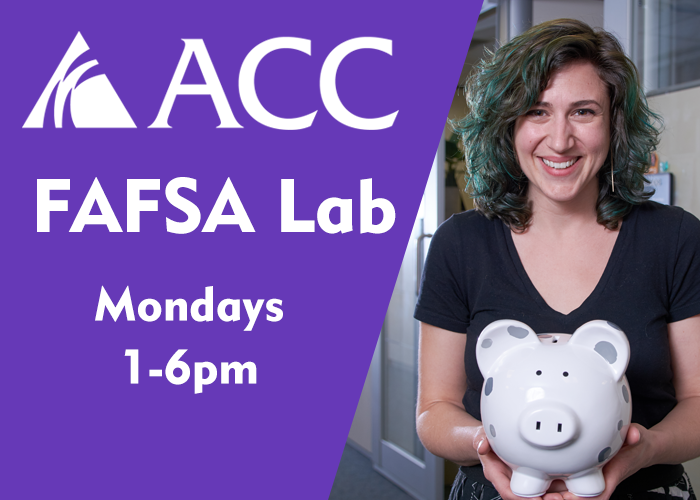 Get the help you need to complete the Free Application for Federal Student Aid (FAFSA) at ACC's FAFSA Lab, Mondays from 1-6pm in M1740 (Main Building, Littleton Campus)! The Educational Opportunity Center at CCD is ready to assist with in-person or virtual FAFSA help. For in-person appointments, please complete the form below to reserve your spot. If you prefer a virtual appointment, please contact the Educational Opportunity Center at eoc [at] ccd [dot] edu (eoc[at]ccd[dot]edu) or at 303.352.8746 to schedule your appointment. FAFSA labs are free and open to the public.
The 2023-2024 FAFSA is used to determine your aid eligibility for the current fall semester and upcoming spring and summer semesters. It will use 2021 tax information. You will need the following:
Your Social Security Number or Alien Registration Number (if you are not a U.S. citizen)

Your federal income tax returns, W-2s, and other records of money earned. (Note: You may be able to transfer your federal tax return information into your FAFSA using the IRS Data Retrieval Tool.)

Bank statements and records of investments (if applicable)

Records of untaxed income (if applicable)

An FSA ID to sign electronically
If you are a dependent student, then you will also need most of the above information for your parent(s), including their own FSA ID.
We look forward to working with you! If you have any questions about your financial aid or need disability accommodations, please contact ACC Financial Aid at finaid [at] arapahoe [dot] edu (finaid[at]arapahoe[dot]edu) or at 303.797.5661.