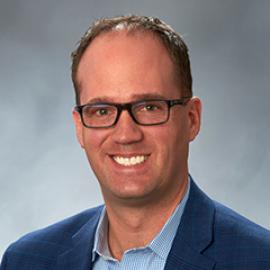 Eric
Dunker
Associate Vice President and Dean of Business, Technology, and Workforce Partnerships
Instruction
Credentials
PhD, Curriculum and Instruction, University of Denver
MS, Student Affairs in Higher Education, Colorado State University
BS, Business Administration, Bucknell University
Biography
Eric currently serves as the Dean of Business, Technology, and Workforce Partnerships at Arapahoe Community College. Eric is co-leading the academic and program planning for the new ACC Sturm Collaboration Campus in Castle Rock and will lead campus operations. Eric is also leading ACC's efforts to increase its industry and community engagement in an effort to co-create more work based learning opportunities across the learning continuum.

Eric has 15 years of experience in higher education in areas such as Engagement and Extension, Extended Campus/Continuing Education, Academic Support, and Assessment. Prior to ACC, Eric served as the Coastal Regional Director for Oregon State University Extension/Outreach and Engagement from 2015-2017. Eric led 6 county extension offices and helped implement new strategic initiatives for engagement, formed new industry and community partnerships, and worked alongside community and industry stakeholders in an effort to leverage the full complement of OSU resources. Eric graduated from high school in Castle Rock and earned his PhD from the University of Denver and is thrilled to have the opportunity to help create a hub for higher education and community engagement in his hometown.

Eric is married to Katie and they have 3 children. They love traveling, spending time as a family, and staying active.
Awards & Publications
2017 Distinguished Partner in Innovation Award, Oregon State University, Corvallis, OR
University-wide recognition for creating innovative community partnerships with Wild Rivers Coast Alliance, Travel Oregon, OSU, and various south Oregon Coast communities that led to development of community directed support systems around tourism and out
Contact
Department

Instruction

Email

eric.dunker

[at]

arapahoe.edu

Phone
Location
Office

A2000

Mailbox

20