Learning On the Job: Automotive Technology at ACC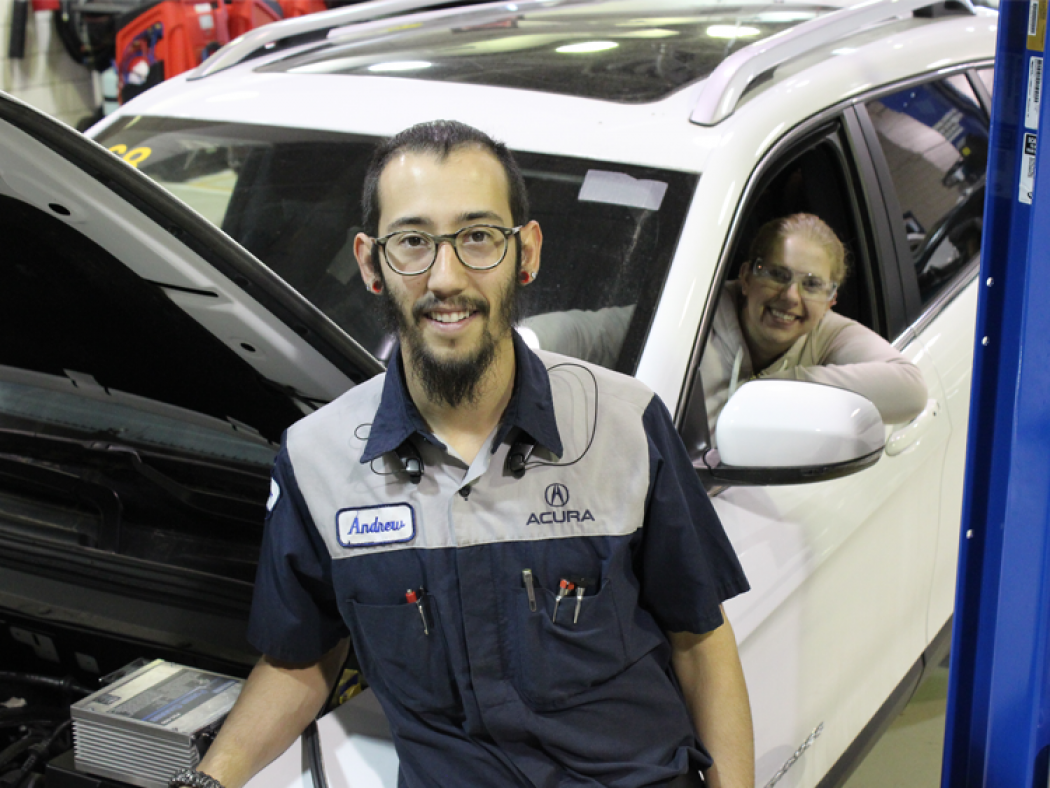 In an automobile-dependent country like the United States, people will always need a reliable auto technician, whether for repair, routine maintenance, a manufacturer recall, or an unexpected fender bender. We asked Doc Viola, Director of automotive service technology at Arapahoe Community College (ACC), what it's like to work on vehicles for a living and what it takes to get there professionally. 
"Automotive technology is a good field to get into if you like to solve puzzles," says Doc. "It's for the person who loves to know how things work, how they broke, and why they broke." He puts particular emphasis on the "why" because the ability to think critically and remain curious is essential in this career.
The Shifting Gears of Auto Mechanic School
An automotive shop is traditionally associated with grease and oil — a get-your-hands-dirty kind of job. Doc explains that advancing technology has shifted the focus of the auto mechanic school of days past from gears and gaskets to watts and wi-fi. 
"Today, it's all about fuel economy. [Manufacturers] are so precise with everything," says Doc. "It's also about a smooth ride, no noise, who has the most apps…" 
Hybrid cars have been growing in popularity for some time now, and all-electric vehicles have also hit the road in higher numbers. So while that familiar smell of repair shop still lingers, today's automotive technicians focus a lot more on electrical systems and software programs. That's why you'll find cars like the Chevy Volt in an ACC repair bay and charging stations around the shop. 
"ACC understands the evolution that's happening in the industry," Doc explains, adding that the program has kept its equipment, tools, technology, and classes up to date. Partnerships with seven major manufacturers, including a 30+ year-long relationship with Chrysler, also help ACC's automotive training program stay current. 
Something else that's changed: while automotive technology may have been seen in the past as a "man's" field, women automotive technicians are especially in high demand today.
Real-World Training in Automotive Technology
Before an automotive technician can perform warranty work at a dealership, they must be certified by that specific vehicle's manufacturer. Companies like Ford and GM offer courses for dealership service employees, but attending an automotive training program like ACC's puts you ahead of the game. 
"We embed the manufacturers' curriculums into our curriculum," says Doc. "So we'll teach the basics about a topic and then give it a 'twist,' directly from the manufacturer."
By the time a student graduates from the program, in addition to earning an associate degree, they will have completed a significant portion of the required manufacturer training. While each company has different guidelines and competencies, Doc says, for example, that someone could leave ACC as a Level I auto technician for a specific car manufacturer. 
"This gives our graduates a head start," he says. "That's one of the big benefits of our corporate partnerships."
ACC's partners include many big names in auto:
Chrysler

Ford

GM

Honda

Mercedes

Nissan

Subaru 
Another benefit of these partnerships is that the manufacturers outfit ACC's auto shop with tools and equipment. For example, Honda provided safety gloves for working on high-voltage vehicles. 
Studying Automotive Technology in Colorado at ACC
The 2-year automotive service technology associate degree program is structured for students to earn individual certificates along the way. For example, the first five courses, which include auto maintenance and automotive electrical safety systems, lead to an Automotive Maintenance and Light Repair certificate. 
Doc likes the option of the standalone certificates because it allows someone to leave with a tangible credential, even if they can't finish the entire program on their original timeline. 
"Sometimes life happens, hard times come up," he explains. "The certificate shows you have some experience…you need to know how to use an auto lift to get your foot in the door." 
The next set of courses, which covers fundamentals of AC/DC and introduces students to digital devices and computers, can also count toward the Advanced Automotive Electrical/Electronics certificate. 
As students work their way through automotive classes, they'll spend more and more time in the lab, which, in this case, is a working automotive shop. Here, Doc says, the idea is to create an environment similar to what students will experience after graduation. 
"We try to prepare our students for their career: for the dog-eat-dog world that the auto repair industry is," he explains. "Your pay will often directly relate to your accuracy and productivity. So in labs, grades also directly relate to being efficient and accurate."
Part of this hands-on learning is challenging students to solve problems and think critically. ACC instructors encourage auto technician students to talk through a problem and continue researching before asking someone for help. 
"When they're in the classroom, our instructors are teachers. When they're in the shop, they take on more of a mentor role," says Doc of his faculty. 
Careers in Automotive Technology
The associate degree in automotive service technology prepares students for entry-level service tech positions with dealerships and independently owned repair shops. With more experience, techs can move into a specialized service area or even into a supervisory role.
Administrative and management jobs are also available in client-facing positions. Doc, who began his career as an automotive technician, also worked as a service writer — a skilled customer service position that works as a liaison between vehicle owners and the shop — before joining the ACC team in 2007. 
Cars are getting smarter every day, but we'll always need smart humans to keep them running. If you're interested in exploring a career in this field, please visit our program page to learn more about ACC's automotive technology degree and certificates.