Health Information Technology: The Technical Side of Healthcare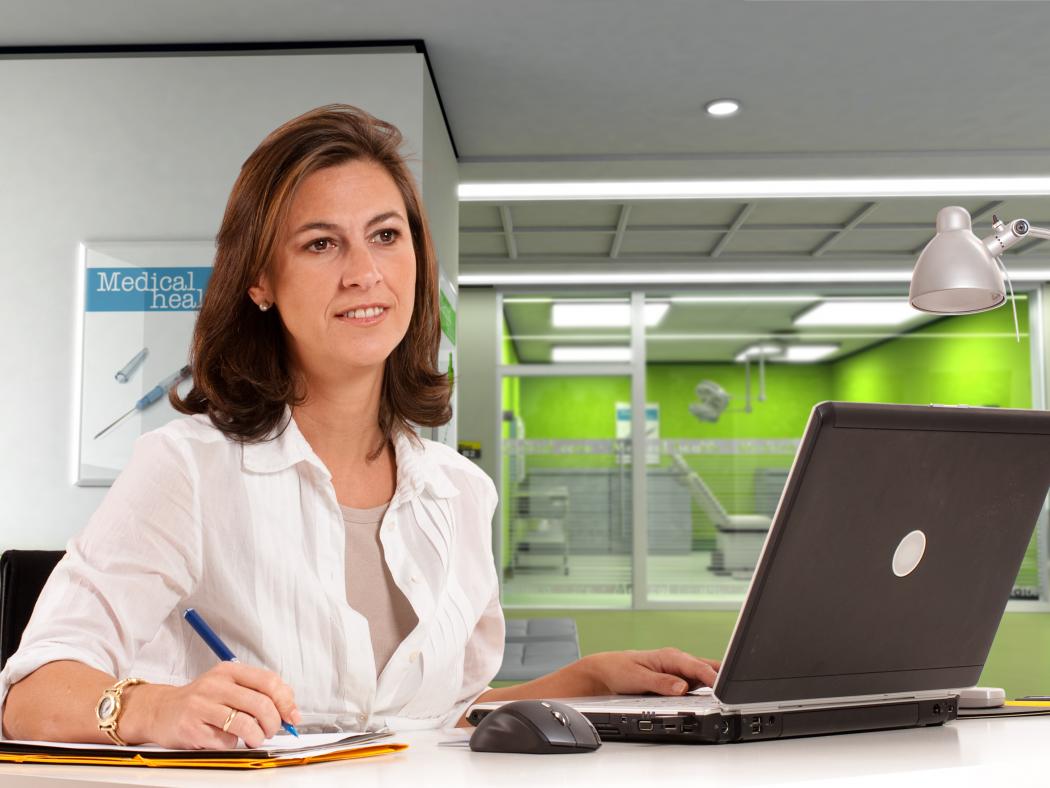 When Christine Tomas entered the healthcare field at age 18, patient information was taken by hand, and files full of paperwork, reports, and records were stored in folders in actual filing cabinets. Medical records were already being stored electronically, but most people did not have everyday access to these digital archives. 
These days, nearly everything is done online, and the career paths once known as "medical billing specialist," "medical coder," or "medical librarian," have evolved into the exciting field of health information management (HIM). Today, Christine helps prepare tech-savvy professionals as program director for the Health Information Technology (HIT) program at Arapahoe Community College (ACC). 
Christine says that the shift toward health information technology — with emphasis on the technology side — comes with new training methods and best practices. 
"As an industry, we have to look at both how we teach HIM from an educational perspective and how we safeguard that information," she says. 
What is Health Information Technology?
According to the American Health Information Manage Association, health information is:
"the data related to a person's medical history, including symptoms, diagnoses, procedures, and outcomes. A health record includes information such as a patient's history, lab results, X-rays, clinical information, demographic information, and notes."
Health professionals use this data to assess how a patient's health or condition has changed over time. When reviewed as part of a larger set of data, HIM helps gauge population health and spot trends. While health information itself hasn't changed much, the digital age has changed how we collect, manage, store, and use data. For example, ready-access to health information (through medical information software programs) has coincided nicely with the shift toward a team approach to patient care. 
"Information can be accessed by multiple providers on a healthcare team," says Christine, using EPIC, a platform widely used in Colorado, as an example. "Everything is in there. Patient reports, labs — it's all readily available for any healthcare practitioner working with the patient," 
These new opportunities and practices have created new roles in the medical and information technology industries. For one, safeguarding sensitive patient data has led to collaborations between healthcare practitioners and administrators and internal IT teams or external tech vendors. 
Health Information Technology Careers
While traditional appointments and procedures may first come to mind when thinking of medical information technology, Christine explains that ACC's program also covers other types of patient care, including behavioral health and addiction. 
Health information technology professionals can look at the big picture. For example, the public health field relies on HIM/HIT expertise — an aspect of the industry that's come into the spotlight because of the COVID-19 pandemic. This means there are not only careers within medical groups and insurance providers, but also within private technology companies and local, state, and national government health agencies.
"Our profession is one where many people don't know how much we do, how much we touch," Christine says. That's why she loves showing students the AHIMA Career Map, an interactive tool that demonstrates just how far-ranging the field is. 
"It shows skills, knowledge, education level, position level — and all of the areas a student could go into," she explains, adding that it's a map, not a ladder. There are plenty of opportunities to expand or change what you do professionally by moving laterally without necessarily moving up. 
AHIMA's map breaks HIM/HIT careers into four major areas, including current and emerging positions:
Coding and revenue

Data analytics

Informatics 

Information governance
With so many emerging technologies and position types, it's essential to prepare students for both today's existing and tomorrow's emerging healthcare information technology jobs.  
"We answer the needs of the industry," Christine says of ACC's health information technology degree program. "ACC has been great with innovation and technology, and also in collaborating with industry partners."
This means, while someone might get in the door through a more traditional role like insurance claims specialist, they could later move into an emerging management role, such as "director of enterprise risk management." 
Building, Advancing or Transitioning a Career with a Health Information Technology Degree 
Someone entering the healthcare information technology field could serve as a generalist or as a specialist. For example, Christine says that an HIM professional in a rural area might wear many hats within their organization. On the other hand, someone else might work in a specific, niche area within a larger healthcare group. With such an array of opportunities, ACC students are drawn to a health information technology degree for a variety of reasons: Some are starting their first career, some want to advance in their present careers, and others are seeking to transition into another area of healthcare. 
"We see a lot of long-time nurses enter the program," explains Christine. "They can no longer handle the physical demands of nursing, but they aren't ready to retire yet." She adds that nurses make excellent clinical documentation specialists because they already have a rapport with physicians and understand the terminology and anatomy. 
Others may choose to earn a degree in health information to meet requirements for more advanced positions. Christine recalls a former student who'd been working in the health information field for many years and had moved up within an organization as she learned on the job. When that facility experienced a leadership change, the new structure required managers of a certain level to have a degree. 
"She needed the correct credentials to lead her team," Christine says, adding that the student earned what she needed at ACC to continue on in her career. 
Finally, in what Christine calls a "credential-heavy" field, many students start with an associate degree to meet industry-certification requirements. They may later return for a bachelor's degree or other continuing education credits that help them qualify for additional industry certifications. 
ACC's associate of applied science health information technology degree prepares students to take the National Registered Health Information Technician (RHIT) certificate exam. After earning their RHIT and working in the field, they might want to eventually sit for the National Registered Health Information Administrator (RHIA) certificate exam. The RHIA designation is often required for operational and managerial roles within healthcare organizations. 
Earning a Healthcare Information Technology Degree at ACC
Designed to accommodate busy schedules, ACC's flexible healthcare information technology program is nearly 100% online: All coursework can be completed anywhere a student has a computer and Wi-Fi connection. Hands-on learning is vital in the medical field, and ACC students gain at least 40 hours of experience in a professional healthcare setting during a final practicum. 
Christine works with students ahead of time to plan out their practicum location, and she often tries to arrange it so students can see multiple departments in action. For example, students usually will start in a health information department, but then might branch off to observe other areas and functions. 
Another positive aspect of a face-to-face experience; it can be an "audition" for a future job. "I always tell students that the internship can be a 'non-official interview," she explains, adding that it's not uncommon for students to get hired by their internship site if they've established a good rapport.
It's clear from talking to Christine that she's passionate about medical information technology. An ACC graduate herself, she was thrilled to return to the college as a program chair. 
"The guidance and encouragement I can share are meaningful because I've been in the field for 18 years," she says. Christine has seen many changes in the industry over her nearly two decades as a professional, and she's proud of ACC for keeping its educational program up to speed with trends and emerging requirements in the workforce. 
To learn more about this dynamic and in-demand healthcare field, visit our Health Information Technology program page or christine [dot] tomas [at] arapahoe [dot] edu (contact us today).