COVID-19 Didn't Stop ACC Graduate Jeeva Senthilnathan from Making a Difference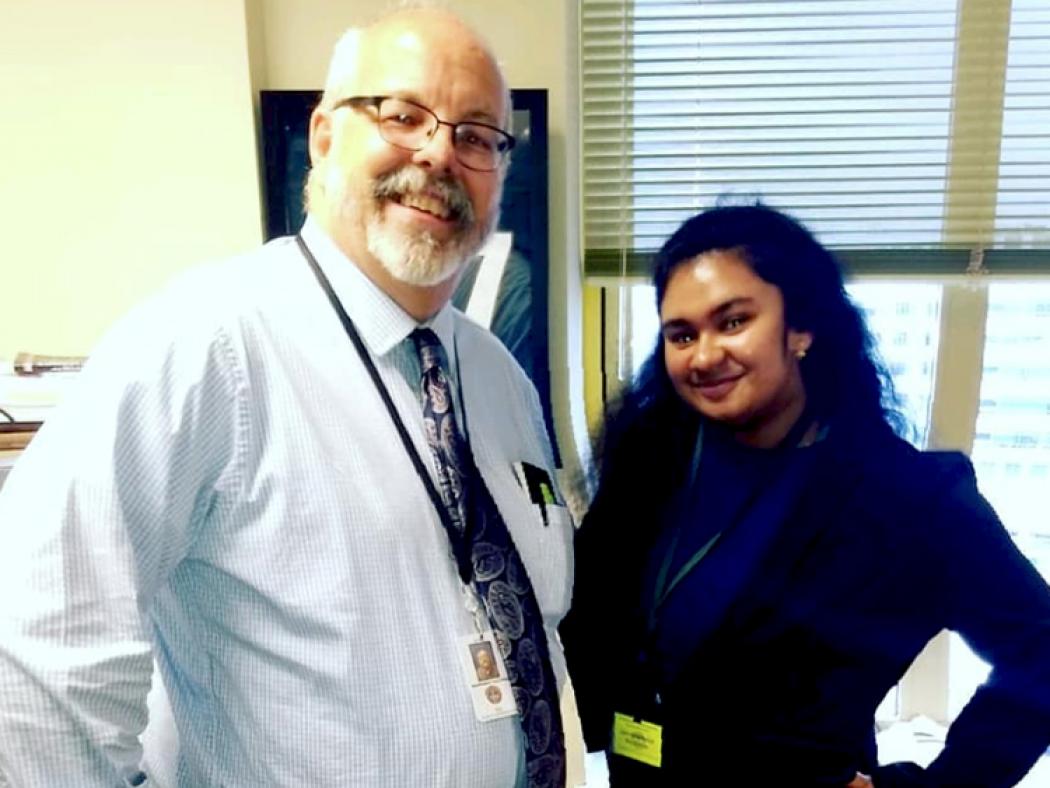 Like all high school seniors, Colorado Early Colleges Parker's (CECP) Jeeva Senthilnathan was impacted by COVID-19 closures and the absence of time-honored celebrations. Despite the array of obstacles and challenges, not only did she continue to excel in the classroom, she sought opportunities to make a difference in her community.
Senthilnathan, an Arapahoe Community College (ACC) Concurrent Enrollment student who completed her Associate of Arts degree in General Studies while earning her high school diploma from CECP, earned several prestigious scholarships this spring, including a Philanthropic Education Organization (PEO) STAR Scholarship and a National Honor Society Top 24 Scholarship. Established in 2009, the P.E.O. STAR Scholarships are awarded to exceptional high school senior women who will be continuing their education at an accredited institution of higher education. She was the only student in Colorado to garner the NHS Top 24 award.
As COVID-19 set in, Senthilnathan took it upon herself to seek funding to help families that were struggling during the pandemic. Her search yielded a grant from Blue Future, a national organizing program – run out of the Youth Progressive Action Catalyst – with a mission of engaging, mobilizing and connecting young people to progressive electoral campaigns, and equipping them with the resources, tools, skills and network to be effective volunteers, organizers and public servants. Funding from the grant enabled Senthilnathan to provide 18 students from the High School Democrats of America with online training and ten hours of paid work.
"I felt motivated to assist families and students with making ends meet during the pandemic," said Senthilnathan. "I saw it as an opportunity to help my generation become more civically engaged and take the next step in leadership."
Senthilnathan, who is trilingual (English, Spanish and Tamil), was also active with the debate team at CECP and served as an intern for Colorado State Representative Tom Sullivan. The internship provided her with the opportunity to work on the Extreme Risk Protection Order Bill, a measure aimed at reducing gun violence.
Even more, Senthilnathan found time to conduct extensive scientific research in mental health while wrapping up her final semester at CECP, collecting electroencephalography (EEG) waves to identify cognitive abilities, levels of motivation, and consciousness in teenagers. Her research examined differences between the levels of brain activity of students taking practice ACT exams, with the end goal of developing a microchip implant – for which she is currently seeking a patent – to help balance neurotransmitters in the brain. Senthilnathan has created a company with the medical device called Neurbula and has received a grant to continue her research when she begins attending Colorado School of Mines this fall.
"My written research is currently in the process of being published," Senthilnathan explained. "I won second place in the best medical devices category for the Reverse Pandemic DreamTank/HackerEarth competition, and I hope to take some time in the future to perfect the prototype."
Start your journey today and accelerate your path to becoming career ready by earning college credits at ACC during high school. Whether you aim to transfer credits to a 4-year school, or earn a workforce credential, ACC has you covered. Visit the ACC Concurrent Enrollment webpage for more information or contact acc [dot] ce [at] arapahoe [dot] edu.