Colorado Apprenticeship Month Student Showcase: Esperanza Ramirez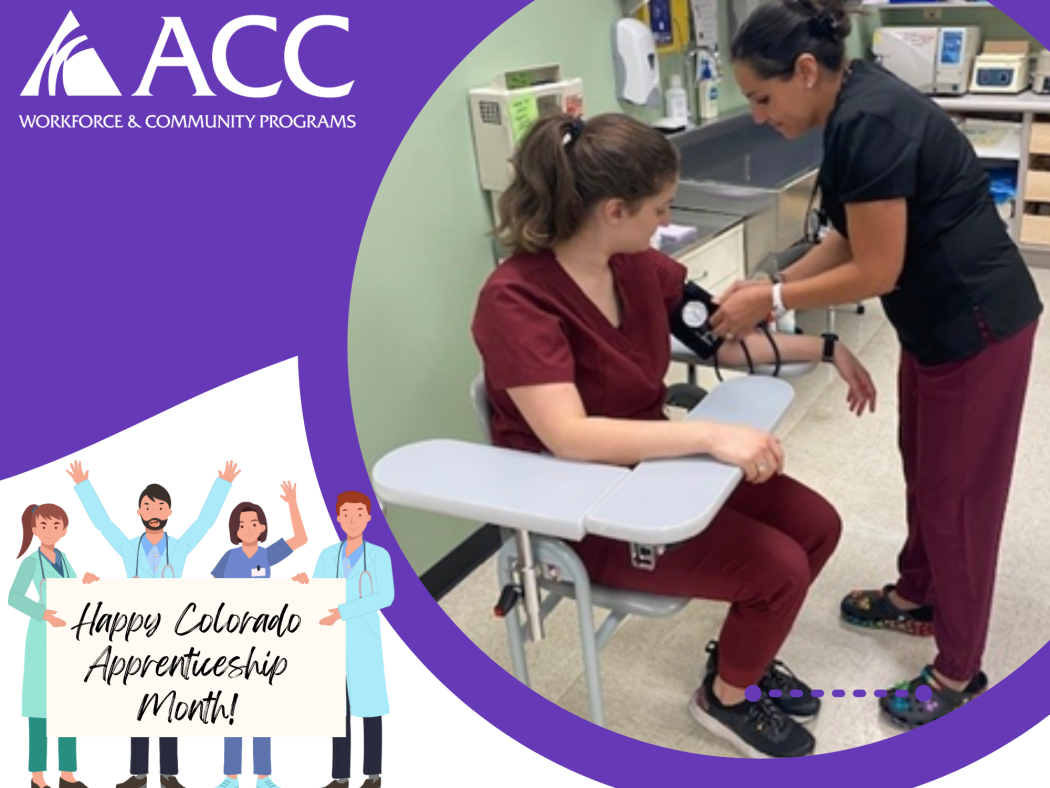 Esperanza Ramirez has dreams of becoming a registered nurse and is on her way. She started taking Medical Assistant classes at Mi Casa and now is currently in our Medical Assistant Apprenticeship program, and will continue with ACC. For National Apprenticeship Month we wanted to celebrate our biggest asset: our apprentices! Esperanza has been an inspiration to her peers, staff, and faculty. We sat down with her and asked her a few questions about being an apprentice in the MA program.
What brought you to join the apprenticeship program?
I started at Mi Casa taking medical administration classes. Then Karen mentioned that they were starting a new program. I was thinking that this is my opportunity to get a foot in the door. Because I want to become a nurse and I thought this could work for me.

What has been the most exciting while being in the program?
Casey's class (lab instructor) has been the most exciting. She brings in the real world and hands on approach. On a regular basis, she will bring in things that she has seen in her work and puts it in a new perspective for us to understand. This helps in learning something new every day.

Tell us about how things happen at the clinic.
You will see different people every day and they all have a different story. Working with kids has been hard and a struggle. I feel like I have opened up and learned a lot from other Medical Assistants. They don't shut you out. They're there to help whenever you need them.

What would you tell someone who is debating on becoming an apprentice about the program?
Tell them it's fun and stressful. It's all worth it. Getting towards the end will be worth it, all you need to do is fight through it. Don't be afraid to tell your instructors that you're struggling because they're there to help us.

What would you tell someone who wants to be a Medical Assistant?
Do it. Not only because you don't have to stop. You can continue with your education and go higher. You get a broad story from the patients and because of this you're always learning new things. Medical Assistants can work in different areas of hospitals, different clinics, so you do have some variety.

What makes a good apprentice?
Listening, watching, and learning. There's so much information that you need to make sure that you're paying attention to the patient. You need to continue studying. You have to sacrifice even when you don't want to. Ask questions, don't be afraid to do any skills, it is completely normal to be nervous.

What has inspired you while being in this program?
I am really inspired by my instructors. They really talk about how we can go into not just being a medical assistant, but we can go further. I am also inspired where I work. We get to help the uninsured and low income. I feel like as a medical assistant it is our duty to help people in need. Yeah, that is what inspires me.

What are your career goals and how do they align with the apprenticeship program?
Ultimately, I want to be a Registered Nurse. Being a Medical Assistant is a foot in the door to where I want to be. It is the beginning. It gives the feel of where I want to be, so that is what is next for me.

When you're done with this program what is the first thing you're going to do?
Cry out of relief. Super excited because I have been wanting to do this for a long time. Then, I will look into new programs to further my education. Then, I will be done.
We are proud of Esperanza and all of our apprentices. Now, we're ready to see all of our apprentices to Move Mountains!