Game Design and Development
Learn how video games are made and bring your game ideas to life with an Associate of Applied Science degree in Game Design & Development.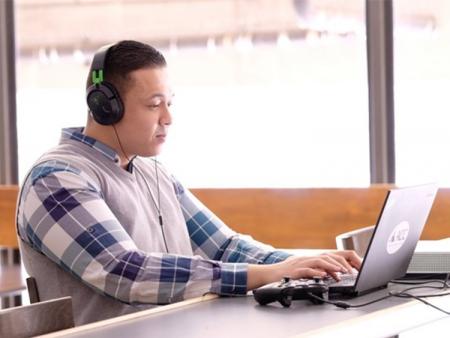 If you enjoy art and technology and have a strong love of video games, our Associate of Applied Science in Game Design & Development is an excellent way to get started in video game creation. Our program offers training in game programming and development, 2D and 3D modeling and animation, and allows you to emphasize on multimedia or computer science. Our lab is equipped with up-to-date tools and engines to provide you with the right hands-on experience to enhance what you learn in the classroom, and our faculty and instructors are experts in the field who can guide you through the program.
What You'll Learn
A lot of work goes into designing a video game, and what you learn in the program will be applicable to other areas outside of game design. Upon completion of the AAS in Game Design & Development, you'll be able to:
Apply game design concepts to new environments

Understand the syntax of a computer language

Demonstrate the ability to create a complete game
CIP 500411 (GAM)
The Game Design and Development degree is a two-year Associate of Applied Science program that prepares students to work as a game developer or computer programmer.

There are three types of courses students will focus on in the degree: general computer science classes ensure every student has a solid programming background applicable to any development position, game development classes make certain students know how to apply their programming skill to create engaging games using an industry standard game engine, and art and multimedia courses provide the creative background necessary for students to effectively integrate with the diverse teams that work on modern games. Electives allow a student to customize their degree with additional classes in a chosen area of focus.
Admission Requirements
Program Requirements
General Education Courses (15-16 credit hours)
Major Courses (35 credit hours)
Elective Courses (9-10 credit hours)
Graduation Requirements
Apply for graduation online at www.arapahoe.edu/graduation.

As a graduate of a Career and Technical Education program you will be contacted by an ACC employee in approximately six months to verify your employment information. This information gathering is a federal requirement to ensure that ACC receives certain federal funding.
ACC academic plans will help guide you through your chosen program. The academic plan will provide you with important information, like which semesters courses are offered, if there are any pre-requisites or co-requisites for courses, program outcomes, course sequence recommendations, notes for the program, graduation requirements and other important information. These are updated annually, so we recommend downloading a copy of yours to keep on track to graduation.
Game Design & Development AAS Academic Plan PDF | Accessible Word Doc
Job Potential in Game Design & Development
While the Game Design & Development program focuses on video game creation, it will teach you skills that can be used outside of making games. Within and outside of the game development industry, you'll be preparing yourself to work as a:
Why Choose Game Design & Development?
During the program, you will begin to build your portfolio with games that you develop as a part of your courses. After obtaining your 2-year AAS, you can go directly into developing games, or you can continue your education at a 4-year institution. Our courses transfer to some colleges that offer Bachelor's degrees in Game Development. Be sure to check with an advisor to learn more.
Are you ready to turn your hobby into your dream career? Start moving mountains with game design today.