Start on your path toward a career in technology with a Computer Science AS transfer degree from ACC.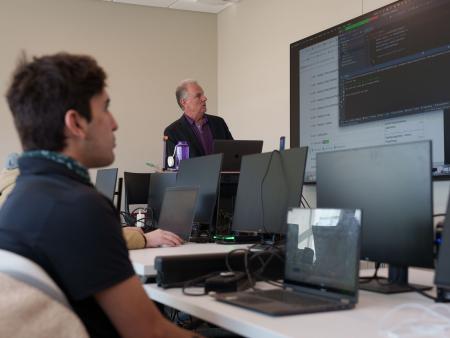 If you have strong math, computer, and keyboarding skills, and are detail-oriented, ACC's Computer Science transfer degree program could be the perfect path for you. Our associate of science program will give you a computer science foundation in mathematical and scientific principles through classroom and hands-on instruction. You'll develop your design and analysis skills related to computing systems. Your Computer Science AS will transfer to a 4-year university so you can complete your Bachelor of Science (BS) in Computer Science degree.
Transfer Options
Our Associate of Science degree in Computer Science is guaranteed to transfer to any public, 4-year institution in Colorado. Start at ACC. Move Mountains anywhere!
ACC academic plans will help guide you through your chosen program. The academic plan will provide you with important information, like which semesters courses are offered if there are any prerequisites or co-requisites for courses, program outcomes, course sequence recommendations, notes for the program, graduation requirements, and other important information. These are updated annually, so we recommend downloading a copy of yours to keep on track to graduation.
Job Opportunities in Computer Science