Student Academic Honors – Summer 2021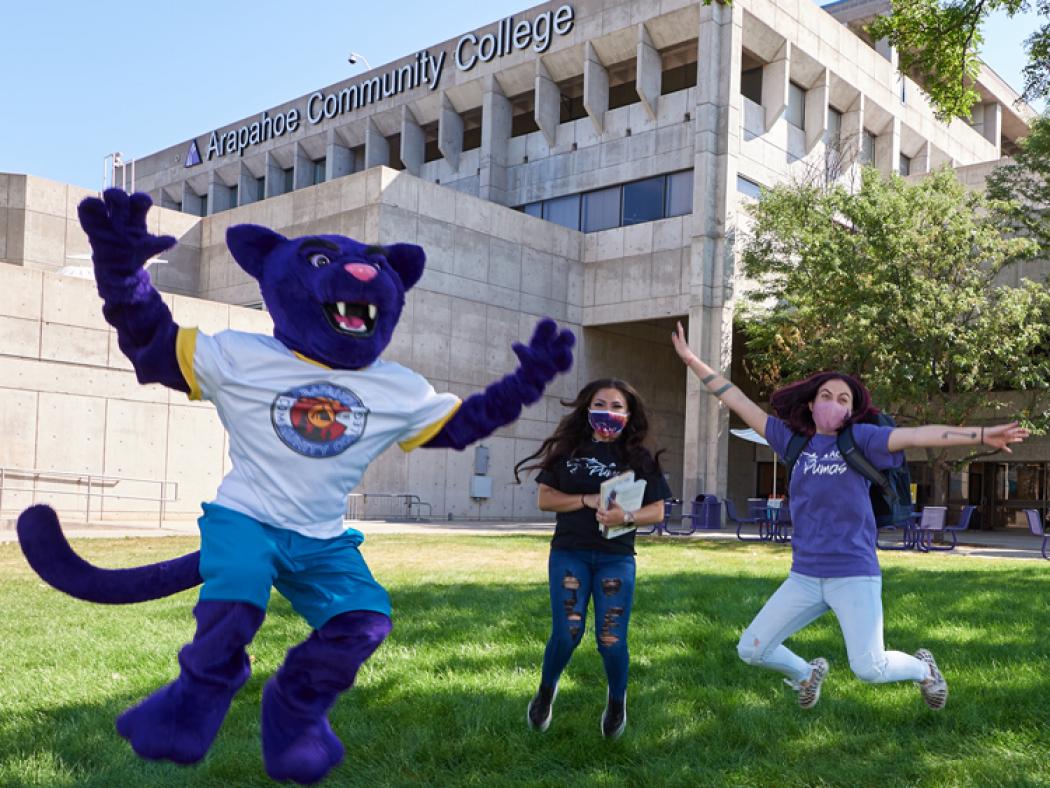 A grand total of 720 Arapahoe Community College students earned academic honors during the Summer 2021 semester, including 490 on the President's List. Students must successfully complete a minimum of six credit hours during the semester to be eligible.
Congratulations to our amazing students at ACC who continue Moving Mountains to achieve their academic and career goals. ACC is here to support our communities and work together towards a stronger tomorrow. We have affordable, in-demand programs in Littleton, Parker, Castle Rock and online.
President's List (4.0 term GPA)
Acosta Diaz
Zoe Albrecht
Meghan Aldrich
Checarai Aloisio
Aidan Amiscaray
Reagan Anema
Adam Anthony
Daniel Arellano
Gail Armendariz
Emily Arnold
Celeste Arreola
Brittany Arriza
Danielle Ashton
Destiny Auckerman
Olivia Bachmann
Brittany Bahlmann
Jaanai Ballesteros
Papri Bandyopadhyay
Derek Barbieri
Malia Baudo
Hannah Baugh
Erin Becker
Kayla Begger
Seriniti Bellomo
Jose Benitez
Austin Bennett
Jacob Bennett
Connor Benson
Emily Berger
Lena Berghuis
Jerrica Bickford
Morgan Bir
Stephanie Blanco
Lexes Bocim
Noel Bolle
Chambray Bowen
Jessica Brabham
Nikki Brady
Isabel Bravo
George Brencher
Ella Brigham
Scott Bright
Eric Anthony Brindisi
Macy Brockamp
Alexandra Brown
Chase Brown
Chaz Brown
Lara Bundy
Grace Burkes
Kathryn Burnett
Taylor Byars
Lynnae Byers
Yuqin Cai
Cash Cain
Mihael Calderon-Felix
Amber Caldwell
Shaye Caldwell
Samantha Casaus
Erin Case
Adriana Chacon
Yessenia Chavez
Cynda Chew
Elizabeth Choe
Nicole Choromanski
Jake Christensen
Riley Christensen
Krista Christiansen
Rebecca Clark
Kelsey Cleere
Natalie Clement
Steph Cleverdon
Katie Clifton
Brenden Coney
Dylan Conley
Kylie Connelly
Collin Conrad
Drea Cook
Danielle Cooley-Graham
Alize Cooper
Joseph Cooper
Vincent Corridori
Stephen Cosgrove
Annika Cota
Caitlin Crowell
Janaye Culton
Abigail Cummins
Conner Cunningham
Cara Curtis
Sarah Curtis
Kaylee Dalager
Jason Danek
Ashley Darcy
Julia Debruyn
Meg DeCrane
Cristian DeLaTorre
Rubi Delgado
Ethan DeMarco
Rachel DeRose
Cindy Doerr
Nina Dolatshahi
Audra Dominguez
Jacqueline Douglas
Garrett Drake
Angela Dunham
Kim Dunlap
Emily Durden
Arista Dutra
Natalie Dyson
Daniel Eagle
Phoebe Eckstein
Emma Egbert
Amelia Ellison
Emerson Elya
Colby Emeson
Crystal Essman
Felix Evrard
Laura Fadely
David Fang
Jinke Fang
Pam Fears
Kama Ferguson
Eric Fingalson
Gaelen Finnie
Ruby Flatt
Leslie Fleury
Kerry Fliedner
Steven Flores
Kristen Fore
Jayne Fraser
Cassandra Frick
Robert Fuller
Nicole Gallegos
Ashley Galligan
Matt Gant
Yadira Garcia
Annalise Garcia-Alva
Sofie Garner
Hannah Gellis
Ava Gharagozloo
Tara Gharagozloo
Mariah Gillaspie
Matt Ginzel
Lydia Gmerek
Autumn Goldsmith
Chloe Golenzer
Meredith Golenzer
Holly Goltl-Causey
Amanda Gomez
Eduardo Gomez
Tigran Gonzales
Krystal Gonzalez
Justin Goode
Lance Goodman
Raphael Gordh
Ashley Gorman
Raquel Gorman
Andrew Gorrell
Paul Gottshall
Thomas Graham
Julia Gralla
Meg Gray
Nicole Grimm
Cyndal Groskopf
Zoey Grunder
Flore Gunn
Jade Gurule
Samantha Haberkorn
Utah Halim
Logan Hammen
Riley Hand
Rebecca Harpster
Mindy Harris
Ben Hart
Nicole Hartman
John Hatt
Carrolyn Hawes
Harrison Hays
Kat Hecht
Jen Hedger
Amy Heil
Benjamin Helfant
AJ Hellander
Collin Heller
Morgan Henderson
Nash Herman
Thyra Herrick
George Hibner
Emalia Higgins
Michaela Hoelldobler
Nick Hoffman
Janet Holguin-Sosa
Haley Hollis
Kelsey Holt
Katherine Holwell
Bryan Hoole
Jesse Horn
Delaney Howell
Ashley Hoyt
Jessie Hsieh
Michelle Huerd
Lora Hutchison
Brittany Jackson
Gretchen Jackson
Izzy Jacobson
Jiqing Jacobson
JJ Jang
Cole Johnson
Darbi Johnson
Shannon Johnson
Shelby Johnson
Chanda Jones
Jami Jones
Trevor Jones
Sara Jungels
Peter Kaelble
Eryn Kaiser
Jalene Kaiser
Adam Kalosky
Sarah Kane
Mila Kania
Christa Kelley
Makayla Kelley
Melissa Kemp
Megan Kennedy
Kyra Kerler
Reatea Kifletsion
Shari Kimmey
Katelynn Kinsey
Ryan Kirsch
Jake Kloberdanz
Riley Klockner
Brian Knapp
Chris Kolakowski
Carrie Kopperman
Jordyn Koroneos
Chandler Korth
Kaysi Koslov
Sonya Kranz
Emelie Kronquist
Amy Kubik
Alena Kuzinski
Dylan Lamadore
Hillary Lardie
Olivia Larsen
Zachary Lawlor
A.J. Leach
Haley Leblanc
Shannon Lee
Katharine Leichner
Maston Leit
Nate Lentz
Kyrill Liashenko
Kelly Lichtenberg
Grace Lien
Brian Louden
Corey Lounsbrough
Jackie Lozovoy
Bobby Luckel
Macayla Luetje
Michelyne Maestas
Jolene Main
Katie Mannarino
Megan March
Grace Marchand
AJ Mariano
Brady Marques
Alex Marquis
Craig Martell
Leah Martell
Missy Marten
Jeanie Martin
Alyssa Martinez
Gianna Martinez
Emy Martinez Montoya
Max Martz
Amanda Mason
Aki Matsumoto
Eric Mayer
Ashley Mays
Jimmy McCullough
Samantha McDaniel
Maeve McDonald
Michael McElfresh
Courtney McElhaney
Preston McGinty
Lara McLain
Tucker Means
Rene Mears
Zion Meier
Alma Meldrum
Jennifer Mendoza
Analissa Merkle
Maddie Mesher
Keelie Mijares-Vallie
Vera Milenkovic
Christopher Miller
Eric Miller
Katie Miller
Nick Miller
Chloe Millham
Susan Milosevich
Sofia Miranda Santis
Zack Mizyed
Jessica Monroe
Erik Montiel
Rolin Maria Montoya
Brandon Moore
Sabrine Moore
Camila Morales
Nathan Moreno
Daniel Morgan
Anne Morrison
Jennifer Morrow
Zabrina Motwani Condor
Emily Mudick
Akshitha Mudupu
Brock Mullins
Tori Murphy
Vanda Murray Magro
Amy Myers
Rosa Navarrete-Olivas
Luke Nelson
Nick Nemchick
Alli Nestelroad
Matthew Newkirk
Helen Nguyen
Meghan Nigudkar
Mira Nigudkar
Chad Ninteman
Brycen Norden
Ceci Null
Jennifer Oakes
Lyn Olson
Joan Onuigbo
Ethan Orlosky
Sydny Oryshchyn
Robert Ottenberg
Jessica Overholt
Anwyn Owens
Carissa Palmer
Steve Park
Jamie Patterson
Julianna Patterson
Nathan Payn
Christie Payne
Mark Pennington
Morgan Perricone
Heather Peterson
Joey Petrucelli
Sonia Pettigrew
Andre Phillips
Karina Plecker
Nikki Poelma
Ally Poland
Finley Pool
Helen Poore
Jack Potter
Skyler Puckett
Sarah Rae
Amanda Raie
Ben Raison
Chris Raitz
Cassidy Ramsey
Anna Raynes
Leslie Redfield
Charlotte Regan
Morgan Reinbold
Luis Ricardo Gongora
Haleigh Richey
Carson Riggenbach
Heather Rinderle
Michael Risch
McKenna Rivas
Jasmyn Rivas-Amador
Jessie Robertson
Jackson Robinson
Angel Rodriguez
Abby Roe
David Rogacki
Kate Rogers
Macy Rooney
Alex Royster
Zach Ruegge
Emily Ruelas
Jonathan Rumley
Mary Russ
Harleigh Sanchez
Mimi Sanchez
Erika Sandoval
Zoe Sands
Will Sandstrom
Pat Scarangelli
Lauren Schaffer
Sarah Schanno
Holly Schiller
Stephen Schilling
Gabriel Schonacher
Kailey Seymour
Mackenzie Shacklett
Dinita Sharma
Prayush Sharma
Austin Sheldon
Melanie Shelton
Kevin Sibert
Ivan Simakov
Kevin Simpson
Ashley Singleton
Abraham Sitanggang
Elise Skirde
Victoria Slater
Kathryn Smallwood
Amanda Smith
Chelsea Smith
Jake Smith
James Smith
Rebecca Smith
Seth Smith
Jimmy Smrz
Becca Smuk
Austin Spaulding
Wendy Spurlin
Alex Stanley
Sarah Steinbrecher
Sydney Stevenson
Kodi Stoddard
Rory Stoddard
Raelyn Stoneking
Danielle Storey
Max Strizhenko
Skyler Stugart
Evan Sullivan
Tabor Sutton
Caleb Tamminga
Vincent Tang
Fatima Tapiya
Rachel Tat
Allan Taylor
Madison Teeter
Haylee Thomas
Emily Thomson
Kai Thunberg
Jillian Tidwell
Luke Tkaczyk
Danielle Tools
Yvonne Torres
Kathryn Trujillo
Mike Trujillo
Mark Turner
Ken Turpin
Rachel Tyrrell
Chloe Urbanski
Vincent Vady
Angelica Valdez
Bond Van Der Jagt
Susan Velasquez
Ashley Veum
Kade Vine
Audrey Vogt
Audrey Waddell
Ryan Wade
Sidney Waldman
Rich Walker
Traci Walker
Westin Warren
Kirk Washington
Stephanie Watkins
McKenna Webb
Nicholette Weiss
Robert David Colton West
Kylie Weydert
Bri Whitbread
Jolene White
Lauren White
Skyler White
Elizabeth Whitlock
Morgan Whittaker
Tyler Wilkinson
Shane Williams
Rianna Willson
Brendon Wilson
Juliette Wirth
Robert Wistrand
Kristina Wolf
Sami Wollert
Joseph Wurst
Abdul Yussif
Grant Zaeske
Solomon Zhu
Quinn Zisk
Kaitlin Zivojinovic
Vice President's List (3.75 – 3.99 term GPA)
Samah Al wakeel
Kellie Bassett
Bailie Briegel
Spencer Burks
Ethan Chambers
Amy Fanning
Kristin Foley
Kayleigh Fry
Morgan Hampton
Diana Holmes
Madeline Inge
Abby Jurina
Aylin Kahraman
Shane Lollar
Leslie Lopez
Tyler Mergy
Marina Nicoreanu
Regis Pabon
Jaime Post
Daman Reynolds
Loren Scott
Andrew Stuth
Felicia Swift
Olga Trofimova
Darius Wells
Aaron Wilson
Ilsa Woodward
Julien Yllanes
Dean's List (3.50 – 3.74 term GPA)
Dylan Adams
Reem Al Rubaye
Aubrie Albin
Alyssa Alfonso
Gwen Allen
Gemma Anselmi
Lauren Anusencion
Xaimara Aponte
Danett Ashley
Simone Atkins
Baileigh Baker
Nick Bakovich
Nicky Banda
Micah Barkenhagen
Sophia Bauer
Jessica Bautista
Shea Bednarchik
Jake Boling
Sheldon Borakove
Logan Borusiewicz
Marc Braniff
Dale Brayley
Jerbonian Budisidharta
Joshua Burgos
Leslie Caballero
Nathan Cage
Taelyn Carter
Jaya Charles
Joseph Chinnici
James Chrisman
Ethan Clemons
Zoe Clemons
Shante Cole
Arielle D. Collins
Brooke Colonna
Nolan Connell
Addy Cooper
John Correa
Colton Cossitt
Madison Cronin
Kathryn Crum
Kaylie Curtis
Melanie Deeble
Binta Diallo
Bryan Dickenson
Rachel Domnick
Cynthia Duncan
Sarah Duncan
David Duval
Lindsay Engelbert
Kim Foster
Jessi Frachetti
Hannah Frazier
Lyndsey Fulton
Geena Gallegos
Caroline Gann
Salma Garcia
Megan Gibbons
Sydney Gonzales
Ada Graham
Jonas Graham
Dwayne Grant
Monique Grant
William Gray
Kyle Green
Taylor Groom
Nadia Gunn
Kimberly Harmon
Kristina Harral
Brian Hatcher
Kevin Head
Bryan Hedden
Clayton Henderson
Rachel Hickam
Ali Hickey
Adia Hinds
Stewart Hinds
Eric Hoff
Dillon Hood
Sonia Ibarra
Sravya Illuri
Erik Jensen
Rick Jewell
Hailey Johnson
Julianne Johnson
Trey Johnson
Erin Jones
Jordyn Kaplan
Cassandra Kehrer
Noah Kelley
Nick Keotunian
Isabella Kilzer
Chloe Kirchner
Mike Klaskala
Justin Kopek
Jordan Kusler
Decker Landman
Luis Leon
Kate Lepry
Kailah Lindsey
Kristin Lipsky
Caitrin Lombardo
Shawna Lopez
Christian Love
Bill Lovelace
Claire Lumpkin
Liam MacDonald
Kaitlyn Marston
Bailey Martell
James Martinez
Timothy Mason
Daniel Mayr
Jacob McClaren
Chloe McKinney
Conor McMahon
Mark Alan Mills
Rachel Minero
Andrea Minks
Farah Mohammad
Holly Morgan
Sabine Moriyama
Olivia Mucha
Alona Muliar Smith
Madi Muranyi
Noudayi Arlette Ghislaine Nagnonhou
Cameron Nail
Dawson Nail
Karla Najera
Joseph Neuheardt
Richard Newton
Michael Norris
Maxwell Nwokeukwu
Tim Oehrlein
Dano Olivares
Liam O'Rourke
Laura Overstreet
Kathleen Pape
Justin Parchem
Kimberly Parrish
Mary Pellegrini
Alex Perez
Kevin Perry
Claudia Podlesna
Sydney Porter
Saddie Probasco
Keivy Quevedo
Kimberley Ramirez
Amanda Rentz
Audrey Rex
Catherine Richardson
Wendy Riggs
Brittany Riley
Cole Rothamer
Gio Rutigliano
Juliana Saludes
Will Sarouhan
Caitlin Satkowski
Megan Schweitz
Isabelle Seeto
Allison Seibert
William Sellers
Adele Shive
Bharat Shrestha
Nicholas Simmons
Miranda Simoes
Liz Smith
Shayna Smith
Stephen Smith
Bri Solomon
Ashton Steggall
Kelli Strader
Courtney Sturtevant
Damaris Suarez
Lacey Swaim
Eszter Takacs
Austin Testerman
Josh Teves
Bawi Thawng
Ayden Thomas
Rebekah Thomas
Ryan Thomas
Tanza Tobias
Grayson Turner
Jimmy Tyer
Braydon Van Cleave
Dior Van Der Jagt
Eduardo Villalobos
Emmanuel Walker
Gavin Walker
Courtney Watry
Paul White
Ross White
Brandon Wicklein
Chris Wilder
Chelsea Williams
Courteney Williams
Courtney Wilson
Amber Wood-Jensen
Branica Xiong
Stephen Yang
Mohamed Yusef
Filiberto Zamacona