PTK inducts 20 new members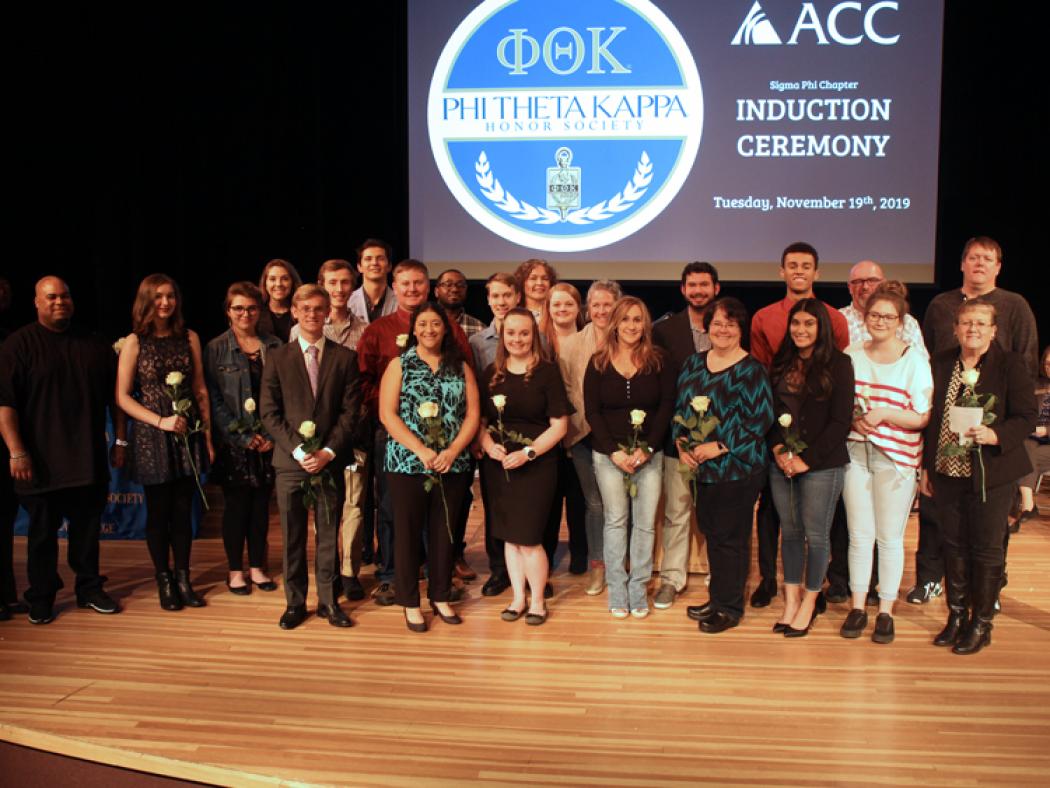 Twenty students were inducted into ACC's Sigma Phi Chapter of Phi Theta Kappa on Tuesday, November 19, 2019, during a ceremony in the Waring Theatre at the Littleton Campus.
Phi Theta Kappa, an international honor society for two-year colleges, recognizes the academic achievements of college students and provides opportunities for them to grow as scholars and leaders. The following students have completed the necessary course work and have maintained a 3.5 grade point average or above to be considered for this honor:
Joan Anderson

Celina Baldwin

Lenna Busey

Mike Danielson

Killian Fallon

Jessica Flores-Faisal

Teressa Gehrke

Amy Hale

Gabe Houhoulis

Brittany Jennings

Rosalyn Klasinski

Matthew Malinosky

Brandon Martinez

Lean McChesney

Brittiany Pohl

Libby Reeder

Will Sandstrom

Everett Shockley

David Smith

David Waite
The 2019-20 Executive Board members for Sigma Phi are: MacKenzie Jordak, President; Josephine Thibodeau, Vice President for Leadership; Brandon Martinez, Vice President of Colorado Project; Lenna Busey, Vice President of  Honors in Action; Everett Shockley, Vice President  of Membership and Recruitment; Kales Taylor, Vice President of Mentorship; Brittiany Pohl, Vice President of Communications and Public Relations; Gabe Houhoulis, Historian.
The ACC Sigma Phi Chapter is currently working on completing on its Honors in Action Project with the goal of increasing access to the availability of ACC resources for students and other ACC community members dealing with past or ongoing violence. Sigma Phi also recent completed its College Project to develop a career closet for job-seeking students in search of professional clothing.