Elevate at ACC Celebrates Inaugural Class of Graduates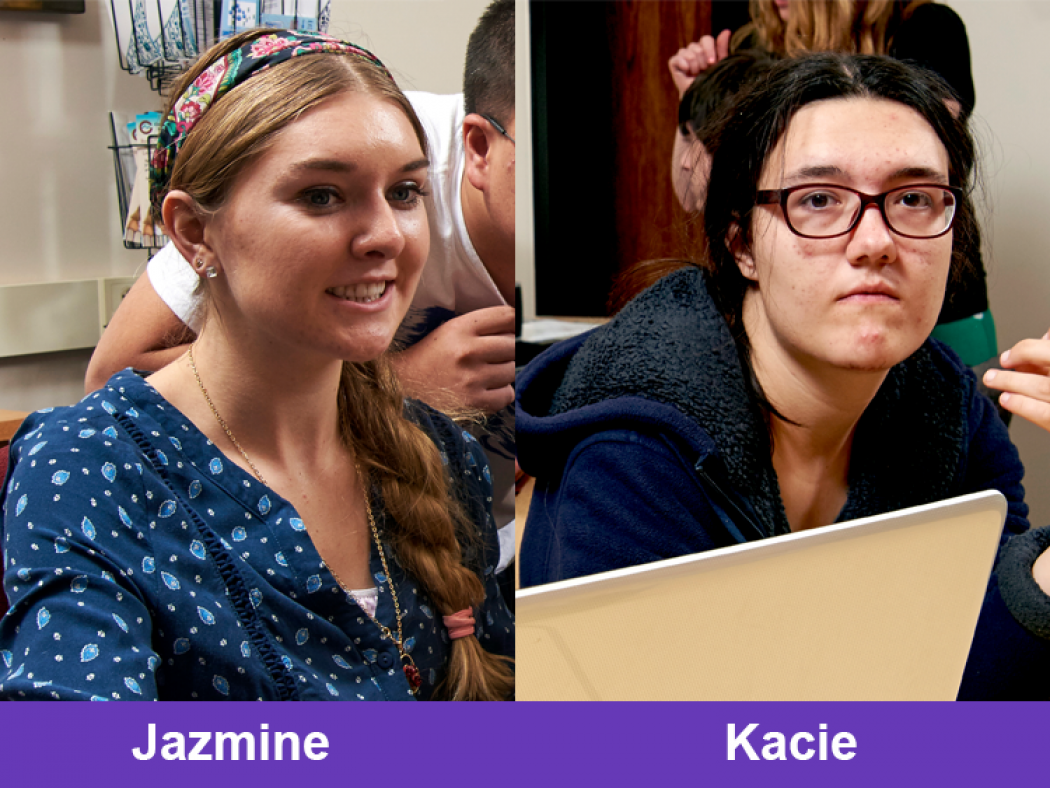 In May 2016, with support from the Colorado Initiative for Higher Education (IN!), former Colorado Governor John Hickenlooper signed Senate Bill 16-196 – otherwise known as the Inclusive Higher Education Act – into law, giving students with intellectual and developmental disabilities (IDD) an opportunity to pursue higher education.
The Inclusive Higher Education Act is an individualized approach to education and inclusion in college for students with IDD. These are individuals who have either traditionally not been able to meet the standard admissions criteria for college, or require additional support in order to be successful at the college and university level.
Arapahoe Community College (ACC), CU Colorado Springs (UCCS) and the University of Northern Colorado (UNC) became the first three schools with pilot programs to build the structure for inclusive higher education pathways. The inaugural semester for ACC's program, Elevate at ACC, began in the fall of 2016. Now, in May 2020, the first two Elevate students will complete the program and become graduates of ACC.
"Elevate is a high-quality, inclusive program that provides students with the opportunity to grow both personally and professionally," said Jennifer Woegens, Coordinator of Elevate at ACC. "We use person-centered planning to help students identify short-term and long-term goal, linking outcomes to future employment opportunities."
Specific courses, individualized academic planning, participation in student activities and internships are determined based on skills and competencies needed for students to achieve identified employment goals. ACC career counselors collaborate with each Elevate student, an Elevate Coordinator, the student's family, and community partners to work towards achieving employment goals.
Students work to develop increased independence, self-determination and personal growth. Elevate learning outcomes include identifying and developing transferable and marketable occupational and job attainment skills, as well as critical thinking skills, including self-reflection of learning, information gathering, and analysis.
Elevate courses build on common themes of self-advocacy, college and workplace readiness, and community engagement to develop student's personal and professional skills. Career services begin early in the program, and participants engage in paid and unpaid work experiences.
In order to be eligible to apply for Elevate, individuals must:
Have completed high school (no SAT / ACT required)

Have a documented intellectual disability

Desire to go to college

Be able to participate in class and campus activities with support

Identify a career goal and be prepared to obtain meaningful employment upon graduation

Express an interest to live and work as independently as possible
"Our three-year program is comprised of three courses each semester – following the individualized plan of study – including two courses that are inclusive from ACC's regular course catalog and one specialized course designed to meet the individual's personal needs," said Woegens. "We set goals and develop a clear career path. Students receive accommodations and modifications as needed throughout the duration of the program. The goal is for students to complete Elevate prepared for employment and greater independence."
Participants in Elevate must:
Desire to attain a career

Desire to attend and participate in a community college experience

Have a documented intellectual and developmental disability

Be able to attend to personal care needs or provide a personal care attendant

Remain an active participant throughout the length of Elevate at ACC

Be able, after an initial orientation and training, to safely and independently navigate campus
Students who complete the program receive a Comprehensive Higher Education Certificate. Elevate students pay standard tuition and fees along with a program fee of $1,500 per semester for the additional support they receive. Financial aid is available.
ACC is proud to announce its inaugural graduates of the Elevate at ACC program: Jazmine and Kacie.
Jazmine
Jazmine's passion for taking care of others has fueled her pursuit of a career in the nursing field. During her career at ACC, she has earned membership into the National Society of Leadership & Success to help advance her leadership skills. In her free time, Jazmine enjoys dining out and going to movies with her family, friends and boyfriend. She also loves walking and caring for her dog, Sugar. Jazmine, who earned IN!spirational Person of the Year recognition from IN! in 2018, is graduating from ACC with a Nurse Aide Certificate and Comprehensive Higher Education Certificate. She has been hired by the Rocky Mountain Hospital for Children. Watch Jazmine's video.
Kacie
Kacie's love of reading and learning drove her to enroll in the Elevate program. She was instrumental in launching the Elevate Club, a student organization dedicated to raising awareness about life as a college student with an IDD. Kacie interned with a local coffee shop before landing a position in the ACC Library & Learning Commons. Upon graduating, she will transfer to Colorado State University to pursue her bachelor's degree. Kacie, who has a special place in her heart for shelter animals, aspires to become a librarian and encourage children to discover a love for learning. Watch Kacie's video.
"This has been a great experience to work with this group of students," said Terri Scrima, ACC Communications Program Chair / Faculty. "I hope to work with more Elevate students in the future."