ACC extends spring break; classes will move online March 30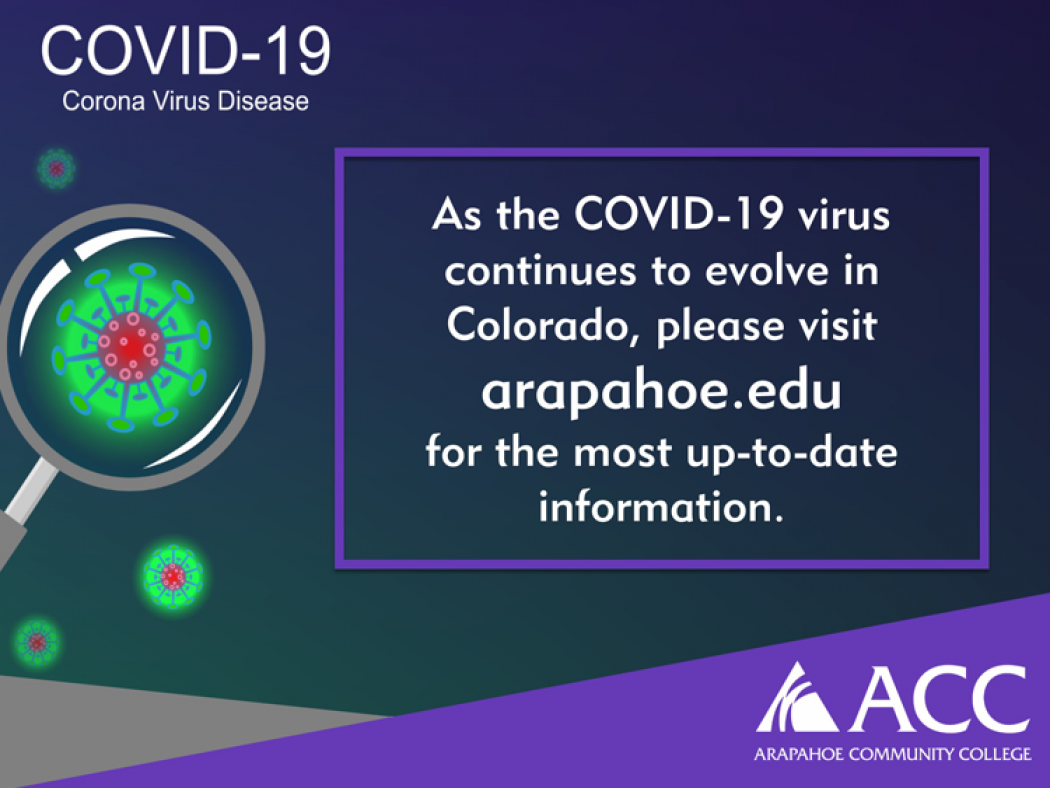 Arapahoe Community College has extended spring break for students from one to two weeks. The break will now run from Monday, March 16, through Sunday, March 29. Beginning on Monday, March 30, all classes will be moved online until further notice.
ACC plans to remain open during regular business hours – with some limitations – as classes move online. Students will receive additional information regarding their courses and any accessibility needs prior to March 30. Student Services offices will remain open and students may check out iPads (while supplies last) at the Library & Learning Commons to assist with the transition to online classes. ACC computer labs will remain open for students who do not have computer and/or Wi-Fi access at home.
Career and technical courses that cannot be delivered remotely will be held in spaces that allow for adequate social distancing and responsible precautions. Students, faculty and instructors should check their ACC email, D2L, and the ACC website for regular updates.
The FAFSA Labs are suspended until July, the Testing Center has halted commercial testing, the 2020 Summer Study Abroad program has been postponed until 2021, and the Fitness Center will be closed indefinitely beginning on Monday, March 16. The Child Development Center will remain open, as will the Bookstore and the Espresso Yourself Café. A decision regarding the upcoming Commencement ceremony will be made at a later date. Registration for summer and fall classes at ACC is still ongoing, and Academic Advisors are available to meet with students.
"Our goal is to minimize the risk of COVID-19 occurring on our campuses," said ACC President Dr. Diana M. Doyle. "It is important for us to play our part in slowing the spread of the virus in our communities and not contribute to its progress. We will continue to monitor the recommendations set forth from the Center for Disease Control and other national health resources, as well as work with our state and local public health officials to stay abreast of the rapidly changing nature of COVID-19."
ACC is not currently accepting rental requests, and all external events scheduled to take place at the College in the coming months are postponed (full refunds will be given for cancelled events). More information regarding ACC serving as a voter service/polling center for the upcoming State Primary Election will be made in the coming months.
"ACC asks that everyone maintain flexibility to allow our students the opportunity to make the best decisions for themselves as they pursue their education," stated Dr. Doyle.
Stay informed with reliable, up-to-date information, and take simple preventative actions. For updates about ACC, please visit our Information about COVID-19 page.