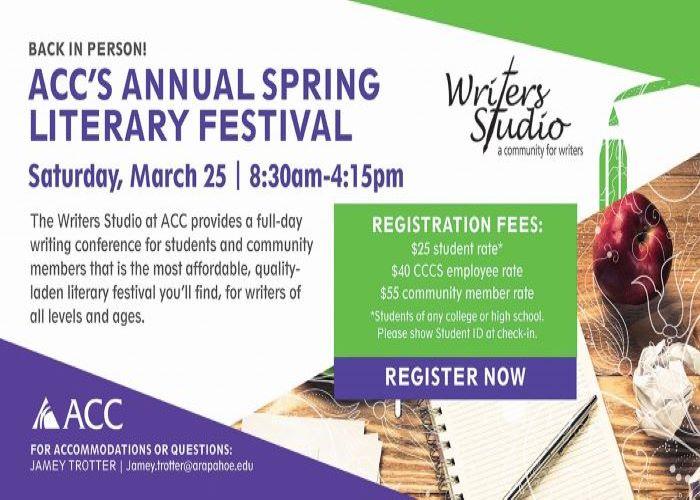 Back In Person! ACC's Annual Spring Literary Festival.
The Writers Studio at ACC provides a full-day writing conference for students and community members that is the most affordable, quality-laden literary festival you'll find, for writers of all levels and ages.
Included with the registration fee:
One complimentary copy of the "Progenitor Art and Literary Journal", v. 57, 2022
Continental Breakfast, including coffee and tea
Lunch
Author reading and book signing during lunch
Open Mic opportunity for registrants at the end of the day (approximately 5 minutes per person)
Registration fees:
$25 student rate*
$30 CCCS employee rate
$40 Senior rate
$55 community member rate 
*Students of any college or high school. Please show Student ID at check-in.
SCHEDULE
8:30-9:15 Sign-in and continental breakfast
9:30-10:45 Session 1 (registrants choose from 2)  
11:00-12:15 Session 2 (registrants choose from 2) 
12:30-1:30 Lunch and author reading
2:00-3:15 Session 3 (registrants choose from 2)
3:30-4:15 Festival concludes with an Open Mic reading for registrants—time limit of five minutes per reader 
4:30 campus closes

Register Now
Workshop Facilitators
SESSION 1 - D.L. Cordero
D.L. Cordero is a fantasy author, occasional poet, and horror dabbler working out of Denver, CO. Their work can be found in "Prometheus Dreaming, Post Journal, Deviant" from Inkfeathers Publishing, "Denver Noir" from Akashic Books, and the upcoming "Listen To Your Skin" anthology from Q Publishing. They are also the voice of Cracogus in the audiodrama "Harbor". In their advocacy work, Cordero has performed for institutions such as Denver Health Medical Center, Yale University, and The Transgender Center for the Rockies. When not storytelling, Cordero can be found wrangling their blind pitbull, thrifting for witchy oddities, and binging old-school anime. Follow them @dlcorderowrites and on dlcordero.com.
Workshop Title: Dreamweaver: Entangling Structure and Subconscious
Workshop Description: Innovative story ideas can be sourced from dreams and nightmares, but having a greater understanding of story structures can provide writers with the opportunity to weave these ideas into unique narratives that draw readers deeper into the surreal. In this workshop, we will study a variety of story structures, observe how their elements differ, and practice integrating them into material sourced from our subconscious. While we will review the hero's journey, also known as the three-act story structures, our primary focus will be on story formats less commonly used in modern, Western storytelling traditions. Examples include the four-act structure, the non-linear sequence, the fairy tale, branching, spiral, parallel, nested, and multiple point-of-view structures.
In preparation for this workshop, participants are encouraged to write down detail from their dreams and bring them - and writing materials - into session. Let's get joyfully weird! While this workshop will be geared towards fiction, non-fiction writers are more than welcome. Every story benefits from a writer who knows how to utilize structure to their advantage.
SESSION 2 - Cristo Apache (poetry) or Leah Rogin-Roper (prose)
Crisosto Apache is originally from Mescalero, New Mexico, on the Mescalero Apache reservation, and currently lives in the Denver area with their spouse. They are Mescalero Apache, Chiricahua Apache, and Diné (Navajo)of the Salt Clan born for the Towering House Clan. They hold an MFA from the Institute of American Indian Arts and are an Assistant Professor of English. 

Crisosto's debut collection is

GENESIS

(Lost Alphabet). Their second book recently released is

Ghostword

(Gnashing Teeth Publication). They are also the Associate Poetry Editor of

The Offing Magazine

, and their profile can be seen on the

Poetry Foundation's

website as well as their websi

te

www.crisostoapache.com

. You can follow them on Instagram & Twitter (Crisosto Apache).
Workshop Title: The Personal Poem: (Re)structuring the Poetic Self
Workshop description: Identity is always evolving. How individuals represent themselves has become individualized with a large diverse sense of expression. Through poetry, the definition of "self" and expression can further the concept of the "poetic self" through a creative (re)construction. An exploration of how the written page can redefine the expression of individuality.
Leah Rogin-Roper,

is the author of "Two Truths and a Lie" (Horseless Press, 2016) and "Burying Norma Jeane" (Blackwater Press, forthcoming 2024) which uses the collective voice in the form of movie reviews to reflect on the life, death, and legacy of Marilyn Monroe. Her flash fiction, poetry, nonfiction, and short stories have been published widely. She lives in the mountains west of Denver with various creatures, including children.

 
Workshop Title: Voices from the Chorus
Workshop Description: An ancient technique of drama performance, the Greek chorus uses a "we" voice to give a slant perspective on the action, often commenting on information or machinations outside the awareness of the main characters. The chorus can be seen as the gossip of the text, providing a side-eyed community commentary as the story unfolds. At other times the chorus serves as the jury, with their verdict handing down the judgement of the audience or of history.
What does this look like in its modern literary forms, such as "The Virgin Suicides" and "The Mothers" or writing of Elin Hilderbrand or William Faulkner where the chorus links to geography? And what possibilities does it offer for nonfiction and memoir, such as in "We the Animals", "Two Boys Kissing", and "Ordinary Girls"?
This workshop will model a range of choral possibilities in drama, fiction, and nonfiction and work through several generative exercises to explore and create collective voices in ongoing or new writing projects. The workshop is appropriate for writers of all levels with focus on fiction or nonfiction.
SESSION 3 -  Meca'Ayo (poetry) or Nancy Stohlman (prose)
Meca'Ayo's new book, "an identity polyptych" is a multi-part, multi-genre work that explores familial estrangement, identity as a mixed-race Black person, and movement towards reconciliation. It can be considered a memoir. The book works to find an impossible peace as it relies on the trickiness of memory, the effects of trauma, the necessity and constant work of healing, and the unfulfilled wish to feel a true sense of belonging.
Bio/About "an identity polyptych": Tameca L Coleman (Meca'Ayo) is a queer multi-genre writer and artist who lives in Denver, Colorado. Their writing and photography have been featured in literary magazines, art exhibits, journals, anthologies, and other publications. Their first book, "an identity polyptych", debuted from "The Elephants on the Salish Sea", Fall 2021.
You can find Meca'Ayo and more information about their work on social media under the handle @sireneatspoetry and at sireneatspoetry.com.
Workshop Title: Writing What is and Letting That Sh*t Go: A Collaborative Poetry Workshop
Workshop Description:  Some of my favorite poets speak to poetry as a practice of presence, accepting and relating through however we are in whatever moment, and with whatever filter we have in that moment. This way of thinking and writing reminds me a lot of how haiku traditionally works, and the gift that is so often inside of such a small poem, such a small moment.
In this workshop, we will talk about presence, and we will talk about letting go. We will do so via collaborative act, an exercise taught by another of my favorite poets. We will take a look at our discomfort in that collaboration, and we will find the surprising gifts in letting go. 
Nancy Stohlman

—

Colorado's Queen of Flash Fiction—is the author of six books including the hot-off-the-press "After the Rapture" (2023), "Going Short: An Invitation to Flash Fiction" (2020) winner of the 2021 Reader Views Gold Award, "Madam Velvet's Cabaret of Oddities" (2018), "The Vixen Scream and Other Bible Stories" (2014), "The Monster Opera" (2013), and "Searching for Suzi: a flash novel" (2009). Her work has been anthologized widely, appearing in the Norton anthology "New Micro: Exceptionally Short Fiction" and "The Best Small Fictions 2019", as well as adapted for both stage and screen. She teaches at the University of Colorado Boulder and around the world.
Workshop Title: Write a Flash Novel: All Meat and No Fat
Workshop Description:  Do you have a Big Story Idea brewing but you don't know where to begin? Have you been working on a traditional novel/creative nonfiction book, but you find yourself hitting a wall? Maybe you need a total perspective shift, a radical re-visioning of how to write a book?
Meet the "Flash Novel", a breakout genre that draws on the skills of flash fiction to tell a large-scale story in a compact space. Existing at the intersection of the novel and flash fiction, the flash novel has both the scope and complexity of a novel and the ingenuity of flash fiction, delivering a sophisticated reading experience to a contemporary audience. 
In this workshop, we will envision, draft, collage, and create momentum on your Big Idea. We'll begin breaking it apart and making friends with the scope of it. For 90 minutes, we'll get out of our own way, and you will discover the bones of your project as well as the enthusiasm and insight to know where to go next. Open to all writers, whether you have already started writing or the idea still lives in your head and heart. Come ready to play and rethink what you know about writing a book.
For more information and accommodations contact:
Jamey Trotter jamey [dot] trotter [at] arapahoe [dot] edu