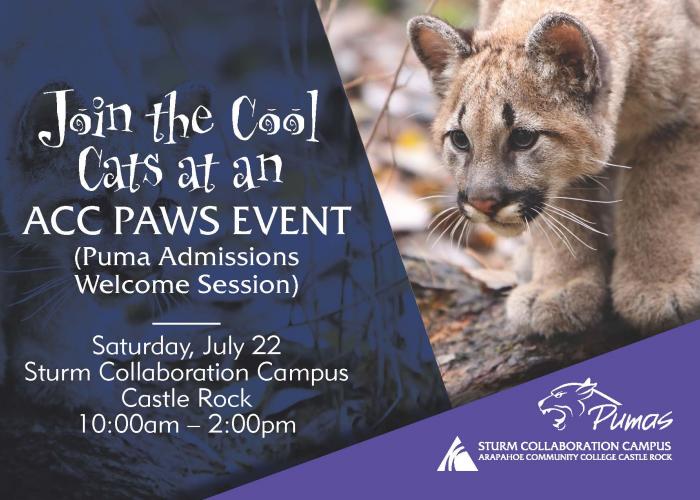 Ready to enroll for Fall 2023? Please join us for a PAWS on Saturday, July 22 from 10am - 2pm at ACC Sturm Collaboration Campus at Castle Rock! Event for newly admitted ACC students. You can complete your enrollment and get your questions answered before Fall 2023 classes starts.
Plan of the Day:
10:00am – 12:00pm
ACCUPLCAER Testing
Campus Tours
Career Cluster Survey, recommended for undeclared students
Part I Online Student Orientation
Advisors available to assist registration for readmits / transfers / continuing
12:00pm – 2:00pm
Part II Student Orientation - Advising and Registration Session for first-time college students only
Resource Fair: 10:00am - 1:00pm
Disability Access Services
Financial Aid
Student Life
For more information or disability accommodations, contact ACC Sturm Collaboration Campus at 303.660.3160 or castle [dot] rock [at] arapahoe [dot] edu (castle[dot]rock[at]arapahoe[dot]edu).