Tutoring Services at ACC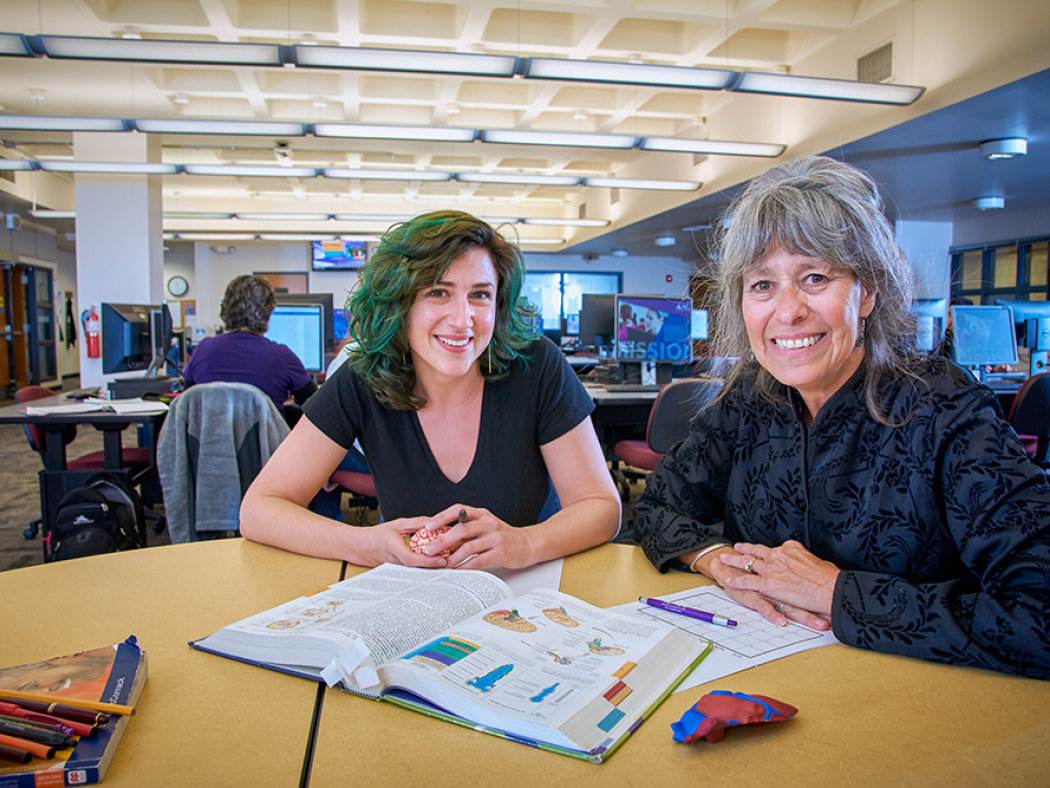 We all need a helping hand sometimes, especially when we're dealing with subjects that we aren't experts on. Professors, friends, and family members may be able to help clear up some confusion about a topic, but they may be unable to dedicate the time to going in depth on it, or may simply not know enough about it. This is where the benefit of working with a tutor comes in. A tutor's job is to review assignments, discuss content, and assist you in their area of expertise until you succeed at understanding the subject matter. Regardless of what subject you need assistance with, ACC has your back with a wide range of tutoring services geared towards helping you Move Mountains.
Your primary source for tutoring assistance is the Student Success Center, located in room M1650 on the Littleton Campus. They offer professional tutors and peer mentors who excelled in a variety of subjects, and they can assist you with all courses offered. They can also assess your learning style, work with you managing your time and stress, and help you develop effective studying strategies. Additionally, you'll have access to computers, whiteboards, and small study groups so that you can collaborate with your peers. With drop-in availability, you won't even have to set up an appointment.
Perhaps you need assistance on more specialized or technical subjects. If you're taking Business Technologies or 100-level CIS classes, you can find tutoring resources in the Annex building in room A1110. The Art & Design Center can assist you with all classes instructed on their premises, you'll have access to Adobe CC, AutoDesk, and Solidworks software with both PC and Mac computers, and several courses provide embedded tutoring. If math is statistically your weakest subject, the Math Support Center in room M2850 can help you with all math-related topics, provide you with graphing calculators and instruction on using them, and assist you in using MyMathLab software. Finally, if you lack the gift of gab grammatically, head to the library to access the Writing Center, where you can get one-on-one assistance to develop your writing skills and receive help with brainstorming, researching, and formatting your papers. The library can also give you training and assistance in researching with their online database, helping you to track down reputable source materials for your assignments.
Maybe you attend classes on the Parker or Sturm Collaboration Campuses and can't easily get to the Littleton Campus. Both campuses have tutoring resources on hand that can help you out. The Parker Campus offers tutoring in all levels of CIS classes, and both campuses have Math and Writing Centers offering the same services as those on the Littleton Campus. They also have a professional librarian on hand at each location who can assist you with research help for any of your courses.
Let's say that you can't access any of our on-campus resources, either due to your location or because they're closed during the times when you need them. We have an online tutoring option called Brainfuse that you can access at any time in D2L through myACC. With Brainfuse, you'll be able to receive instant tutoring with a live tutor, form online study groups, and participate in personalized skills building and test prep that can help you pass exams like the Accuplacer and GRE. We also have online components for several of our tutoring centers: the Art & Design Center offers tutorials through Lynda.com, the Math Center through Smarthinking, accessed through MyMathLab, the Writing Center through their D2L Sandbox, and the library through their 24/7 chat service found on their homepage.
College courses are rarely easy, but they don't have to be difficult. If you're having trouble with a class or an assignment, take advantage of the tutoring services that we offer. All of our tutoring services are completely free, and the benefit to your knowledge, skillsets, and GPA cannot be overstated. Go to the tutoring page on our website to look up hours, contact information, and the full range of services offered by our tutors. Remember, you can Move Mountains, and it's ACC's goal to help you do so.