Envision Your Future as an Ophthalmic Technician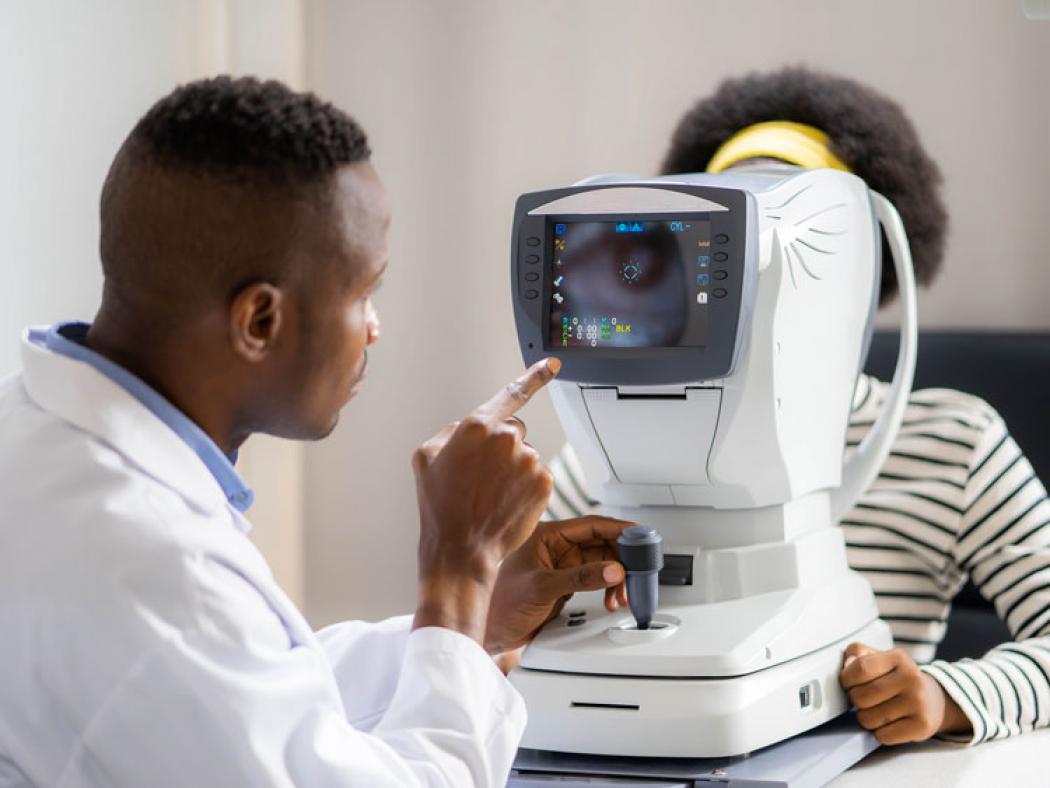 Are you looking for a career in healthcare that allows you to work with patients and use your skills in technology? Meet ACC's newest degree program: the Ophthalmic Technician Associate of Applied Science. This degree combines technology and healthcare skills to help you provide excellent vision care in your community.
The application is open now and due April 22, 2022. Learn more about ACC's Ophthalmic Technician degree from the Program Chair, Jacquelyn Buechner, B.S./C.O.M.T. We asked Jacquelyn a few questions about Ophthalmic Technicians and ACC's AAS degree program to help you learn more about this exciting career path.
About Ophthalmic Technicians
What is an Ophthalmic Technician?
An ophthalmic technician is a member of the healthcare team who works under the direction of medical eye doctors (ophthalmologists) to perform eye exams, diagnose diseases and administer treatments in caring for a patient's eyes and eyesight. 
What does an Ophthalmic Technician do?
An ophthalmic technician gathers patient information, performs testing and measurements on a patient's eyes. The ophthalmic technician documents information into a patient's medical record. Some ophthalmic technicians assist the ophthalmologist in procedures and surgeries.
What types of equipment does an Ophthalmic Technician use?
An ophthalmic technician uses many types of equipment, some are computer-controlled including automated refractors, automated keratometers, visual field analyzers scanning laser ophthalmoscopy, ophthalmic digital imaging, ultrasonic biometry, optical coherence biometry, and wave-front analysis aberrometry. Other non-automated equipment includes lensmeters, microscopes, phoropters, prisms, and visual acuity systems. As a technician, you will become skilled with both types of equipment.
How do I pronounce it? 
ACC's Ophthalmic Technician Program
What will I learn in ACC's Ophthalmic Technician program?
As a student, you will learn about the anatomy and physiology of the eye and how it relates to the overall health system of the body. You will learn about disease processes, ethics, medical record documentation, vision correction devices, and eye surgery. 
Why choose ACC's Ophthalmic Technician program?
We offer a program that will prepare you for international certification through IJCAHPO that is recognized worldwide. You will develop the skills using hands-on labs and clinical practicums and gain knowledge through discussion and assessment. There are many opportunities to gain employment with this degree.
Why should you get the AAS degree?
Obtaining this degree will prepare you to work with an ophthalmologist or optometrist and will allow you a career in healthcare that is growing and advancing. 
Are there internship or apprenticeship options?
A portion of this program is working alongside other ophthalmic professionals in clinical settings allowing you to practice your skills under the supervision of ophthalmic professionals.  
How long does it take to get through the program?  
There are two options to complete the program, the full-time track is 2 years (4 semesters) and the part-time track is 4 years (8 semesters.)
How much does the program cost?
Tuition and fees for the program are approximately $11,000 for the full  2-year program.
*This is an estimate tuition and fees for Colorado residents / full-time students. This does not include books or extra materials needed for courses. It also does not include housing and other personal expenses while you are attending ACC. Tuition and fees are subject to changes each July. See our current Tuition and Fees. Learn more about Cost of Attendance.
What resources are available to OPT students? 
As an ACC student, you'll have access to many free services like: Career & Transfer Services, tutoring, advising, financial aid, scholarships, TRIO Student Support Services, student activities and clubs, ACC Library and Learning Commons, and more.
Do you need any additional certifications after the program?  
Upon completion of the program, you will be able to sit for the IJCAHPO Certified Ophthalmic Technician exam which is recognized internationally.
Job Opportunities After You Graduate with an Ophthalmic Technician AAS Degree
What kinds of job opportunities are available? 
Ophthalmic Technician, Optometric Technician, Ophthalmic Photographer, Ophthalmic Surgical Assistant, or optician.
This field has a lot of variety offered in a healthcare setting. You can work with a specialist that performs surgery, conducts routine eye exams, or that treats eye diseases such as glaucoma, cataracts, macular degeneration, or keratoconus. The variety and the level of technical equipment you will learn to operate is exciting. The biggest reward is helping patients in the community to see well and educating them on how to care for their eyes and recognize when to get help.
Are you ready to Move Mountains toward an exciting career in healthcare? Apply by April 22 for ACC's Ophthalmic Technician AAS degree program for a clear path to a career you'll love! If you have questions about the program, email us at accopt [at] arapahoe [dot] edu today.