Engineering Graphics Technologies
Turn your mechanical design ideas into reality with an Associate of Applied Science or certificate in Engineering Graphics Technologies.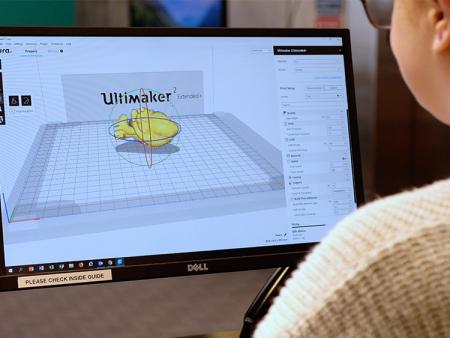 Are you ready to bring your design ideas to life? Through ACC's Engineering Graphics Technologies program, you'll learn how to take your vision and give it physical form. Using the most current software and technologies available, you'll be able to build a foundation in mechanical design that focuses on Computer Aided Design (CAD), materials, manufacturing processes, and Geometrical Dimensioning and Tolerancing (GD & T). We offer an Associate of Applied Science degree and certificate programs that teach you the skills to succeed on the job and create a strong portfolio that will impress any potential employer.
What You'll Learn
The Engineering Graphics Technologies program uses many tools for designing and manufacturing, like: laser cutting, engraving, and 3D plotting. Aside from specific tools and software programs, you'll also learn to: 
Differentiate between various engineering materials

Design digital graphics

Draw with dimension
CIP 150805 (ETMC)
The Engineering Graphics Technologies degree allows the student to study mechanical technologies as their area of design study. This program also contains an in-depth emphasis in computer aided design (CAD) including two and three-dimensional design, visualization, customization, and programming. Mechanical design students will be introduced to parametric modeling design, geometric tolerancing (GD and T), materials, and manufacturing processes. Students will also create physical models with 3D plotting and laser cutting/engraving equipment. This program prepares the student for a variety of employment opportunities that include Draftsperson, Junior Designer, and Computer Aided Design Technician.
Program Requirements
General Education Courses (13 credit hours)
Major Courses (36 credit hours)
Total: 61-64 credit hours
CIP 150101 (ATEE)
The Computer Aided Drafting certificate prepares the students for advanced levels of computer aided design within industry, utilizing the latest hardware and software releases. The certificate may be completed within one year. This certificate prepares students to perform 2D and 3D design including customization and AutoLISP programming with their CAD system. Students may choose from an area of design concentration including architecture, mechanical design or interior design.
Program Requirements
Major Courses (31 credit hours)
CIP 150805 (EMDC)
This program will provide the educational background and basic technical training necessary for the graduate to seek employment with one of the area manufacturing or engineering industries. Students will be prepared for a variety of mechanical drafting entry-level positions.
Program Requirements
Major Courses (33 credit hours)
Job Potential
The skills you learn in our Engineering Graphics Technologies program will prepare you to enter the workforce as soon as you graduate. With your AAS in Engineering Graphics Technologies and/or related certificate, you will be prepared for a career as a:
Computer Aided Design Technician

Designer

Draftsperson